Chairman's Blog - October 2013
On the afternoon of 14th September we held a tea party at the Residents' Pavilion at 129 Grand Drive. This was firstly to give a thank you to all of the road stewards, area co-ordinators and other volunteers for all their help in running the Association and keeping it going year after year. Secondly it was so that we could provide an opportunity for them to see what we have achieved in transforming the former tennis pavilion into a centre that can be used for a wide variety of functions by the community as a whole.
 
Despite the very wet and gloomy weather some 60+ people turned up and enjoyed a great party.  Here's part of what I said.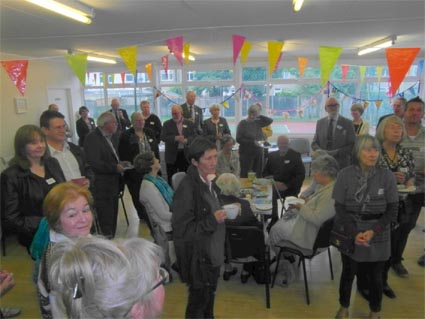 It is indeed remarkable that The Association was founded in 1928 and is still, we believe, going from strength to strength.
 
Some of us hope to be still around to celebrate our centenary! It's only 15 years away.
 
The hard work of preserving our amenities and telling all our members about it in the Guide could not happen without the assistance of all of you are gathered here, as well as those others who were not able to come today. Every month, without fail, the Guide is published, delivered to the area co-coordinators, and distributed door to door by our road stewards. It's a pretty unique system, and a highly successful way of keeping in touch with our members.  I also want to mention John Hughes for the Guides he sends to our postal members.
The Committee is extremely grateful for all your efforts, and thought this tea party was a suitable way of showing our appreciation. We hope you are enjoying it.
 
I would like to thank Andrew Barwick, our Distribution Manager, for coming up with the idea of this party and organising the list of those to be invited. I would also like to thank him and his wife Mette for providing the sandwiches and cakes together, of course, with our tireless Joint Secretary Jill Truman.
 
Secondly, this is a chance for us to celebrate the complete restoration of this pavilion as a Residents' Pavilion that all of us can use. We hope you approve of what we have done, and that, having seen it, you will tell all your friends and neighbours about its facilities for new groups and family parties, and urge them to use it. We have deliberately kept the rates of hire low, especially for members of the Association.
 
Money has been collected ever since the war for a centre that we could call our own, and when the tennis club vacated these premises in April we decided to use a large part of these monies that we had built up to restore this building.  The building work was decided on and supervised in a very short period of time under the leadership of Jerry Cuthbert, together with David Freeman and John Townsend. They also maintain the Centre, together with our bookings manager, Clary Hughes. We thank them very much.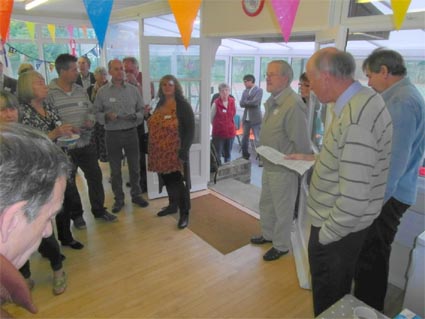 You can book the Pavilion simply by e-mailing or telephoning Clary. Her number is in the Guide.
 
This is not the end of the improvements we're going to make since Christine Rowe has managed to secure a grant from the Lottery Fund of over £9,000 to secure full access for disabled people, with a ramp and a purpose built toilet. We intend to complete that vital work over the winter period.
 
Thank you all very much for coming out in such terrible weather, and for making this party such a special occasion for us all.
John Elvidge