Local news
In Memoriam - John Harcourt Hughes
Gentle, kind hearted, generous, a rock; dependable, well-regarded and respected; someone who made others' lives richer through knowing him and spending time with him; these are amongst the tributes paid to John Hughes by his many friends and family. 
John's roots were in Cheshire and he maintained his links there all his life.  He was proud of his ancestry and enjoyed finding out about his family's history.  
John's father, Robin, lived in Cheshire all his life.  He gained an MC at the Battle of the Somme in WW1 and then became a director of Calico Printers in Manchester. Whilst John's grandfather, the Rev. Canon Walter Hughes (whose family had been clergymen for eight generations) was the Rector of Tarporley.   John's mother Ruth had been brought up in the Rectory as her parents were abroad.  She was a skilful cook and a knowledgeable and creative gardener, interests that John was to inherit. 
John was educated at Stowe school and after National Service; he followed his father into the textile trade in Manchester.  He then moved to London as a Designer for Jacqmar (famous for their luxury silk scarves) and from there he joined the textile department of John Lewis and remained with them until he retired. 
In 1968 John married Diana (Di), who many of us fondly remember providing Association Members with tea and biscuits at our monthly meetings. She and John remained happily married until her death in 1996. 
John's interests were wide and varied - he belonged to an astounding number of clubs and Societies, but perhaps his greatest loves were for gardening, the theatre, and the Arts.  He was also a faithful member of St. Saviour's Church where he acted as intercessor, and sidesman and read the lessons for many years.
 We can only mention a few of John's many other activities.  He was Treasurer and on the Committee at the West Wimbledon Society for 25 years;   he ran the Association's Horticultural Society as Chairman and Secretary and organised the Christmas lights and other trips by coach for the local community; in nearly 50 years of membership of the Residents' Association, he was also a Road Steward, an Area Chairman, and latterly organized the postal distribution of The Guide.  John also acted in and helped run, at least two amateur dramatic societies. Other organisations he belonged to were Probus, Wimbledon National Trust, Tuesday Rendezvous and the Paddock Allotment Society and he was a judge at many local flower shows.  
All in all, a truly amazing man who will be sorely missed by all who knew him as a friend and colleague.
Raynes Park Afternoon Townswomen's Guild - December 2013
Mr Paul Jacob received the complete attention of members when he described his work as a Kingston Street Pastor at the TWG meeting in mid October.  Dressed in his street pastor's warm dark navy blue anorak, shirt and baseball cap he explained that the Street Pastors were a church based organisation formed because they were worried about drugs and alcohol, knife and gun crime and young people dying on the streets.  Now working in 270 locations, trained pastors patrol the streets in teams of 4 from 10 pm – 4 am.  In their 7th year in Kingston, a destination centre for young people where there are many nightclubs and late night bars (5000 people capacity), the biggest problem encountered is alcohol abuse.  In contact with bouncers, taxicab drivers and the police, the team work to keep people safe, speaking to 400 people a month.  Surprisingly on the team there are more ladies than men, a very successful element being mumsey middle-aged ladies who can be very skilled in diffusing potential flash points and making sure all get home safely.  Pastors carry a bag of helpful items, star items being flip-flops and Kojak style lollypops!  A voluntary charity organisation, donations are received from the night clubs as well as the Kingston Business Organisation, churches and other donors. 
Sixteen members and friends joined the Birdworld trip on 24th October.  As this was a smaller group than anticipated we travelled by minibus with Merton Community Transport rather than by coach, but on a bright warm sunny day!  Members enjoyed the well laid out grounds and the excellent range of birds displayed, as well as the surprising adjacent aquarium.  A highlight was the flying demonstration which unusually, featured a kookaburra, a clever exotic corvus, and a magnificent blue macaw that swooped round to the children's farm and back looking very colourful showing off its tail against the green and gold autumn trees.   A cream tea in the restaurant followed, before a gentle drive home.
A good lunch was enjoyed by a group of 11 members at The Lloyds Bar, Fulham on 5th November.
The following week a smaller group visited The Royal Academy of Art in Piccadilly for the Australia exhibition which displays 200 years of Australian art dating from 1800 to the present day.  Broadly in chronological order, this extensive exhibition starts with early aboriginal art contrasting with the work of the early settlers, and then records the changes in the landscape, and the style of both the indigenous and non indigenous artists over the years.  A surprise was a case containing three table centre pieces sculpted in silver dating from the 1880s and featuring integral pastoral and mining scenes as little tableaux.  We all felt the sheer craftsmanship and detail of these pieces was amazing.
December activities include a visit to the Lovekyn Chapel, London Road, Kingston for a Medieval Christmas Concert performed by a trio from Loki Music on the 3rd, a Guild Christmas lunch at the Morden Brook on the 5th, and a Christmas party with entertainment on our regular meeting day, 19th December at 1.30 at St Saviour's Church Hall.
Dorothy Raymond
020 8395 9489   
Ursuline Prep School opens new facility
On Friday 13th September a beautiful new teaching and learning facility was opened at The Ursuline Preparatory School Wimbledon, which has been named as The St Ursula's Block.   Fr James Campbell SJ came to bless the facility, and past Headmistress Sister Dorothy was on hand to cut the ribbon. Also present were a number of Governors and members of the Parents' Association, who have been so generous in their fund-raising to make this project possible. 
This airy open plan facility will allow the school to cater for After School Clubs and activities, in-school assemblies and meetings as well as providing the parent body and local community with a venue to hire for parties, functions and meetings. 
Mrs Anne Farnish, Headmistress said "We are very grateful to Father James and Sr Dorothy for opening our New St Ursula's Block, which will be an enormous asset to our school in many ways. We are also grateful to our parent body for their fund-raising and Governors for their support.  We envisage St Ursula's to be the first part of our on-going development programme, with works commencing at the beginning of next year, and our new Early Years and Pre-Prep Block opening in September 2014."
Abundance Wimbledon 2013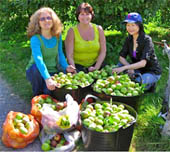 The Abundance team is making plans for another summer of fruit picking, jam making and lots more. Last year (despite the awful weather) we picked 1200 kilos of fruit that would otherwise have gone to waste and donated 325 kilos to local charities like the Wimbledon Guild, the YMCA and Faith in Action. We'd like to do even more this year. 
For this to happen, we rely on lots of people working together. If you'd like to help, here are some of the things you can do: 
tell us if you have unwanted fruit in your garden
tell us about local good causes that would appreciate free fruit
help on Abundance Fruit Day
start a fruit picking & sharing group in your area – we'll help you do it. 
You are invited to come along to Abundance Fruit Day at 11am-2pm on Sat 21
st
Sept 2013 at St Mark's Church garden (behind Wimbledon Library). There will be lots of stalls selling jams, jellies and chutneys, fruit cakes and sweets, a fruit press making lovely fresh apple juice, competitions such as 'The Longest Peel', music from the fantastic International Ukulele Orchestra … and much more. Everyone is welcome and entry is free.  
To get in touch with Abundance, please email Joyce at This email address is being protected from spambots. You need JavaScript enabled to view it. or tel. 8946 3750. Find out more at
www.abundancewimbledon.com
.  We're always looking for new ideas. 
Joyce Pountain
Raynes Park High School - December 2013

Sports Ground Official Opening 
We are delighted to be formally opening our new Sports Ground on Saturday 16th November. The new Sports Ground is a superb addition to the school's sports provision which will be used for PE lessons, extra-curricular activities as well as a community facility for local clubs and teams. The ground offers quality facilities for football, cricket and athletics, both track and field events. The pavilion is built to a high-specification and features four changing and shower rooms as well as a large space which can be used for learning and teaching, coaching sessions, indoor activities or as a social area. 
Mr Hayes and the PE department have already been making use of the ground for football training and matches and a number of local teams have also started to use the facilities at weekends. One of our sponsors, Westside FC, has established the site as their home ground, playing matches on Saturdays and Sundays alongside other groups such as a children's football coaching course. 
The Opening Ceremony was an opportunity to celebrate the hard work which has gone into turning a disused and derelict playing field in to a high quality facility for our students. On the day we welcomed representatives from our key sponsors including the Football Foundation, RSA More Than, Marathon Trust, Garfield Weston Foundation, F&C Investments, the Raynes Park Former Pupils' Society and Tesco, along with Governors, key staff involved in the project, representatives from the Local Authority, local residents and our own former and current students. 
Mr Dockrell - School Business Manager, Premises, Resources & IT 

Geography Department awarded Quality Mark  

The geography department has achieved the above award for high quality teaching and learning in Geography from the Geographical Association (this is a UK-based subject association which supports geographical learning at all levels of education from schools to universities). 
The department was particularly commended for the development of a 'rich and varied geographical experience for students' and they were particularly impressed by our Year 7 work on place and involving students in reviewing the new National Curriculum for 2014.

The award also includes a Global Learning element and it has been recognised that we are committed to the ideals of the Global Learning Programme, developing students' knowledge and understanding of global challenges such as poverty, inequality and sustainability. It encourages students to think critically about these issues and to develop skills and values as they consider actions that they and others can take to overcome them. 
The first week back after half term saw the launch of the first of two Global Learning Weeks, with assemblies supported by our geography ambassadors. The assembly introduced the UN convention on the Rights of the Child and real life case studies were read out, focusing on examples when children had been denied their rights.
Students where then asked to come up with fundraising ideas for the UNICEF Day for Change on the 7th February 2014, with the theme being about education.Global Learning Week running from 11th – 15th November involved departments across the curriculum delivering Rights of he Child themed lessons, such as English and Art focusing of Child Soldiers, Media studies creating a video montage of dreams and aspirations and in Geography Year 7 students took on the roles of street children from around the world, sorting recycling and shoe shining.
In year 9 students evaluated the current Millennium Development Goals and came up with their own goals for post 2015 to include a greater emphasis on girls. 
As a department we can now work towards a Centre of Excellence Award developing links with other secondary schools and also partnerships with primary schools. We hosted our first Geography Teachers Network meeting last week. Teachers from Cheam High, Carshalton Boys, St Philomena's, Holy Cross and Glyn School attended to discuss the new National Curriculum for 2014. 
Ms Cabral - Head of Geography 
Wimbledon Ball Boys and Girls Taster Sessions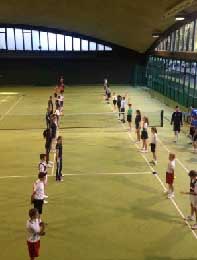 As we begin the second half term the process of selecting Ball Boys and Girls for the All England Lawn Tennis Championships begins (better known as Wimbledon to you and me). Last month I took a selection of students to experience a taster evening at the All England Lawn Tennis Club. Students practised all the skills required to be a Ball Boy / Girl at next year's Champion - ships. All the skills they learned will be used in the training sessions which we are running at school where students get to develop other students. Students who attended were Jack Crooke, Craig Horsford,   Ashley Saidi  and Ben Scott. 
This year Raynes Park High School has a quota of six students to go through to Wimbledon. I would like to see as many people as possible at training on Friday after school, so they can take part in an opportunity of a lifetime to hopefully be next to Andy Murray when he lifts the trophy for a second time.
Mr Hayes - Head of PE
Our 85th Anniversary
A Very happy Anniversary!
This year the Association celebrates its 85th Anniversary, and how better to mark this special occasion than the opening of our very own long-awaited Community Centre and Headquarters.
 
An HQ of our own has been a dream since the late Sixties and Seventies when the Association's social scene was in its heyday.  Without the current distractions of 24/7 TV, the Internet and world-wide travel, all sorts of well-attended functions were organized to raise funds for this purpose from dinner dances to whist drives and Bingo.  The lady in the driving seat, a force majeure to be sure, was the late Mrs. Daisy Starr, a redoubtable woman of inexhaustible energy.
 
The Association has been sitting on those funds, waiting for the right opportunity to come along, and with the move of the Raynes Park Tennis Club from 129 Grand to its brand new premises at Meadow View, the Association was able to take over the lease of this site with funding available for some improvements.
The Pavilion is available for hire. For more information, click
here
.
Booking news: Residents' Pavilion
The grapevine is working well. Enquiries and bookings are up, especially for week-end family gatherings and Birthday celebrations. The big news is that the Pavilion is now available to book on weekday mornings. 
A few local residents have asked if the following activities will be offered at the Pavilion: 
Whist

Tea and biscuits – drop-in type session for residents to get-together 
If you can help and would like to book a session/regular sessions, please get in touch or submit a booking request here.
Regular hirers
We welcome Mallika Yoga and Beth Davies Personal Training as regular users. 
Yoga with Mallika moved to the Residents' Pavilion at the start of the autumn term, bringing an established group of local yogis. Classes are on Monday evenings.  Contact Mallika for more information: e-mail: This email address is being protected from spambots. You need JavaScript enabled to view it.  
Beth Davies offers personal training and nutrition advice.  Beth was pleased to secure a base in Raynes Park for local clients.  Beth uses the Pavilion on Wednesday evenings.  If you are interested in this, click Embody Training for more information. 
We say goodbye to the Rainbow Play Cafe (Joanna Rychlicka) and wish Joanna the best of luck for her future endeavours. 
Clary Hughes, Bookings Manager
Surface Water Drainage Management
Residents may be aware that under the Flood & Water Management Act of 2010, local authorities must be aware of all ordinary watercourses, such as culverts, streams or ditches, that are in their areas.
 
However, main rivers like the Pyl and Beverley Brooks, remain the responsibility of the Environment Agency.
 
To save administration costs, some adjacent Councils will work together, with one acting as lead council. Merton is thus the Lead Local Flood Authority for our area. They plan to draw up register of drainage assets that will be publically available.
 
Jan Bailey, our honorary joint secretary has had a meeting with the Merton Highways Officer concerned and the Council's Consultant, with view to ensuring they were apprised of the drainage issues in the Association's area, including giving them copies of our archive information.
  
Matters discussed included:
Confusion over responsibility for the culverted section of the East Pyl Brook;
Drainage from Cannon Hill Common,
Blockage of the underground stream near the Common;
The Raynes Park Playing Field culvert behind the Grand Drive cottages,
Riparian responsibility for the ditch to the west of the Meadowsweet Estate,
The 'flowback' culvert at the start of the Pyl culvert,
The flowback protecting the railway line and West Barnes Lane,
The need to check the efficiency of the bleed from the open Pyl beside Raynes Park High School to the holding tank under Tesco's car park and the need to check the state of the tank,
Problems of rainwater ponding and associated run-off from several open spaces.
This is an ideal opportunity to ensure the Council's register includes everything that forms part of the surface water drainage in our area. 
So, if any residents in the Association's area (see 
Map
) are aware of any culverts (apart from the Pyl which is already mapped), underground streams, springs etc close to their homes, do please contact
Jan Bailey
and let her know.
Lambton Road Medical Practice, Patient Participation Group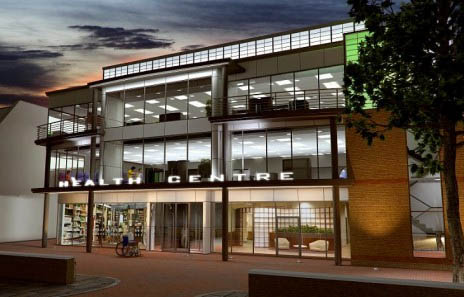 AUGUST NEWSLETTER
Written by patients for patients

Good News - Early teething problems now sorted
After a frustrating first few weeks for patients and staff following the moves of Durham Road and Pepys Road Surgeries into the new Health Centre, all can now feel the benefits of the modern spacious accommodation.

We are all now patients of the Lambton Road Medical Practice!
 The patient electronic files from the two surgeries have been successfully merged.
 
The phone 'glitches' have been resolved.
Responsibility for the smooth operation of phones at all Merton GP surgeries used to lie with the Primary Care Trust; this responsibility transferred in April to the Merton Clinical Commissioning Group.
Both agencies worked hard to sort out the early problems as quickly as possible – and now the phones work properly.
 
Improvements at Reception
Two patient self check-in touchscreens have been installed and are working well.
Additional administration and reception staff have been recruited and a full complement of nurses are now in attendance.

Online booking of advance appointments
This is now available and soon it will also be possible to make online requests for repeat prescriptions. To use the online facilities patients initially need to obtain four codes (specific to each individual) from Reception and register on the Practice website.

Goodbye, Dr Bish
We're sad to report that Dr Mark Bish left the Practice in July. He had to travel quite a distance to get to work in Raynes Park and so has taken up the opportunity to join a GP Practice much nearer to home. He will be greatly missed.

Hello,
Dr Annabel Kesterton and Dr Aditi Shah They will be joining the Practice soon to replace Dr Bish. Both have recently completed four years of GP training in London: Dr Kesterton in Wandsworth and Dr Shah in Merton. 
Dr Kesterton originates from Milton Keynes and studied medicine at Manchester University. She enjoys travelling and keeping fit.
Dr Shah has previously worked in NHS London in a clinical leadership role and has a special interest in women's health. Her interests are yoga and travelling.
We welcome them both. 

The PPG newsletter is published quarterly. The PPG cannot work properly without the support of patients. We want to hear your views in order to represent you. Please do get in touch – the easiest way is via email.
If you would like future newsletters emailed to you, let us know.
 
Members of the Patient Participation Group
Jan Bailey, Charlotte Bennett, Jenny Cairns, Janet Fletcher, Clare Gummett, Jacques Lee, Donald Mead, Dennis Railey, Gonda Winternitz 
Contact:: This email address is being protected from spambots. You need JavaScript enabled to view it.  or leave a note with Reception

About the PPG
The Lambton Road Patient Participation Group (PPG) works to help shape the way health services are delivered by the new Lambton Road Medical Practice.
Raynes Park Post Office under threat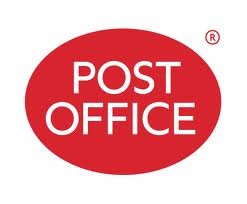 LATEST NEWS. The CWU held a public meeting on 4 July 2013..
PREVIOUSLY:
The Association has received news that the future of Raynes Park Post Office, located in Amity Grove, is under threat.
This Post Office is termed a "Crown Post Office" because it is one of the remaining 370 that  are still directly managed by Post Office Ltd. Whilst there are still 12,000 Post Office branches across the UK, most of these are either run by various franchise partners or local sub-postmaster or other operators 
The Post Office's plan seems to be to try to franchise its operations in Raynes Park to a retailer.  However, many residents feel very strongly that the service available at Raynes Park is far better than the service experienced elsewhere at franchises and the like. 
At peak times, the demand is such that we need all the windows operating in Raynes Park. 
We are also concerned because post office franchises are sometimes short lived or  do not offer a full service; Morden Safeway's and Wimbledon Ely's being local examples where the retailer discontinued the post office counter after a while. 
Also, it's not so long ago that the presence of Raynes Park Post Office was cited as a reason for closing several sub-offices in our neighbourhood. 
The Association anticipates that a public consultation exercise will take place in due course but, in the meantime, there is an online petition running; "Post office - stop the franchising of Crown Offices". You can access it by clicking on the link below: 
http://epetitions.direct.gov.uk/petitions/46277

You will need to confirm your email address.
TfL plans cashless buses
Transport for London (TfL)  is proposing to go cashless on its bus services in 2014. If, after consultation, the proposal is approved the option to pay by cash will be removed on all TfL bus services.
Please let Tfl know your views
here
by 11 October 2013
Insurance Tip
Email received from:       Rosemary Lever (email address supplied)
Date:        25th February 2013
 
Re: Insurance for homes in floodplain areas
For your information I have found Key Connect Home Insurance - a panel of leading insurers - useful in connection with obtaining house insurance in a floodplain area such as much of Raynes Park.  Their telephone number is 0845 4100 152 and email: This email address is being protected from spambots. You need JavaScript enabled to view it. .  You may want to give this information to members, although it is a signpost, not necessarily a recommendation.