Local news
Grand Drive Action!
Report by John Townsend 
A small group of residents met on 20th September 2021 and were joined by Councillor Bokhari and by chartered civil engineer Demetri Anastasiou,  whose comprehensive explanation of the Grand Drive issues may be read here 
This local group, is seeking solutions to a range of ever worsening traffic problems in Grand Drive. Many of our members who live in other parts of our area will recognise the issues, but the complexity surrounding the Grand Drive problems is compounded by the mixed areas of responsibility - Merton Council, the Police, London Lorry Control, Transport for London - and neighbouring boroughs. 
Ironically, whilst there appears to be a nationwide dearth of HGV drivers, for a combination of reasons including Brexit, the Grand Drive stretch appears to be accommodating more and more heavy goods vehicles and speeding delivery vans. 
I have the greatest of respect for these drivers, who have difficult deadlines and who have kept our lives manageable throughout the pandemic with deliveries, waste disposal, essential maintenance etc., but the road, pavements and houses are suffering serious damage.
ACTION: Our Association, in conjunction with our local councillors intends to hold a meeting bringing all the strands together and seeking a clear step by step solution from the relevant council officers, representatives of other traffic organisations and police. In order to achieve this turnout we may have to be patient! 
The date and venue for this meeting will be arranged as soon as possible and we will invite members to send in questions.
Current Issues - Sept 2021
38 CROSSWAY 
The application 21/P2668 has been submitted to Merton Council and is on https://tinyurl.com/4cmtjbx2
The last date for comments was 19th August but as there was no date for the application to be heard. I am sure that if you submitted a representation it will be read. 
WESTWAY ONE-WAY SECTION 
I have received complaints about speeding plus damage to cars and street furniture so have asked the councillors to investigate and find a solution.
 FLOODING
The Raynes Park Forum (which includes councillors from several wards) has asked Thames Water to attend the next meeting on 16th September 2021 to discuss the local flooding. To attend the meeting, register for meeting alerts or find out more click on here
PAVEMENT CONCERNS IN WEST BARNES LANE 
A resident has drawn my attention to possible improvements to pavements in this area which may involve tarmac rather than replacement slabs. There are different expert views regarding the "concrete slabs versus tarmac" debate and I am awaiting a response from Merton Council about their intentions. 
Please let me know of matters in which you feel the RPWBRA may be able to help and also remember to contact the local councillors. 
Michael Marks,  RPWBRA Secretary
Sir Joseph Hood Mem. Playing Fields - Sept 2021
Raynes Park Little League
This popular award winning park suffered a temporary setback when an Australian Rules end of season extravaganza caused damage to the football pitches which had already been affected by the torrential downpours experienced by us all.
There are three interested groups, the Raynes Park Little League (Saturdays), the Motspur Park Football Club (Sundays) and the out-of-season Australian Hawks. Unfortunately, the maintenance  firm Idverde,  had failed to liaise with the Hawks, and the pitches were unusable in the immediate aftermath.
Fortunately for the eager youngsters preparing to participate in the forthcoming season, we believe that all will be well by the time the Little League season begins. This will be a huge relief to those fundraisers and volunteers who have worked so hard to establish and maintain the facilities.
Meanwhile, excitingly, we hear that there are some spaces in the Little League teams, so if your sons and daughters would like to participate, do fill in the registration form here as soon as possible.
There are opportunities for girls and boys aged 8 -13 in three age categories: 
Bantams: School Years 3 & 4
Juniors: School Years 5 & 6
Seniors: School Years 7 & 8
So do apply if your children are keen!
Opinions about E-Scooters
Some of our members are very concerned about the dangers to pedestrians with reduced mobility - also those with buggies or in charge of toddlers - caused by adults and teenagers using the pavements on e-scooters and bikes. This is a serious and frightening issue for some residents and one which we must discuss with the Local Safer Neighbourhood Team. 
Other residents, both motorists and cyclists, have expressed concerns about e-scooters emerging at speed from side roads or driveways, causing drivers and riders to brake suddenly or swerve. 
However, other members also make the case for the greening effect of such forms of transportation, highlighting the potential benefits of e-scooters. 
At present e-scooters are illegal to use, except on private land with permission, unless they are hired from approved rental companies in several trial areas of the country, including London, but NOT including Merton or its neighbouring boroughs. 
On one hand we want people to stop using cars so much, for the sake of the planet, but on the other hand e-scooters are not deemed safe to use on the pavements and only on the roads as part of a controlled experiment. 
Perhaps we need to let the advantages of this technology come into our lives? The more people who use them, the fewer will use cars or public transport. 
Now, without speed limiters they would be a danger to pedestrians, but with speed limiters they could cause problems on the roads.  Should they  share the road with bicycles? Do we need rules, like NO passengers, NO pavement use and helmets should be worn? 
Hopefully, some sensible rules will enable these scooters to be used legally and safely, leading towards a less-polluted future.
What are your views?
Flash Floods - July 2021
Mark Allison, the Leader of Merton Council has written to Thames Water demanding urgent action following the severe flooding which made the centre of Raynes Park impassable on Monday 12th July and also badly affected other roads in the neighbourhood. 
We were first alerted by a local resident who sent photos taken in Grand Drive during the downpour and then a video revealing a half-submerged vehicle stranded under the railway arch. And this was just the beginning! 
As our Association was founded in 1928 because of flooding issues, perhaps it is time for developers and planning departments to listen to our concerns about building proposals.
Our thanks to Margaret Nally for these images.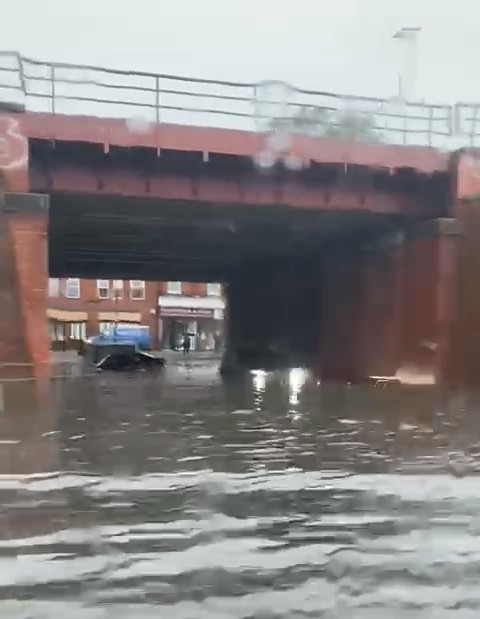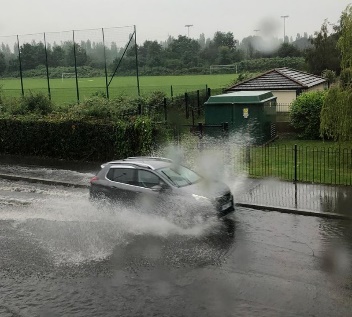 At the Raynes Park Community Forum, held on Zoom on 16 September 2021, we heard from representatives of MERTON COUNCIL, the ENVIRONMENT AGENCY and THAMES WATER about what they intend to do to improve the way in which storm water is handled in and around Raynes Park. It is rather perplexing that the responsibilities for surface water drainage are so confusing. However, they explained some of the actions being taken. These includes more frequent removal of silt from gullies and sewers and changing the way in which some of the local sewage pumping stations operate during storms. 
It's fair to say that many present at the meeting felt that "More Action" is required by the authorities, not just "Activity". Nevertheless, residents were very appreciative that the representatives had taken the time and trouble to attend the Forum and had explained what is being planned to improve things. One important point is that Thames Water and the Environment Agency both now have emergency telephone numbers for reporting floods: 
Thames Water: 0800 316 9800
Environment Agency: 0800 807 060
Our Green Spaces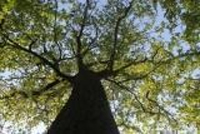 As an association we fight constantly to ensure that residents have access within easy walk to pleasant green spaces. 
At present we are working to ensure that the Lessa/Meadowview site is retained for sport, that the Prince George's/Raynes Park Vale FC site is not compromised by "pub" conditions and that the land behind the houses 274 – 318 Cannon Hill Lane remains both a peaceful habitat for wildlife and a visual delight for those nearby. 
We are all responsible for our surroundings and there are simple ways to contribute to the environment. 
Litter
Always take litter home and encourage youngsters to do so. 
Fly tipping
NEVER dispose of unwanted items carelessly and NEVER allow unlicensed operatives to remove your rubbish because you do not know where they will leave it. 
Please email us your photos of our amazing parks and fields, to This email address is being protected from spambots. You need JavaScript enabled to view it.
Clare Townsend
Raynes Park Station - Steps to Remain

In the wake of confirmation that Motspur Park Station is scheduled to have lifts installed (although no timescale has been confirmed as yet) campaigners for a similar facility for platforms 3 & 4 at Raynes Park Station had been hoping for a successful outcome. 
Unfortunately, we have been informed by NETWORK RAIL that because of the atypical design and layout of Raynes Park Station, any attempt to install lifts would far exceed the budget of £3m-£4m which is set aside for such projects. 
Therefore, because the station is described by NR as "a complex site", those fighting for its inclusion in the step-free programme of improvements have to begin campaigning again for consideration in the 5 year plan starting in 2024. 
A disappointing setback which residents will work to overcome.
Changes to Constituency Boundaries?

Do you live in Parkway, specifically from No 22 or above that number?
Or, perhaps in Elm Walk in an odd number from 49 or above?
Or in Elm Walk, in an even number from 80 or above?
Or Meadow Close (even numbers 66 and above)? 
If so, then the Boundary Commission proposes moving you from the "Wimbledon" constituency (MP: Stephen Hammond) to "Mitcham and Morden" (MP: Siobhain McDonagh) .
The Boundary Commission has put its proposed constituency changes out for consultation. You can find out more at  https://www.bcereviews.org.uk/ 
You can submit your comments online, via the Commission's website, but all comments must be submitted by. Monday 2nd August 2021. Alternatively, you can write to the Boundary Commission for England, 35 Great Smith Street, London, SW1P 3BQ. 
We think these streets have been reallocated simply to even up the numbers between the two constituencies. However, most residents in these streets do, we are sure, logically feel part of the Wimbledon constituency, which encompasses most of the Raynes Park and West Barnes areas, as against being in either Morden and Mitcham, which are both much further away. 
 We invite all our members to let the Commission know what you think of these proposals, regardless of whether you're directly affected or not. 
Jerry Cuthbert, June 2021
£3 Annual Subscription 2021
As many of you will already know, the RPWBRA is a voluntary organisation without affiliations to any party political group. It was founded in 1927 to support the local community and has a thriving membership.
The Association keeps an eye on local issues and planning applications, supporting residents whenever and wherever possible and appropriate.
More than 60 volunteers distribute the RPWBRA magazine "The Guide" 11
times a year and information can also be found on our website and RPWBRA next-door site. We are financed by members' subscriptions and advertising. 
The subscription for 2021/22 remains at the astonishingly
low price of £3 per household per annum – an absolute bargain made possible by the work of all the volunteers, i.e. the Committee, the Pavilion Management Group and the Road Stewards. 
WAYS TO PAY                                                                                 
1.Directly to your road steward when s/he calls at your door.
2. £3 by cash or cheque payable to RPWBRA in a clearly marked envelope through your steward's door.
3. BACS: direct bank payment RPWBRA, sort code 30-99-66, account number: 32070068 using your surname & road as reference.
Please Note: we are phasing out Paypal. If you have already paid this way it is fine, but otherwise please pay using the one of the three methods listed. Thank you for your payments.
John Townsend, Treasurer
Raynes Park Station - Poor accessibility to Platforms 3 & 4

We have had an email from one of our members who uses a wheelchair if they have any distance to travel. They are asking for a lift to be installed at Raynes Park to give access to platforms 3 & 4. It is all very well having the ramp to access trains going to London but what about the return journey? To get back to Raynes Park awheelchair user must leave the train at Wimbledon Station, go up to ground floor in the lift and then cross the busy road to get on a bus. Network Rail has been asked about this many times, but no progress has been made. If the stairs at the station are causing you problems, let us know ( This email address is being protected from spambots. You need JavaScript enabled to view it. ) and we shall see if we can use a petition or some other method to achieve an elevator.
Grand Drive Traffic - Report
Report by  our member, Demetri Anastasiou, Chartered Civil Engineer 
BACKGROUND
Grand Drive is a designated "B" road. The official classification states: "B-roads are numbered distributor roads, which have lower traffic densities than main trunk roads or "A" roads. This classification has nothing to do with width or quality of the physical road, and "B" roads can range from dual carriageways to single track roads with passing places." The definitive list of B roads was published on 1st April 1923, following consultations with local authorities. Government funding towards repairs of these roads was set at 60% for the former and 50% for the latter. This is where the problem originates as this classification has its origins in an Act passed nearly 100 years ago where the volume of traffic, the varying traffic mix and the operation requirements of theses B roads have changed dramatically over the years. 
1.THE GEOMETRIC CHARACTERISTIC OF THE ROAD
Grand Drive is approximately 1,800m from the traffic lights at Bushey Road (A298) to the roundabout at Tudor Drive. The road varies considerably in width particularly after the introduction of some traffic calming measures a few years ago.  
Traffic Calming Measures
These include the area around St John Fisher School, the mini-roundabout at Westway/ Southway and the traffic lights at Crossway and Cannon Hill  Lane. 
Inclination of the Road & Speeding
There is a huge inclination North to South of 8-10 metres up to a high point around 120 GD opposite Blenheim Road, with a significant drop of approximately 8 metres to Meadway Road, just after Elm Walk. 
These characteristics inhibit drivers but also encourage them to accelerate up the hill towards the crest of the road then roll downhill, often exceeding the speed limit. 
Going south to north, from the Crossway lights to the Bushey Road is a speeding section.
Traffic Police have confirmed this behaviour. 
This driving behaviour can only be corrected by appropriate, frequent warning & advisory traffic signs and random policing which is currently rare or non-existent. 
2. VOLUME & MIX OF TRAFFIC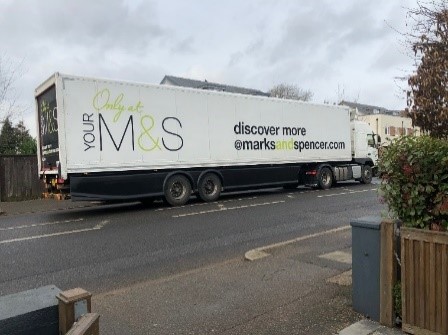 Many years ago, residential car traffic proliferated, peaking at certain times. Then, with the development of the Garth Road Amenities (Merton Refuse Centre, Garth Rd Refuse & Recycling Centre, Suez Recycling & Recovery UK facility) a huge number of 6-axle articulated lorries use the road for waste, recycling, dumping or loading and transporting away from the site. Additionally, the rental of Merton land for the B&T Plant hire LTD and similar operations have changed significantly the traffic mix on GD from cars to HGV lorries. 
This change has been exacerbated by HGV through traffic from the A298 (Bushey Road) to A24 at Stonecot Hill and through Tudor Drive/ Sutton Common Rd to A217. 
Also a key contributor to the traffic volume and speeding is the excessive use of the road by delivery vans (Amazon, DHL UPS, PDP, et al) 
At certain hours of the day there is a continuous flow and abuse of the speed limits by workers' vans and delivery vans. 
3.  0PERATIONAL/USE/REQUIREMENTS/CHARACTERISTICS  
There are restrictions in place from London Lorry Control Scheme which bans HGVs over 18 tonnes from using Grand Drive between 9 pm and 7 am on weekdays and 1 pm on Saturdays until the following Monday at 7 am. However, I can assure you categorically that HGV lorries do not adhere to this ban as Grand Drive has no traffic signs to advise/warn the HGV drivers and the road is not policed.  
4.  TRAFFIC MANAGEMENT DEFICIENCIES 
Current traffic management deficiencies and key omissions contributing to HGV unauthorised use and speeding are clearly the lack of any comprehensive traffic management in place other than Merton collecting money from offenders in two yellow box locations driving South to North on Grand Drive. There is serious lack of informative and traffic prohibiting signage for HGV usage exclusions and speed limit. There is a flashing speed limit sign on the 'uphill' from North to South which, as I explained before, the geomorphology of the ground and the road makes it difficult for the HGVs to speed contrary to the downhill segment where there are a couple of small 20 mph signs on lamp posts. Therefore, the wrong positioning of the electronic sign and small speed limiting signpost require an overall traffic management re-thinking and definite their repositioning. On two occasions recently the Traffic Police Unit checking traffic in both directions positioned at Heath Drive facing North confirmed that the road is inadequately signposted for speeding restrictions and HGV use.  
5.  CONDITIONS OF THE ROAD SURFACE 
Some of you might be aware of the efforts of the residents to persuade Merton to resurface Grand Drive. Eventually this was achieved, was accepted but only for a small segment. The road has not been maintained so it has deteriorated further ever since. The deterioration was exacerbated by the gas works when Conway were the BG contractor to reinstate the road. There was little supervision as it can be seen by the current condition of the road surface cracking and subsiding in many places. Clearly a very inferior and cheap work surprisingly accepted by the Roads & Streets Department of Merton Council!!!  
6.         RECOMMENDATIONS 
(i)   Firstly there is a need for an Automatic Traffic Measuring Device to be installed halfway along the 1,800m of Grand Drive. There are two cables on the road that include sensors to pick up the traffic volume and mix for a number of working days, identifying the traffic use.  
(ii)  Large warning signs for HGV lorries prohibiting use of Grand Drive between 9 pm and 7 am on weekdays and from 1 pm on Saturdays until the following Monday at 7 am. These signs like those at the A3, warning about emission control zones, must be placed just after the A3/A298 flyover at the traffic lights between Bushey Road and Grand Drive on junction and equally approaching on A298 from the East.  Signage like this must be placed on the A24 and A217 junctions both ways with B279 at Stonecot Hill and Oldfield Road junctions.  
(iii)   Merton Council (and possibly Traffic Police) to notify the main offenders of HGV use after hours and of speeding, which include  Veolia, Garth Road Reuse & Recycling Centre, SUEZ Recycling and Recovery UK facility, B & T Plant Hire Ltd plus other smaller operations in the Garth Road area using HGV lorries and , unidentified skip lorries driving without load cover and the security chains free to sway and make noise hitting the skip container. 
(iv)     Notify the following offenders (speeding) about the speed restrictions in the area: TfL for Bus route 163, Amazon, DPD, TNT, DHL delivery vans plus all grocery delivery vans.  
(v)    Efficient and effective speed limit signposting: There is an urgent need to add more 20 mph sigh posts on the lamp posts in both North and South traffic flow directions.  
(vi) Policing the road. The three days in the last year that a Met Police Road Traffic Unit was in the area significantly reduced the speeding of all traffic. Therefore, frequent spot checks will enhance the awareness of drivers. Again, this needs to be planned as twice the Police carried out the checks during or near peak times where congestion was evidence. The best time is during working mid-day and/or after evening rush hour. 
(vii)      Improvement to the condition of the road surface of Grand Drive for its full length. It is worth pointing out that 4.3% of all the Tax collected in central Government by all taxpayers, including pensioners, goes for Transport improvements. A significant amount of the Council Tax in Merton should go to road maintenance and improvement. This is not evidenced anywhere in the Borough and with road, street and pavement works unsupervised so the Utilities - Water, Gas, Power Networks and Openreach have had a free hand..   Therefore, going forward, close supervision from the 'Municipal Engineer' of Merton Council is needed for all works remedial, improvements or new at Grand Drive. 
A simplified guide about lorry weights and sizes may be read at https://assets.publishing.service.gov.uk/government/uploads/system/uploads/attachment_data/file/211948/simplified-guide-to-lorry-types-and-weights.pdf
£15,000 Available for West Barnes and Raynes Park
Would you like to have new benches or play equipment in the park? 
What about planting bulbs on our verges? 
Merton Council is making £15,000 available for small-scale public space projects in every ward. 
Projects must meet Government criteria, for example bulb planting; benches, playground equipment or bins for parks; grants to community groups for clean ups or fence painting; footway and street structures (decluttering, renewal, vegetation. 
All three ward councillors must approve any application to spend the money for each ward, so please send them your ideas as soon as possible. 
In West Barnes our councillors are:
Eloise Bailey, This email address is being protected from spambots. You need JavaScript enabled to view it.
Hina Bokhari, This email address is being protected from spambots. You need JavaScript enabled to view it.
Carl Quilliam, This email address is being protected from spambots. You need JavaScript enabled to view it.
In Raynes Park, our councillors are:
Adam Bush, This email address is being protected from spambots. You need JavaScript enabled to view it.
Omar Bush, This email address is being protected from spambots. You need JavaScript enabled to view it. 
Stephen Crowe, This email address is being protected from spambots. You need JavaScript enabled to view it. 
Please let the RPWBRA know your ideas too.   This email address is being protected from spambots. You need JavaScript enabled to view it.
The council has to assess all projects and it takes time to get things ordered and delivered. Please don't delay – send in your ideas now. The money has to be spent by 31st March 2022.