Local news
129 Grand Drive - The Future?
Calling local clubs, societies, groups and organisations!
 
From June 2013 we hope to have completed renovations of the former Tennis Club Pavilion at 129 Grand Drive which is surrounded by three tennis courts and children's play area. Once upgraded, this facility will be available for use by members at favourable rates, as well by local Groups, Clubs and Societies.

Register your interest NOW to benefit from choice of dates and early bird discounts.

Possible activities might include:
Pilates, Children's Parties, Zumba, Chess, Table Tennis, Reading Group, Thespians, Mothers & Toddlers, Whist Drive, Drama Circle, Darts, Bridge, Tennis, netball, Writing group, Art classes, Play Group, Poetry reading, Tennis Coaching, lectures, Choral practice, Schools use.
We welcome your suggestions.
Please email Andrew Barwick with your suggestions by clicking 
here
.
Blood Donor Session 7 May 2013
NHS Blood & Transplant has its next Blood Donor session on 7 May 2013 and it really needs more new people to come forward and give blood:
 
Raynes Park,
Dundonald Church
577 Kingston Road
Raynes Park
SW20 8SA

Tuesday 7th May
2.00-14.30 & 17.30-20.00

Donors can call 0300 123 23 23 to book and appointment or visit www.blood.co.uk
Raynes Park Residents' Lawn Tennis Club - May 2013
Following on from a great deal of planning and hard work by committee, the successful move to the new tennis club site took place during April, and then we held a very successful Open Day on Sunday 28
th
April. 
There was a huge amount of advertising to schools and leaflets distributed widely to the local vicinity, even being handed out at Raynes Park station during the rush hour!
All with a view to attract new members to our new site at Meadow View! 
On the Open Day players came along with mixed abilities and experience to join in the FREE coaching on offer with our resident coach Eddie Mahmud.   The Coaching Programme has been set up and we are now looking forward to warmer weather and to see the improvement in our new members! 
The Official Launch
for members is planned for Saturday 1
st
June and we have the "Tennis Circus" coming to visit to offer Davis Cup player coaching to any of our members who would like to sign up - ALL FREE FOR MEMBERS 
The Mayor of Merton will be officially launching at 12 noon and Stephen Hammond MP will be joining in the tennis to try out the new courts! 
This is a special day for our members but if you are interested in playing tennis and/or want to find out more about joining:  Please ring 07732 695977 or email
This e-mail address is being protected from spambots. You need JavaScript enabled to view it

Please visit our website:
www.rprltc.co.uk
Raynes Park Afternoon Townswomen's Guild - May 2013
The AGM on 21
st
March was a well attended meeting.  The current committee members were re-elected and it was agreed that Miss Jenny Hardy would assist the Treasurer with book work.  Although no members could be persuaded to fill vacancies on the committee, it was pleasing that a number of ladies volunteered to help with the monthly meeting teas, or to provide assistance at special extra-curricular activities involving catering, and other one- off jobs.  The usual reports - Chairman's, Secretary's and Treasurer's - were all accepted.  Miss Margaret Wright as Chairman also thanked the committee members for their hard work in organising the various meetings and activities and Guild members for their support, making 2012/13 a successful year.  To mark our appreciation she presented a plant to Mrs Claire Moulden who is resigning from the Committee after many years of service. 
The Bring & Buy stall was busy and later Mrs Claire Moulden entertained us by reading a number of apposite comic poems. 
On a very cold Thursday, 17 ladies braved the biting wind and snow to enjoy a pleasant lunch together at The Watchman, New Malden. 
The following week, 16 ladies enjoyed their trip to the Embroidery and Textile Exhibition at Ramster, mercifully on a much warmer and brighter day.   Minibus hire and driver were arranged through the Merton & Morden Guild, and as this trip proved popular, the extras travelled in a member's car!   Once again, many thanks to Merton & Morden Guild for its help.  The needle, craft and textile work displayed in the exhibition was stunning, the refreshment area just what was required, and the garden good, although wet underfoot.  The plants of course are well behind this year.  Nevertheless, lovely trees and birdsong! 
In May the Lunch Club are visiting The Haywain, Epsom on Tuesday, 7
th
May.  On Tuesday, 14
th
May a visit has been arranged to the Thames Police Museum, Wapping, when the Hon. Curator will conduct a tour.  The regular monthly meeting at 1.30 pm at St Saviour's Church Hall on Thursday, 16
th
May will feature a Beetle Drive, and right at the end of the month, on 30
th
May there is the Polesden Lacey coach outing. 
Please contact us if you are interested in any of our activities.  Visitors and new members are always welcome. 
Dorothy Raymond

020 8395 9489
West Barnes Library - May 2013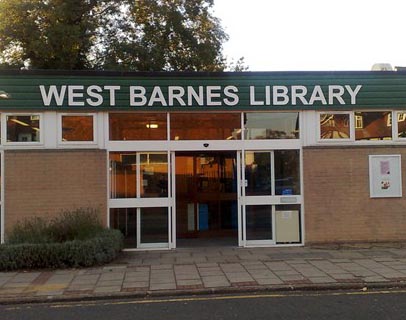 Janey Fraser's family fiction
Families, eh? Can't live with 'em, can't live without 'em! The ups and downs of family life are a rich source of material for Janey Fraser's new novel, Happy Families. She describes its genre as 'mom lit' (a close relative of chick lit). In a special 'Evening With…' organised by the Friends of West Barnes Library this month, the author, journalist and creative writing teacher will be talking about herself, her career and, how she got into writing, and offering tips to budding writers on how to get a publisher. Her many other books include The Au Pair and The Playgroup, while under the name Sophie King she has written novels including The School Run and Divorce For Beginners as well as numerous short stories for women's magazines. She has appeared on breakfast TV and been interviewed on Women's Hour on the Radio 4. Sign up now at West Barnes Library, call 020 8274 5789 or email This e-mail address is being protected from spambots. You need JavaScript enabled to view it for a place at this free, not-to-be-missed event on Monday, 13 May, at 7.30pm. Refreshments will be provided.
Can you help?  
Do you sometimes have a spare couple of hours on Mondays? Would you like to become one of the Friends volunteers? We're looking for more people to help keep the library open when no staff are on duty. We're especially keen to find more helpers who are good with computers who could assist library users if they get stuck. If you can help or would like to know more, do please get in touch – ask in the library or email: This e-mail address is being protected from spambots. You need JavaScript enabled to view it .
Bank holidays
Merton libraries will all be closed on 6 May and 27 May.
What's on?
Coming up at West Barnes Library
To reserve a place where required, talk to staff, call 020 8274 5789 or email This e-mail address is being protected from spambots. You need JavaScript enabled to view it .
Computer Classes For Beginners (Tuesdays, noon-1.30pm, and Thursdays, 1.30pm-3.30pm). Need to book.
Tuesday Rendezvous (Tuesdays, 1.30pm-3.30pm). Weekly drop-in for older people. £2 a week. For details, speak to library staff or call Gilli (020 8543 1781) or Helen (020 8395 9512).
Tea and Books (Thursdays, 11am-noon). Daytime adult reading group. Meet new people, expand your horizons.
Knit & Natter (Thursdays, 11am-12.30pm). Bring your knitting project or a piece you've finished. Not a knitter? Come and see what other crafty people are making.
Toddlers' Rhyme Time (Fridays, 10.30am-11am). For 0 to 5-year-olds, followed by Story Time (11am-11.30am).
The Sparkle Club (Saturdays, normally 2.30pm-4pm but can vary). Workshop for young writers aged six and over.
Adults' Book Club (Monthly, date TBC, 6pm-7pm). New members welcomed.
Craft and Chat (Saturday, 4 May, 3pm-4pm). Informal social group for adults who enjoy being creative or simply have an interest in crafts. This month: a talk and display of some of her work by Margaret Johnston, who will be revealing the stories behind the quilts she has made and how she became interested in quilting. No need to book.
Police Surgery (Thursday, 16 May, noon-1pm). Chat to a PC about any local topics.
Children's Craft (Saturday, 18 May, 2pm-4pm). Lots of craft to keep youngsters busy and fire up their creativity.
Local History Coffee Morning (Tuesday, 21 May, 10.30am-noon). 'Merton Memories', 'Old Mitcham'. To celebrate Local History Month, this session will reveal more about the borough's Merton Memories photographic project and will feature images from the Tom Francis collection, a unique and treasured part of the borough's archive. All welcome.
Children's Art Club (Saturday, 25 May, 2pm-4pm). Help for youngsters to fulfil their artistic potential. Need to book.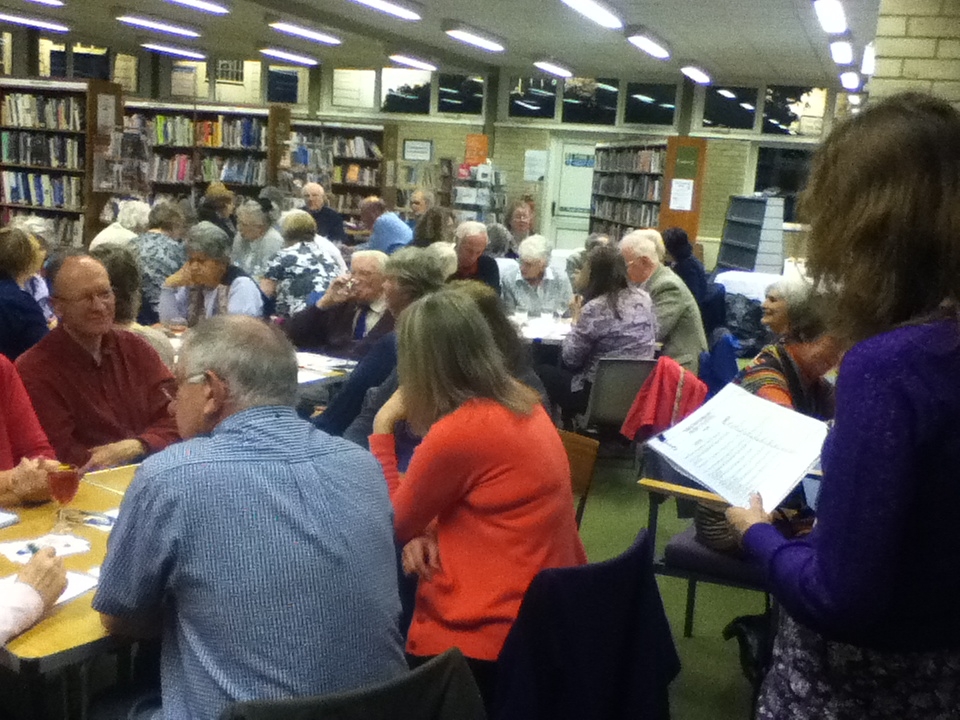 The Quiz night at West Barnes Library proved to be a great evening - more than 60 people took part and a good time was had by all. £167 was collected in donations, which will help the Friends to fund future social events.
--------------------------------------------------------------------------------- 
To receive a monthly emailed list of activities at West Barnes Library, sign up for the Friends' e-newsletter at www.friendsowbl.org.uk 
Raynes Park Library - May 2013

Special events for May:Saturday 18 May, 2.00- 4.00pm
- Family History at the library, come along to our friendly genealogy group, get tips and ideas to get started or help if have begun to trace your family tree but need some help in
moving on to the next stage. 
Tuesday 21st May 12.30-4.45 pm

Meena Bazaar, this is an Asian women's market that will have foods, clothing and items to buy. Come and get a taste of a different culture.
Tuesday 28 May, 2.00- 3.30pm
- Join Bob Wells at our monthly coffee afternoon as he gives a talk about the fascinating finds he has discovered on the banks of the River Thames. Refreshments provided.

Regular weekly events for kids:
Storytimes - Mondays 10.00am-10.30am and
Thursdays 3.45pm- 4.15pm
1-1 Reading Support - The library offers 1-1 read aloud support for children aged 5+. These are free sessions that encourage enjoyment of reading and offer additional support. Sessions are run by CRB-checked volunteers. Please contact the library to book a place.
Craft session - Fortnightly Saturdays, 2.00pm-4.00pm for all ages. Join Jenny and make story related crafts! (This is a drop-in session). Please contact the library to find out upcoming dates.
 
Weekly adult events include:
Jewellery making - Every Monday, 2.00pm - 4.00pm
(Drop-in session). Costs for materials used.
Falun Dafa - Every Monday, 5.00pm - 6.30pm
(Traditional Chinese practice to improve mind and body. This is a drop-in session)
Write Afresh - Every Tuesday, 10.30 - 12noon
Friendly creative discussion and writing group. All welcome! This is a drop-in session.
Crochet Social Group - Fortnightly Tuesdays, 2.00pm- 3.30pm. Please contact the library for dates.
Yoga - Every Thursday, 4.00pm - 5.30pm (NEW TIME). This is a free drop-in session, first come first served.
Art group - Every Friday - 2.00pm-4.00pm (term time only). Free session for basic art, painting and drawing. Materials provided.
Italian language for beginners - Every Saturday, 12noon-1.00pm. Free session for those wanting to learn Italian. This class has a maximum of 18, so is on a first come, first served basis. Please sign up at the front counter on the day.
Computer Classes and Support - The library holds free basic computer classes throughout the week.
Please contact the library (020 8274 5718) for more information. Alternatively you are welcome to attend the free drop-in IT Support Sessions on Tuesdays 6.00-6.45pm and Fridays 10.00-12.30pm for those who need IT help or have one off enquiries.

Library contact details: Raynes Park Library, Approach Road, London SW20 8BA. Telephone: 020 8274 5718. Email: This e-mail address is being protected from spambots. You need JavaScript enabled to view it
(Library Manager: Hannah Basing)

Friends of Raynes Park Library (FORPL) assists the library in various ways through volunteering, raising money for library equipment and running activities and events. If you would like to become a Friend, contact This e-mail address is being protected from spambots. You need JavaScript enabled to view it   for more information.


Lampton Road Patient Participation Group
The Lambton Road Patient Participation Group (PPG) – working to help shape the way health services are delivered by the new Lambton Road Medical Practice

The PPG wants to encourage the active involvement of patients in deciding how the health services they use should develop and provide patients with a channel to share their views. 
HELP US MAKE THE PATIENT VOICE HEARD!

Our aim is to have an outstanding local medical service in Raynes Park – the

best

and most competent professionals - doctors, nurses and support staff in the

best

premises.

Interested? Get involved. Email us
This e-mail address is being protected from spambots. You need JavaScript enabled to view it
to:

•           let us have your ideas on service changes & developments you'd like to see
•           sign up to receive information and future newsletters from us by email
•           find out more about volunteering to join the PPG 
We are delighted to announce that the new practice is open on the first floor of the Raynes Park Health Centre
This is  in Lambton Road, on the Raynes Park one-way system, towards Wimbledon, opposite Costa coffee shop.
The successful merger of two local GP practices into one new practice means there is a wider choice of GP. Doctors in the new practice are Drs Dhalla, Molony, Bish, Urbaniak, Springett from Pepys Rd and Drs Smith, Bennet, Goldsmith, Allison, Arunasalam from Durham Rd.
The state of the art premises have been specifically designed to meet the needs of a modern GP practice, and are light, bright, airy and spacious
There have been teething problems (but it is getting better all the time)
Delays with the building works resulting in the new practice not knowing the precise date it could move in until 3 working days before. The move then had to be done so quickly over a weekend that patients got inadequate notice of the actual move date.
Major problems with the phone systems in the first few days which, particularly because they were intermittent, took some time to resolve resulting in great confusion and frustration for both patients and staff.
Teething problems with the new IT system which has meant that the self-check-in machines don't yet work and that it is taking time to merge patient files from the 2 original practices into one. IT support staff are working flat out to resolve these issues.
Incorrect phone and fax numbers for the practice printed in a leaflet widely circulated by Kingston Hospital. The correct numbers are: 020 3668 1999   and fax 020 3668 1939.

 

 
Surface Water Drainage Management
Residents may be aware that under the Flood & Water Management Act of 2010, local authorities must be aware of all ordinary watercourses, such as culverts, streams or ditches, that are in their areas.
 
However, main rivers like the Pyl and Beverley Brooks, remain the responsibility of the Environment Agency.
 
To save administration costs, some adjacent Councils will work together, with one acting as lead council. Merton is thus the Lead Local Flood Authority for our area. They plan to draw up register of drainage assets that will be publically available.
 
Jan Bailey, our honorary joint secretary has had a meeting with the Merton Highways Officer concerned and the Council's Consultant, with view to ensuring they were apprised of the drainage issues in the Association's area, including giving them copies of our archive information.
  
Matters discussed included:
Confusion over responsibility for the culverted section of the East Pyl Brook;
Drainage from Cannon Hill Common,
Blockage of the underground stream near the Common;
The Raynes Park Playing Field culvert behind the Grand Drive cottages,
Riparian responsibility for the ditch to the west of the Meadowsweet Estate,
The 'flowback' culvert at the start of the Pyl culvert,
The flowback protecting the railway line and West Barnes Lane,
The need to check the efficiency of the bleed from the open Pyl beside Raynes Park High School to the holding tank under Tesco's car park and the need to check the state of the tank,
Problems of rainwater ponding and associated run-off from several open spaces.
This is an ideal opportunity to ensure the Council's register includes everything that forms part of the surface water drainage in our area. 
So, if any residents in the Association's
area
are aware of any culverts (apart from the Pyl which is already mapped), underground streams, springs etc close to their homes, do please contact
Jan Bailey
and let her know.
The new Raynes Park Health Centre is Open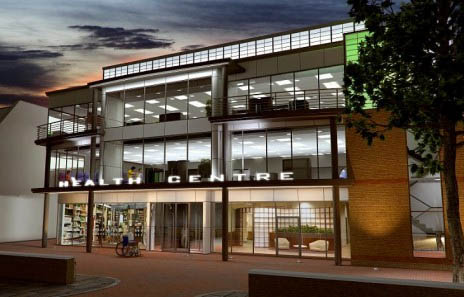 The new Raynes Park Health Centre in Lambton Road was officially opened on Friday 22nd March.
It was formally announced that the new surgery, formed by the merged Durham Road and Pepys Road Practices will be operational from Monday 25th March.  This is on the 1st Floor of the new building in Lambton Road and is called the 'Lambton Road Medical Practice'.
The established Receptionists and Medical staff from both surgeries will be on hand to attend to patients and there is a lift from the Ground Floor entrance.
Both Durham Road and Pepys Road buildings closed on Friday 22nd March.
Raynes Park Post Office under threat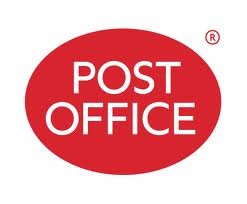 The Association has received news that the future of Raynes Park Post Office, located in Amity Grove, is under threat. 
This Post Office is termed a "Crown Post Office" because it is one of the remaining 370 that  are still directly managed by Post Office Ltd. Whilst there are still 12,000 Post Office branches across the UK, most of these are either run by various franchise partners or local sub-postmaster or other operators 
The Post Office's plan seems to be to try to franchise its operations in Raynes Park to a retailer.  However, many residents feel very strongly that the service available at Raynes Park is far better than the service experienced elsewhere at franchises and the like. 
At peak times, the demand is such that we need all the windows operating in Raynes Park. 
We are also concerned because post office franchises are sometimes short lived or  do not offer a full service; Morden Safeway's and Wimbledon Ely's being local examples where the retailer discontinued the post office counter after a while. 
Also, it's not so long ago that the presence of Raynes Park Post Office was cited as a reason for closing several sub-offices in our neighbourhood. 
The Association anticipates that a public consultation exercise will take place in due course but, in the meantime, there is an online petition running; "Post office - stop the franchising of Crown Offices". You can access it by clicking on the link below: 
http://epetitions.direct.gov.uk/petitions/46277

You will need to confirm your email address.
Insurance Tip
Email received from:       Rosemary Lever (email address supplied)
Date:        25th February 2013
 
Re: Insurance for homes in floodplain areas
For your information I have found Key Connect Home Insurance - a panel of leading insurers - useful in connection with obtaining house insurance in a floodplain area such as much of Raynes Park.  Their telephone number is 0845 4100 152 and email: This e-mail address is being protected from spambots. You need JavaScript enabled to view it .  You may want to give this information to members, although it is a signpost, not necessarily a recommendation.
Dupont Road Residents campaign for CPZ
The residents of Dupont Road (one of the "Apostles") have raised a petition for their road to be included in the Controlled Parking Zone.
The E-Petition can be found by going to the Merton Council website here or alternatively typing Dupont Road CPZ into Google.
The E-Petition closes on the 31st March 2013.
Page 1 of 4
«
Start
Prev
1
2
3
4
Next
End
»