Local news
Raynes Park Stn - Cattle Arch Works
Bridge Maintenance at Raynes Park Station (North end of "Cattle Arch") 

Network Rail is to carry out work at the station entrance and the pedestrian archway known as the "Cattle Arch".  

The work should hopefully represent some improvement to the current state of the station entrance - something the Raynes Park Association has been campaigning on for years! 
This is the message from Network Rail:

The work will involve high-pressure jet washing, mechanical preparation, and bridge repainting with the use of a mobile elevating work platform (MEWPS), as well as water tankers.
 
To carry out these works safely and working with the council, a footpath closure with diversion route will be in place at the bridge for the duration of the works although the footpath diversion will only be in place between 10pm till 6am.
 
Please kindly note that once our team have cleaned the structure, if any structural issues are identified, this work may be extended which would impact the dates provided below. Safety is our priority and we're sorry in advance for the inconvenience this work may cause the community, but we will let you know if there are any substantive changes to the programme below. We're incredibly grateful for your cooperation whilst this essential work is carried out.
 
The work will take place from Monday 16 October to Saturday 25 November 2023.  During this time, every night from 22.00 to 06.00 there will be no pedestrian access to the arch.  The alternative route is via the road bridge to the east.  Additionally there will be work undertaken overnight and all day on Sunday 22 October.  There will be additional work all day and overnight from 00.01 on Sunday 10 December to 06.00 on Monday 11 December - again with no pedestrian access from 22.00 to 06.00.

If you are using the station during this time, you can, of course, access the London bound platforms via the 'country' bound platforms and to go across the bridge (and vice versa).
ends.
London Buses - Superloop
October 2023
A member has drawn our attention to a cheap, convenient way to get to Hatton Cross Underground and Heathrow Airport. The SL7 can be boarded at the 131 bus stop at The Fountain, opposite the Environmental Centre, New Malden.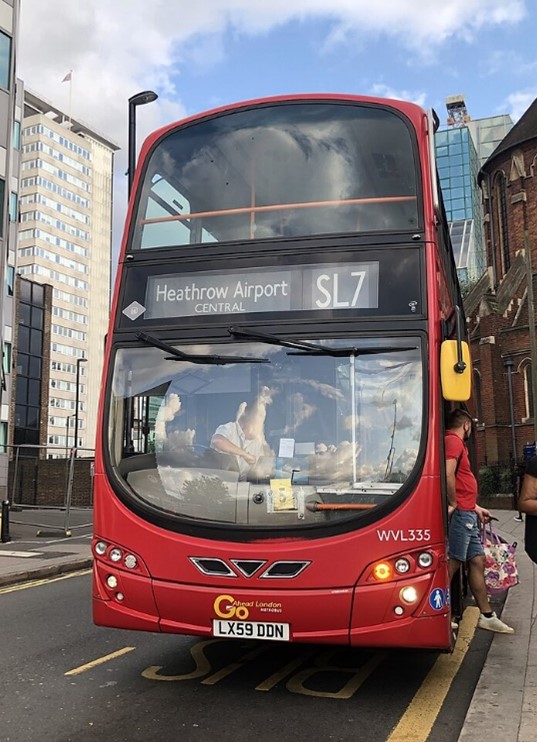 The SL7 is an updated version of the X26 green line, with frequency doubled and low fares maintained. 
http://www.londonbusroutes.net/times/SL07.htm 
The Superloop is a huge TfL development of express bus services, which forms part of the Mayor's commitment to improving the bus services in outer London.    There will eventually be ten routes, with four already in operation, two more to begin this year, another three in 2024 and the final one in 2025. When complete it will circle the entire capital, connecting key town centres, stations & transport hubs.  
All valid concessionary fares apply, e.g., freedom passes.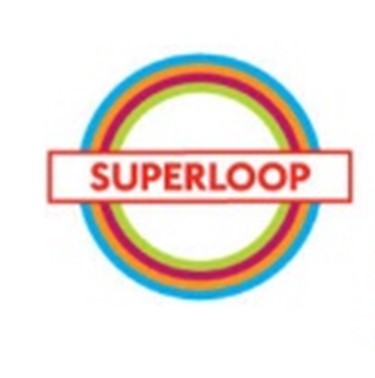 Meanwhile a recent bus journey on an old style "boneshaker" railway replacement bus reminded us how fortunate we are to have the new, wonderfully smooth, quiet 163 buses transporting us to Wimbledon and Morden.
Our Local Shops
One of our members, Rosemary, always an ardent supporter of local causes, shows that there is no need to travel into other areas to buy gifts and cards. Most residents are already aware of the amazing choice of cafes and restaurants available to us, but this selection of shop windows is an invitation to browse and appreciate the variety of small shops in the neighbourhood. This selection of photos celebrates the small shops in the Raynes Park area, all thanks to Rosemary.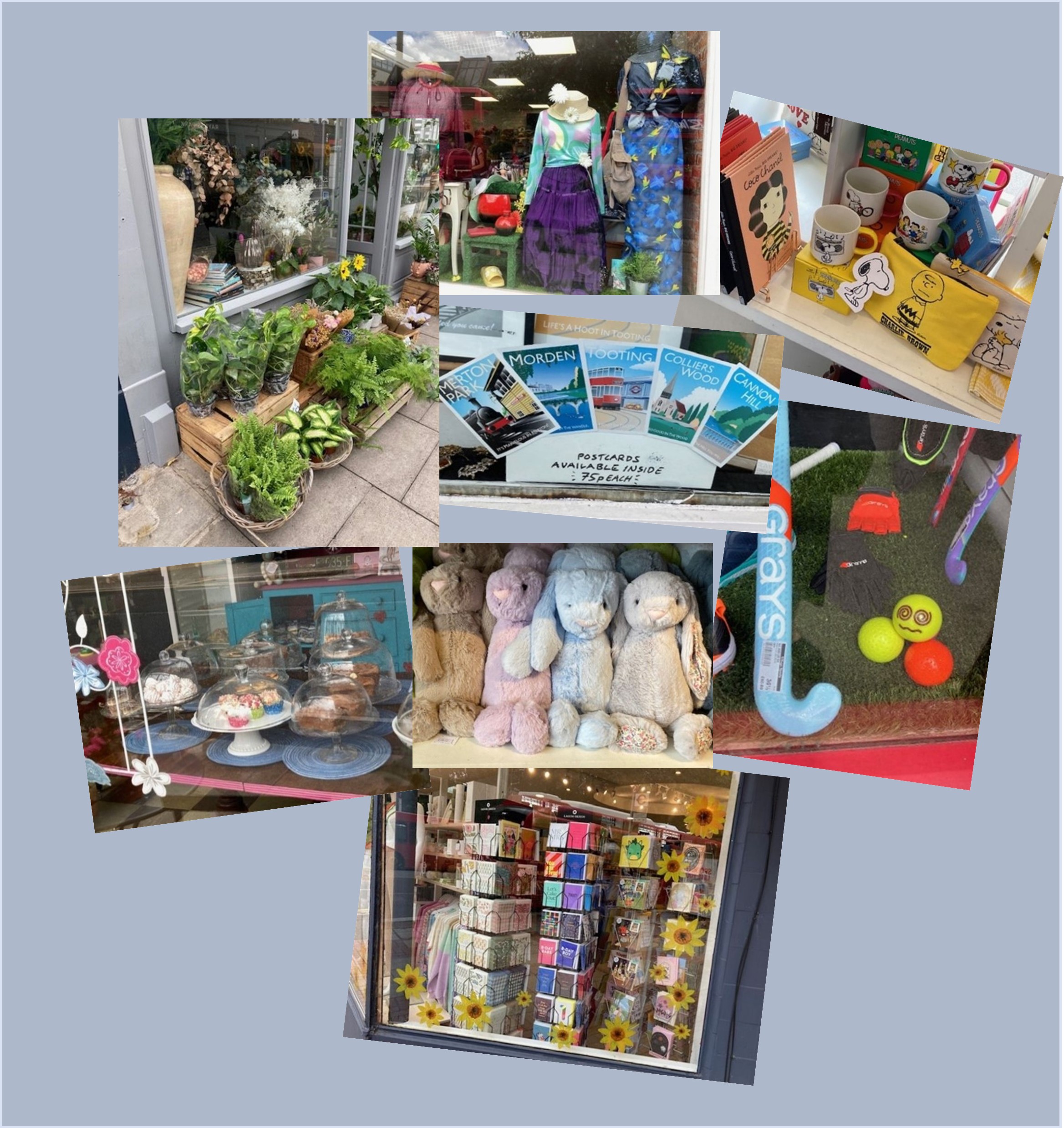 Preventing Theft of Your Car
A family living in Parkway, who do not wish to be identified, have sent us an account of no fewer than three car thefts (over the past three years) from outside their house, the latest of which occurred recently. 
Apparently, whilst the police assured the household that they have not been personally targeted, they have reminded us that many criminals return to crime scenes, confident that they can steal replaced items.  So, despite taking all the precautions advised in the past, such as putting the car keys in a Faraday pouch (in a fridge) at the rear of the house, the family were in despair as to how to deal with the situation. 
Fortunately, in the latest case, and through the vigilance of the met police, the stolen car has been found in Essex in an Ilford Car Park, well known as a "resting place" for stolen cars prior to illegal re-sale. In this case, a happy ending for the owners, but the local police advise car owners to fit a ghost immobiliser, a full steering lock and a tracking device.
2023 A-Level and GCSE Successes
Raynes Park High School - Students' Hard Work Rewarded 
"A" Level Successes 
Congratulations to the pupils at RPHS for their encouraging A level results.
The return to pre-pandemic assessments has led to a nation-wide fall in results, so it is a tribute to the work of the pupils, teachers and support staff that, when set alongside to the last comparable assessments, the 2019 results, the pupils achieved more highly in all areas, and a result, students have secured their desired places at universities, colleges, and vocational placements.
Merton's GCSE Successes 
Here are some of the highlights from Merton schools:
Raynes Park High School

– 'strong' pass grades at (5-9) in GCSE English and maths are in line with 2019, and the percentage of students achieving the English Baccalaureate (EBacc) has increased.

Ricards Lodge High School

– the percentage of students achieving 'strong' pass grades (5-9) in GCSE English and maths, is significantly above 2019 school outcomes and similar to those in 2022.

Rutlish School

– the percentage of students achieving 'strong' pass grades (5-9) in GCSE English and maths is well above 2019 school outcomes.

St Mark's Academy

– the percentage of students achieving the EBacc has increased significantly compared to 2019.

The Ursuline High School

– the percentage of students achieving 'strong' pass grades (5-9) in GCSE English and maths is significantly above provisional national outcomes.

Wimbledon College

– the percentage of pupils achieving a 'standard' pass in GCSE English and maths is 20% higher than the 2023 provisional national outcome.

Melbury College

, Canterbury Campus – a very significant increase in the percentage of pupils achieving both 'standard' and 'strong' passes in GCSE English and maths compared with 2022.

 
Congratulations to all the pupils and staff for working so hard to overcome the setbacks encountered during the "Covid Years" – we are proud of you all.
Merton's Survey - Street Cleaning & Refuse Collection
As residents may be aware, the council, alongside its partners in the South London Waste Partnership (SLWP)) comprising Croydon, Kingston, Merton & Sutton, will not be renewing its contract with VEOLIA when the current contract ends. There will be no changes yet, but Councillor Natasha Irons, on behalf of the Council, wishes to involve as many residents as possible in a borough-wide survey. Full details may be found here .
Also, in person meetings are being arranged in various parts of the borough, details to be confirmed. We are hoping that a representative will be able to attend our Open Meeting, 8/11/22 at West Barnes Library, 7.30pm.
Motspur Park Stn - Sept 2023
As can be seen from the photo below, which was taken by Dick Coleman, our Advertising Manager, the accessibility works are progressing apace.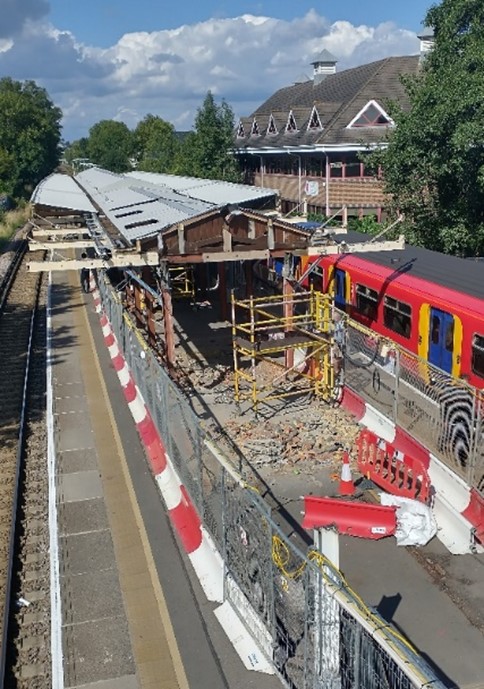 It is a difficult time for those living nearby the station, but the end-result should be worth the disruption. 
However, it is ironic that as we move towards improving the actual station, giving elderly, disabled and other vulnerable residents better access, the threatened closure of ticket offices and planned staff reductions will seriously hamper the effectiveness of this work. Hopefully, the results of the consultation will lead to a re-think.
Cost of Living Concerns
There is no doubt that many residents will be concerned about the spiralling cost of living.
Most people have already made plans to "cut down" on heating, on various treats, on expensive outings and so on. However, for many families, already finding it hard to cope financially, the future months are a time of great worry.
Merton Councilhas listed some organisations who provide advice and assistance:
Merton Growbaby (forfamilies with children under 5 years old) Help with milk formula, wipes, nappies,
020 8544 0126 or email This email address is being protected from spambots. You need JavaScript enabled to view it.
Wimbledon Guild, 30/32 Worple Road, SW19 4EF, Mon-Fri, 9.00am – 5.00pm, one-off emergency grants for gas, electricity, school uniforms etc.,to apply: 020 8946 0735 or This email address is being protected from spambots. You need JavaScript enabled to view it.
Age UK (advice re: benefits) 020 8648 5792 or This email address is being protected from spambots. You need JavaScript enabled to view it.
Dons Local Action Group, emergency food parcels, 020 3301 4511 or email This email address is being protected from spambots. You need JavaScript enabled to view it.
Merton's Community Fridge, Morden Baptist Church, Crown Lane, SM4 5BL, Open Weds, 4.30 – 6.00pm & Thurs 1.30 – 3.00pm, email: This email address is being protected from spambots. You need JavaScript enabled to view it.
All the organisations listed here rely on our support, so we can either help our close neighbours with advice and practical support or we can donate food, household and other essential items, money and/or our time to the local organisations.
The Merton Community Hubis a focal point for support and advises residents (or those supporting them) to call 020 8066 4086 for advice re: shopping, finance, loneliness, support to remain independent, physical and mental health. It liaises with various centres to ensure the correct support is offered. 
Fix My Street
Information and advice from one of our Road Stewards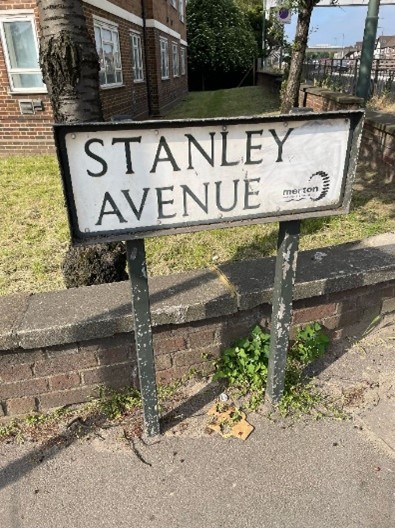 I was walking the dog at around 8.45pm when I noticed our street sign had been tagged. On returning home, I reported it using the FixMyStreet.com website, and was amazed to receive an update at 8am telling me it had been cleaned off! 
I've also used it to report fly-tipping by the green at Motspur Park/West Barnes Lane, and on the street at Blakes Terrace and Byron Avenue, each time collected within 24 hours.
I'm so impressed by the process, and I think it's important to not only acknowledge when Merton does well, but also to share that it really is worth reporting even the small things.  
We all want our neighbourhoods to look their best. If I hadn't reported it, the graffiti might have been there for far longer. I encourage all residents to enable the maintenance crew to address streetscape issues by using the website or app whenever you spot something amiss, so that it's on their radar and can be prioritised.
LBM Flooding Survey
16 September 2022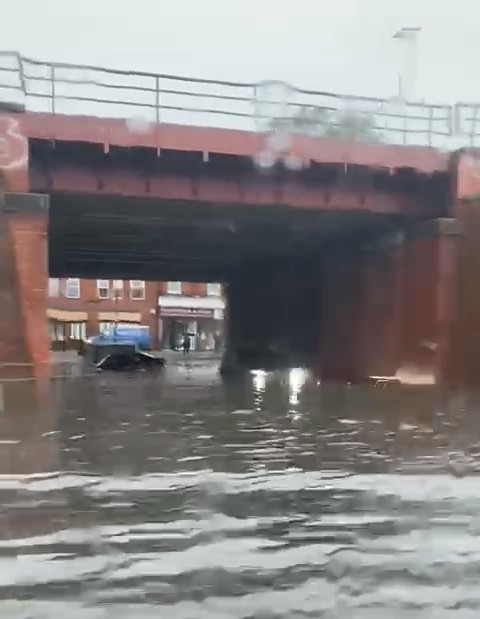 The London Borough of Merton is currently conducting an online Flooding Survey. It asks residents and businesses if they have been affected by flooding recently or in the past. This data will then form part of the data analysis for a "Section 19 Flood Investigation". 
The survey consists of an online series of questions, mostly with multiple choice responses. 
It is focussed on individual residents' and businesses' experience of flooding events that have occurred at their homes and/or premises and then asks about the extent of the flood and any resulting damage. 
Our Association is aware that there have been several local flooding events over the last few years, particularly in the West Barnes and Raynes Park wards. 
One of the key questions the survey asks is for the exact date of a specific event. 
The following dates may trigger your memory. 
Monday, 12 July 2021

Monday, 24 August 2020

Thursday, 23 June 2016 (Brexit Referendum Day)
The final question seeks any further descriptive information in the form of text up to 2,000 characters. We suggest that respondents may wish to consider and draft their response to this final question first, and then copy and paste it into the final response box. 
At the end of the survey questionnaire, you are also invited to email photos and videos to This email address is being protected from spambots. You need JavaScript enabled to view it..Presumably, you could also use this address to send in any other points you might wish to submit about flooding in your vicinity, without necessarily completing the whole questionnaire.
We urge local residents and business owners in affected areas to respond to this survey, which is at: 
https://consult.merton.gov.uk/kms/dmart.aspx?LoggingIn=tempVar&strTab=PublicDMart&noip=1 
The whole survey takes about 10 minutes to complete. The closing date is 14 October 2022. 
The RPWBRA is preparing its own response to this survey and would be pleased to receive members' comments, photos and/or other information about flooding in our area. Please email This email address is being protected from spambots. You need JavaScript enabled to view it. 
Access for All - Motspur Park Station
Update - April 2023 
The 'Access for All' upgrade at Motspur Park Station is here! Extensive improvement works to provide step-free access across the station will soon start, making travel easier, not just for those with mobility issues, but for all passengers. 
Three new lifts, a new enclosed footbridge and a new station building will be built. 
The work is set to begin in early April 2023, and is due to complete by February 2024. Station Road itself, and the east entrance to the station will be closed for a large part of the programme – access to the platforms will be via the Claremont Road (west) entrance. 
Inevitably there will be service disruption, inconvenience and noise at times, but we hope the end result will make it worthwhile. More details are available here. 
Meanwhile, we continue to urge Network Rail to move forward with similar improvements at Raynes Park Station. 
Dick Coleman
Help with Pensioners' Energy Bills
Merton's Energy Bill Rebate for Pensioners in Council Tax Bands E to H 
URGENT - Applications will close on 9 September at 5.00pm. 
Merton Council have allocated approximately £400,000 to share between state pensioners living in households in council tax bands E to H. 
The council have no easy way to identify state pensioners. So, if you received a state pension and live in a Band E to H home, you might be able to claim a grant to help with your energy bills. You can do this online at:

https://www.merton.gov.uk/council-tax-benefits-and-housing/council-tax/energy-bill-rebate/discretionary 
You'll need to upload documentary evidence of your state pension. 
If you are unable to apply online, please call Merton's revenues team on 020 8274 5706 for help. 
Applications will close on 9 September at 5.00pm