Local news
Bonfires and Smoke Nuisance
There are now so many restrictions on the way we used to live our lives and one of these is that it's much more complicated to take rubbish to the Garth Road Recycling Centre. This has resulted in some residents having bonfires in their back gardens. This can be very unneighbourly, particularly when many of us are stuck at home  and want to enjoy the summer weather in our own gardens, without breathing in the smells, fumes and smoke from bonfires. We remind residents that there are regulations concerning bonfires, which that may be read here. This link also covers how to report a nuisance.
Townswomen's Guild - March 2020

Raynes Park (Afternoon)Townswomen's Guild. 
At our January meeting, Beryl Smith from the Kent, Surrey and Sussex Air Ambulance gave a most interesting talk about their work, and details of the new Air Ambulance which can be transformed into an operating theatre. She illustrated her talk with informative slides. 
At the time of writing, we are busy preparing for our February meeting, which will be our AGM. Annual subscriptions will be paid, and the new officers and committee for the coming year will be elected by the members. This will be followed by a Bring and Buy Sale and a Dutch Auction of unsold items - to boost our funds. 
Our programme of speakers will resume in March, when Mike Grimshaw will be giving a talk entitled "Shetland". Some of you may recognise his name as he was booked to give us this talk in October but had to cancel at the last minute for personal reasons. He has assured us that nothing will prevent him this time. 
The meeting will take place in St. Saviour's Church Hall on Thursday 19th March at 1.30 pm.  As usual, all are welcome to come along to the meeting.
A Big Thank You to all our Volunteers
Throughout the year our committee members, pavilion management group, area coordinators and road stewards work together to:
Listen to residents' views,

Act upon local concerns, (e.g. The Tesco/Redrow development)

Keep residents informed about local activities and organisations

Publish and distribute the Guide throughout the year

Run and take care of the Residents' Pavilion on a daily basis

Run this website
All this unpaid work enables us to keep the Residents' Association subscription fees to an astonishingly low £3 per year! 
Our Chairman, John Elvidge, thanked volunteers and their families at an enjoyable Christmas Social held at the Pavilion on Saturday 7th December. During the afternoon he presented Linda Fitch (who is standing down from her role within the pavilion management group) with a beautiful plant.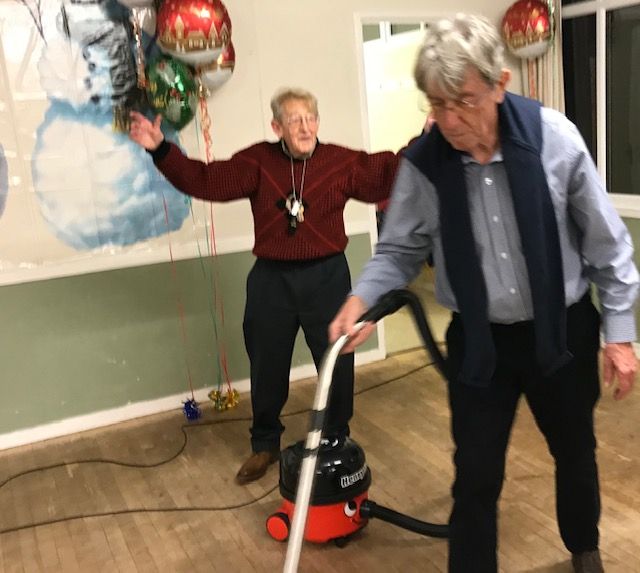 AFTER THE PARTY - Andrew Barwick and David Freeman wield the vacuum cleaner!
The Raynes Park Association - Blog, October 2019
Our Residents' Association is a member of the Raynes Park Association (RPA), an umbrella group of local residents' associations and business representatives, in an around Raynes Park. As our residents' association has a large membership compared to some others, we have two representatives within the RPA. Its aim is to enhance the environment of the centre of Raynes Park in the interests of people who live and/or work there. It provides a focal point for enhancing the Raynes Park environment, by addressing issues relating to the centre of Raynes Park, and other significant matters in the surrounding area which will affect people beyond the confines of a particular residents association's boundary. 
Its secretary, Chris Larkman, has written a blog about some of the RPA's activities, which may be read  here .
Good News for St Helier
The Government's

 recent announcement  (www.bbc.co.uk/news/uk-politics-49867376)  of further capital investment in the NHS has provided good news for Epsom & St. Helier NHS Trust which will be one of the beneficiaries. Chief Executive Daniel Elkeles says "I am delighted to say that our Trust is named and means that the hundreds of millions of pounds of funding we need to both improve St Helier and Epsom hospitals, and build a new major acute hospital will be made available.​
This multi-million-pound investment will transform patient care for the 500,000 people who use the Trust's services, greatly improve the experience of the 6,000 committed staff working in the hospitals and secure a long term and sustainable future for hospital services in our area. It will allow us to create a state-of-the-art hospital facilities for the sickest patients, invest in and refurbish the older parts of all our hospital buildings (which are currently not fit for modern healthcare), and support the medical workforce to improve staffing levels and patient care".
RPA Objection to Revised Parking Charges
RAYNES PARK ASSOCIATION LETTER TO MERTON COUNCIL
Letter of Objection to proposed revised parking charges 
I am writing you on behalf of the Raynes Park Association to register our objections to the proposed rises in parking charges.  To remind you the Raynes Park Association is an umbrella organisation comprising local residents' associations, businesses and other local organisations within the Raynes Park area, cutting across several Wards.  
i.   Town Centre Parking Charges
 While parking charges in town centres such as Raynes Park may be necessary to ensure efficient use of available spaces, we believe these charges should be kept as low as is reasonably possible to encourage the use of the services offered in our local town centre.  We are therefore totally opposed to the proposal to double these charges which, we believe, will cause damage to our high street at a time when they can least afford it.  
·       LaToya Harding (The Daily Telegraph 10th April 2019) said "The number of high street shops closing remained at record highs last year as rising business rates, declining customer footfall and a shift to online shopping took their toll."    So regardless how you class the north side of Raynes Park, unless we do more to help small shopping streets the impact will continue until it is full of Charity shops and large national chains. 
·       The Retail Gazette Jan 2019 said "Over 175,000 jobs are set to be shed from the UK's retail industry, while retail property values will slide amid the continuing increase in online shopping.  A further 23,000 shops are expected to close this year, according to research conducted by real estate advisers Altus Group." 
·       Thomas Heatherwick, the award-winning designer has remarked when it comes to retail "feeling is function".  Shopping should be a pleasant experience without unjustified financial obstacles. Why would a shopper drive to a retail area, spend time trying to find a parking place, and pay a large parking charge when they can sit comfortably at home and order supplies from a lap top.  
What is Merton actually doing to enhance the public realm experience in Raynes Park?  It is clearly not using the parking charge or CIL funding for environmental improvements. It is just another form of local taxation with the money going in one direction whilst failing to address the fundamental retail issues. 
You will be aware that we have formally requested the setting up of a free 20-minute parking period in the part of Raynes Park on the north of the railway to match what is already provided on the south of the railway.  Officers have indicated that the north is classed as a "Town Centre" whilst the south is not; we would suggest this is illogical.    Some local businesses believe they need more than 20 minutes, but at least it is a start; businesses also need longer term parking for their own vehicles without the punitive business parking permits. 
Whether or not you decide to introduce the increases, we ask you now urgently to review our request and to consider it favourably. 
ii.                Residents' Parking Permits 
We are appalled at the concept of the massive proposed increases in the charges for residents to obtain permits to park in the CPZ areas.  When the London Borough of Merton consulted local residents on the setting up of CPZs it was understood that the charges would reflect the cost to the Council in managing the service.  It seems to us wrong that the Council should unilaterally decide to increase the charge as a 'tax' against local people owning a car.  This was never part of the consultation and we therefore question the Council's authority to initiate this additional charge.  
In any event, the increased charges are totally unfair as it is only applicable to people living within a CPZ.  If you are lucky enough to have your own driveway or indeed live in a road with no controls, you will not be charged.  Your vehicle will equally cause pollution, which appears to be the rationale behind this 'tax', yet having your own driveway makes you exempt.  Furthermore, there is no equality across the whole of Merton, why should residents in the Mitcham not receive the same increase as in Wimbledon and Raynes Park, especially when one of the key planks in the argument for the increases are to reduce pollution; pollution does not suddenly stop in Mitcham surely?  We suggest that the rationale has indeed been drawn up in what can only be seen a 'planned way' to increase taxes in areas where the ruling majority is not represented which might well be considered as maladministration. 
We suggest that Resident's Parking Permits: 
i.   In the interests of fairness be the same cost regardless of which part of the borough one lives.
ii.   Increase proportionately with inflation and the actual cost of managing the service.
iii.   Should be automatically renewed via direct debit to save staff time dealing with the complicated existing process requesting a pin then re-submitting and having to remember the renewal date.
iv.   No longer require a paper notice, but rather linked to the vehicle registration and Parking Attendants be given devices that can scan the registration number and link to the Council's database to confirm it can park in Zone situated.  No doubt DVLC would be pleased if the Council were also able to catch unlicensed vehicles at the same time.  
We trust you will consider all our suggestions favourably.
Chris Edge
Chairman RPA
A Visit to AELTC Grand Drive
A visit to the ALL ENGLAND CLUB COMMUNITY SPORTS CENTRE
 On one of the glorious days of mid- September, I was in

vited along to the AELTC Community Sports Ground in Grand Drive to see for myself the progress that has been made on this amazing All England Club venture.
 From the moment I walked through the main entrance gates I was impressed at the amount thought that has gone into - not only the sports facilities themselves - but the whole ambience of the place, which is delightful.  The immediate feel is one of familiarity - a special extension of the All England Club itself – but with the specific purpose of working with young people, local schools and clubs, and with able and disabled alike.  There are significant landscaped areas planted out with a profusion of flowers - hydrangeas everywhere - and on the land bordering the properties in Cannon Hill Lane an amazing wildflower garden.  
 I was met by Catherine Edser, Duty Manager, Andrew Ambrose, and Ruth Edwards who after entertaining me to an excellent cup of coffee in the temporary club facilities took me around the site.
 Although only about halfway through the project, some of the facilities are already in use and the porous acrylic outdoor courts - all painted in the Wimbledon colours of purple and green - are being used by local schools, for special coaching. and I believe even Raynes Park Tennis Club members have been taking advantage of the first of two 'bubbles' - the huge inflatable air-conditioned, and beautifully lit structures – in which the indoor courts will be housed.
 Health & Safety is of paramount importance to Careys the Civil Engineering firm that is contracted to undertake all the groundworks and so we all had to don boots, hard hats, high viz jackets and special gloves before we could examine the ongoing and very extensive groundworks.
 The current focus is on completing the preparations for the second indoor facility; and excavating and then building the grass courts which will cover a significant proportion of the site.   Once finally prepared and seeded, these won't be ready for use until the season of 2022, as it takes about two years for them to mature.  
 High in priority is good on-site drainage and the excavation of a sustainable drainage basin is currently underway. 
No doubt residents living around the grounds have suffered from the hustle, bustle  and inconvenience of  the development, but once finished, the benefits of overlooking a green and tranquil world class sports facility will be a reward in itself.
Jill Truman
Find out more, follow: https://communitytennis.aeltc.com/About
Crossrail 2 - Update December 2018
The Independent Affordability Review has reported to the Government. However, uncertainty continues ...
Various lobby groups are now trying to influence the outcome (businesses, LAs), but one should take the various recent statements in the press with a pinch of salt. 
Against this background, Crossrail (The Elizabeth Line) has run into a 9 month delay, has needed a £350 Million bail out and the CEO has resigned. 
Some say the three objective of Crossrail 2, 
o    Inter-connections at Euston for HS2
o    Alleviate pressure on Waterloo
o    Meeting the anticipated growth in demand for transport, caused by population growth in the London suburbs 
can be met more cost-effectively in other ways. It may be that the central London section is completed first, with later phases being deferred almost indefinitely. 
Some say that the cost of CR2 could be met by increasing local domestic and business rates of, say 1%, a bit like the Olympic Games levy. Another suggestion is for a rates surcharge on properties likely to benefit from being close to the line. 
After the Brexit deadline in 2019, it may be that the Government refocuses on infrastructure projects, perhaps with a new "Spending Review". 
TfL is currently struggling with a fall in passenger numbers and is expecting a £1bn deficit this year. 
At the same time, the controversy over the cost of rail fares rumble on. 
Also Network rail continues to struggle with delivering the electrification of the national rail network, with massive cost overruns and whole swathes of its original plans cancelled. 
The rationale behind HS2 also continues to be questioned, despite the promises made for the Northern Power House. 
Jerry Cuthbert
Babylon NHS GP Practice
New Free digital-first NHS GP Practice opens in Lambton Road 
Babylon GP at Hand - London's digital-first NHS GP practice - opened a dedicated face-to-face clinic in Raynes Park on 1st October. 
The new clinic is located on the top floor of the Raynes Park Medical Centre on Lambton road. It will mean that Babylon GP at Hand patients can see a GP or nurse face-to-face usually within one working day. This is in addition to having access to a GP via video call within minutes, 24/7.
Seeing a GP through a video call means Babylon GP at Hand patients can speak to a doctor at any time and place convenient for them. 90% of all our appointments can be taken care of over a video consultation. And every session is free, no matter how long it lasts. 
What is Babylon GP at Hand?
Babylon GP at Hand is an NHS GP practice like any other. However, patients registered with Babylon GP at Hand can also: 
·       Video call a GP in minutes, 24/7
·       See a GP face-to-face in Raynes       Park within 24h, or choose from 5 other clinics across London
·       Have prescriptions delivered to any local pharmacy
·       Use Babylon's instant AI symptom checker
·       Book and manage appointments through the Babylon app
·       Access notes and replay video appointments 

Download the Babylon app, or visit www.gpathand.nhs.uk to register with Babylon.
Raynes Park High School Newsletters

Follow this link for the latest Raynes Park High School newsletter
St Saviour's War Memorial - Update Nov 2019
I thought As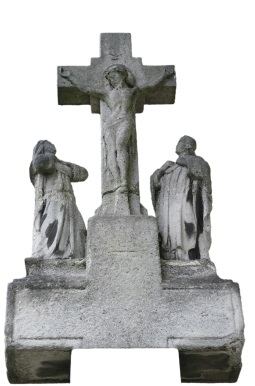 sociation members might like an update on where we are at with respect to the Raynes Park War Memorial restoration.  I know many of them attended either our Men of Raynes Park 1914-18 Exhibition or last year's Remembrance Day at St Saviour's, or both, and we were grateful for their support. 
We had hoped to be well on the way to re-carving the names by now.  However, the whole process has been dogged by delays.  
We had originally hoped to have final approval and a grant from the War Memorials Trust early in 2019.  However, they suspended consideration of applications submitted for the December 2018 deadline until the end of March 2019, and then finally made a grant offer at the end of May.  Unfortunately, the offer included several conditions and exclusions, which affected the validity of the contractor's quotation that we had accepted, and would almost certainly have driven up the price.  Moreover, the exclusions raised doubts that we could achieve clear name inscriptions that would remain legible for the next 100 years. 
To avoid any more delays, and with Listed Building Consent, we have decided to proceed on the original basis and forgo the War Memorials Trust grant (which we reckon would have been taken up with the additional work they would require anyway).  On that basis, we have decided to proceed with the restoration though it is very unlikely it will be completed by the forthcoming Remembrance Sunday.  
The good news is that we have been reasonably successful at raising funds, both at the time of the launch and subsequently.  Our target is £23,000 and, so far, we have either received contributions or pledges for around £19,900.  Without the War Memorials Trust grant, though, it does mean we are still looking to raise just over another £3,000. 
It seems extraordinary now that we originally thought we might have all the work completed by last year's Remembrance Day, but have learnt the lesson that, in this field, however much time you think a project will take, multiply it by at least three! 
Although we are not in a position to invite RPWBRA Members to the unveiling of the restored memorial this Remembrance Sunday, it would still be very nice to see them there. The Scouts and Guides will again be in attendance and do their best to remember those who died in the Great War, and subsequently, in protection of our freedoms.
With very best regards 
Peter Hutton
Memorial Research and Exhibition Co-ordinator 
West Wimbledon Primary School - Newsletters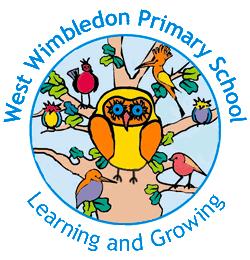 Follow this link for the latest West Wimbledon Primary School newsletter.