Local developments
Rainbow Estate - October 2013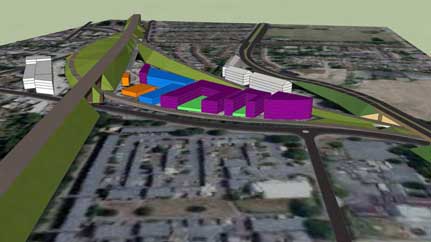 The revised Planning Brief for the Rainbow Industrial Estate was approved by the Council Planning Advisory Committee on  1 August 2013. This was despite a number of objections and queries raised by this Association. Many other organisations and individuals made similar points.

So the next stage would be for a developer to submit a Planning Application, before we can formally make any further formal representations to the Planning Committee. In the meantime, another public meeting was convened by local ward councillors. This took place at Raynes Park Library on 8 October 2013 and discussed this and some other planning issues in Raynes Park. The feeling amongst local people is still very strong that this site is far more suitable for employment-led uses than residential. The sorts of issues raised were the number of jobs that may be lost and the increased burden on already stretched local infrastructure that 200+ dwellings are certain to cause.
Earlier articles about the Rainbow Estate may be found below:
Raynes Park Ehancements
The Raynes Park Association, of which our Residents' Association is a member, has launched a campaign to sort out the southern entrance to the "Scew Arch", which is currently a scruffy hodge podge of weed infested planters, rubbish bins, stumps of old street lamps and general urban detritus. Here's some idea of what it could be like.

  Before                                                                              After 
Crossrail 2
SAY 'YES' TO CROSSRAIL2!CONSULTATION ends 2nd August 2013 (updated November 2013: See the link at end of this article)
Overview
Crossrail 2 would create a new high-frequency, high-capacity rail line running between south west and north east London, running up to 40 trains per hour through the central part of the route.  Transport for London (TfL) and Network Rail (NR) are now seeking views on the proposals. It replaces an earlier scheme known as the Chelsea-Hackney Line, which already has a safeguarded route. The current consultation process runs until August 2nd 2013. 

Benefits of Crossrail 2
Crossrail 2 would help to relieve congestion on both the national and TfL rail networks, and would support economic development in and around London.  Specifically, Crossrail 2 would relieve Waterloo station and so allow more 'fast' trains to use the station. Some of the existing stopping services to Waterloo would be re-routed onto the Crossrail 2 line, and would then stop at Clapham Junction, Victoria, Euston etc (see map) instead of Waterloo.
 
It is intended that Crossrail 2 would also relieve Euston station once High Speed 2 scheme is in place, which is essential if major transfer delays at the Euston terminus are to be avoided.
 
Once built, journey times between Wimbledon and Euston could be more than halved, taking just 15-17 minutes between the two stations.

Route options: Metro vs Regional route
Preliminary work has identified two possible routes: a 'Metro' option offering a high-frequency, underground service which would start at Wimbledon (NB no route to Motspur Park), and a 'Regional' option that includes wider connections with the north east and south west, including Motspur Park.
 
Both options share a similar route through the centre of London, as shown below.  These maps are available at a larger size on TfL's website (see link below).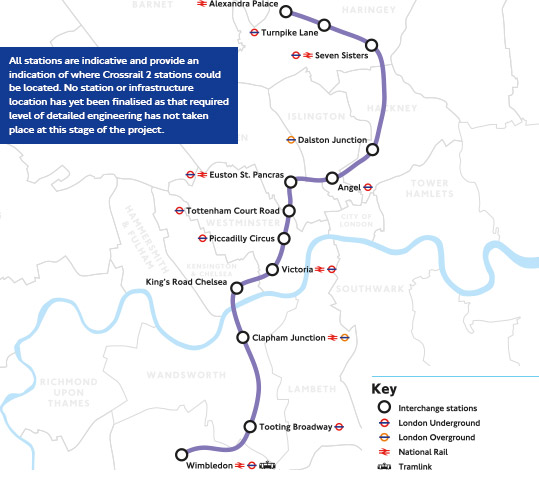 "Metro" Option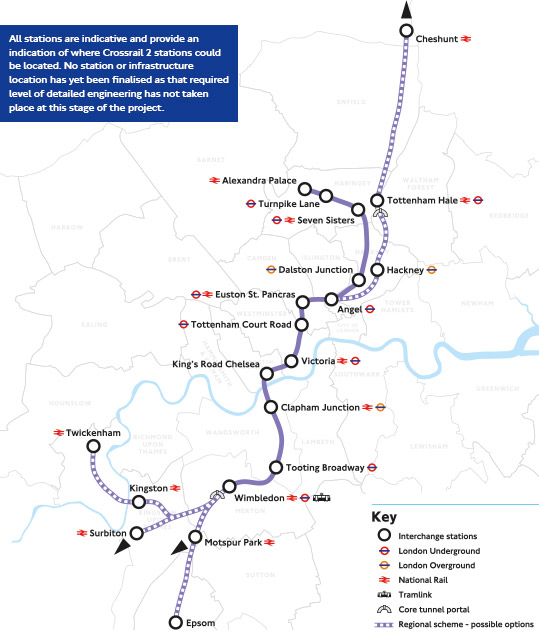 Regional Option
 
The Regional option, as proposed, would include branches to Surbiton, Twickenham (via Kingston) and Epsom.  Motspur Park station would be on the Epsom branch, as shown above.

Timing and funding
The timing for delivery depends on funding, as the project will require a mixture of public and private funding if it is to proceed.  Other major schemes in London are already progressing on this basis, for example Northern Line extension in Battersea.
 
In reality, the Regional option is likely to be more feasible when considering private sector funding, as the area it covers is so much larger and the potential for shared funding from future developments is therefore much greater. Current projections show that the scheme could be in place in the early 2030s.
 
Consultation process and suggested response
The consultation process is now open and it is essential that we respond positively and in specific detail if we want to support the Regional option, which would directly benefit Motspur Park.  There are no other major transport schemes in Network Rail or Transport for London's programme which have the potential to create economic benefits for our area on this scale. Consultation responses can be made individually and/or as a group.
Of course, major schemes come with their downsides.  Locally, we are well aware that there are issues to be tackled to do with the specific scheme impacts.  For example, we will need to raise the issue of the level crossings close to Motspur Park Station and also the need to mitigate and disruption caused by additional trains using the line through Motspur Park.  There may also be issues of construction noise and similar that need our attention.  However in the scale of the proposed scheme, these are all issues that could be tackled in an appropriate way, especially if they are brought to the attention of the design teams during this early project design stage.
  
Update: November 2013 - The consultation results report is now available online at www.crossrail2.co.uk
Atkinson Morley Hospital Site and other news.
Berkeley Homes has held an exhibition to present revised plans for the hospital site to local residents prior to submitting a planning application.

Berkeley Homes advise that the revised plans have been made necessary by higher than expected costs to restore the old hospital building. Higher than expected costs is neither unusual nor a valid justification for a planning application which should be considered on its own merits against planning guidance. In summary the plans:
Are for two 5 storey apartment blocks (15 apartments in each) at the rear of the old hospital building in place of 8 houses in the approved application.  This would take the total number of residential units on the Firs and hospital sites to 101.  The currently approved application is for 79 residential units and the scheme previously approved in 2005 had 94 residential units.
The underground parking approved at the front of the site (56 places) is replaced by a partially underground car park (82? parking spaces) at the rear of the hospital building.
Access to the car park is via a road which would be shared with pedestrians and cyclists accessing Morley Park.
The car park and the eastern apartment block intrude into Metropolitan Open Land (MOL) and elsewhere the blocks and car park are built up to the MOL boundary
There is a courtyard between the 2 apartment blocks on top of the proposed car park.
The Residents' Association of West Wimbledon (RAWW) AGM Tuesday 15th October
The RAWW AGM will be held at 8.00pm (refreshments from 7.30pm) on Tuesday 15th October 2013 at St Matthew's Church Hall, Spencer Road.  Everyone is welcome.
 
Prudential Ride London
Very early warning - The event will take place next year on the 10th August but the route hasn't been determined pending a review of this year's event.

Many thanks for all the very useful feedback on this year's event.  We have written to the Mayor and others and will follow up as necessary. Some of you wrote to tell us you enjoyed the event but others wrote about serious problems including reports that carers were unable to cross the barrier of closed roads by car to visit those who require daily assistance, less physically able people were unable to visit relatives in hospital, and some were unable to attend their church.  There were reports of problems experienced by those going on, or returning from holiday on the 4th, which were particularly severe for the physically less able. 

Jane Barnes
Residents Association of West Wimbledon
www.raww.org.uk

Next at 88 Bushey Road
This email has been recieved by the Association concerning the proposed at 88 Bushey Road
 Sent:
Thursday, July 04, 2013 11:32 AM
Subject:
Proposals for a Next Home and Fashion store, 88 Bushey Road, New Malden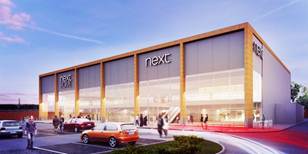 On behalf of Friends Life (AXA Real Estate) and Next plc, we would like to update you on the proposals to create a new Next Home and Fashion Store at 88 Bushey Road, New Malden. 
Earlier this year we held a public exhibition of the proposals at Raynes Park Library (in April) and at Next's Wimbledon store (in May).  Over 50 people attended to view the plans, speak to the project team and leave feedback. 
We have also met with Raynes Park High School on several occasions to discuss the career and learning opportunities the proposed store could offer for its students.  We are continuing to engage with the school and Next hopes to build this into a long term relationship. 
The store would
create
over 200 jobs
, as well as access to Next's training and apprenticeship programmes. 
We have been very pleased with the widespread local enthusiasm for the idea of a Next store in Bushey Road. 
97% of responses so far have indicated support for the proposals
.  We have also set up a dedicated Facebook page (Next4NewMalden) which has attracted over 500 members. 
A full planning application has now been submitted to Merton Council.  The planning documents are available to view on the Merton Council website
http://tinyurl.com/ohdw68c
, planning reference number
13/P1802.

We would be delighted to brief you on the proposals at your convenience and to answer any questions you may have at this stage. 
Please do not hesitate to contact me on
0207 587 3433
or email
This email address is being protected from spambots. You need JavaScript enabled to view it.
at any time. 
Our consultation team is available to respond to local residents
•             Freephone 0800 458 6976
•             Email:
This email address is being protected from spambots. You need JavaScript enabled to view it.

Information is also on the project website at
raynesparknext.com

We look forward to hearing from you 
Best regards, 
George Burr 
04/07/2013 
Also from: Paul Lloyd
Your Shout
0800 458 6976 Freephone

http://yourshout.com
Merton's Builders' Code of Practice
With all the building work taking place in the Borough, Members should be aware of the code of practice governing the control of noise and pollution that must be followed by builders and the action residents make take for their infringement. The Code of Practice may be downloaded here.