Local developments
AELTC - Grand Drive - Drop In
AELTC received plan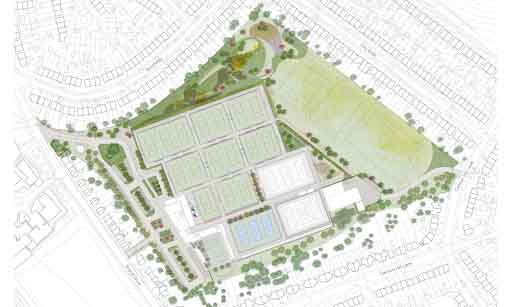 ning permission (Council Ref: 18/P1024) from the London Borough of Merton in October 2018 for the further development of the grounds, which included approval for a new Clubhouse.  They are holding a public consultation to present the design for the Clubhouse and to provide an update on the construction activity taking place at the grounds.  
This Drop-In Session will take place on Wednesday 18 March 2019, 4.00pm-7.00pm, here at the Community Sports Ground, 216 Grand Drive, at which our team will be available to answer any questions about the forthcoming construction works and the plans for the approved Clubhouse. 
For security reasons, if you would like to attend the Drop-In session we would be grateful if you could email; 
This email address is being protected from spambots. You need JavaScript enabled to view it. with your name and address. 
Wimbledon Chase - High-Rise Development Proposed
Another application for a 'high rise' block in a residential area.  This time it's Wimbledon Chase.station. 
Plans to build a seven-storey block of flats at Wimbledon Chase Station and remodel the entrance have been lodged. 
Just before Christmas The Newbridge Group - the company behind the proposal - held an exhibition which detailed its plans for the site. 
These include 62 new homes divided between two buildings, shops on the ground floor and a "rejuvenated station entrance." but something it doesn't include is step-free access.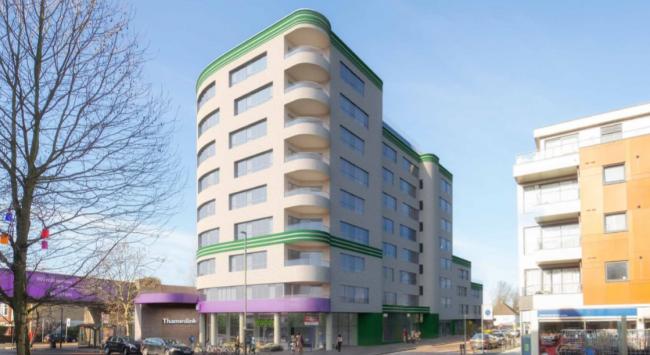 Proposed scheme
This has annoyed Dundonald Ward councillor Anthony Fairclough who met with representatives from the developers and their agents on January 16th. 
Following the meeting, Cllr Fairclough said: "I can't see how this development can go ahead without doing everything possible to also make the station accessible for everyone. 
"I'm shocked that the developers aren't planning to make the station entrance 'step free' – it affects so many people's lives."   "Step-free is simply a 'must have' in 2020."  
Wimbledon MP Stephen Hammond agrees. 
Existing station entrance 
Stephen Hammond met with developers this week and said the key issues are accessibility and the height of the proposed building.  "The developer has asserted that the cost of a Network Rail compliant scheme could make the development unviable and Network Rail has stated there is not the demand," he said.  "I believe this would be a huge missed opportunity not to make Wimbledon Chase step free and I will be pursuing this. "A number of residents have also told me that they approve development on this site in principle, but that they are opposed to the design, height and look of this scheme." 
There will be a further consultation in mid-February, with a planning application expected to be submitted at the end of that month. 
If that gets approved, then construction would begin during the summer of 2020 with an expected completion three years later. 
Cllr Fairclough added that he will be meeting with Network Rail and Merton Council to come up with a "workable plan." 
"The developers say they want to create a 'landmark' building for the area," he said. 
"Residents tell me that the imposition of a bock of flats, nine storeys high – four higher than anything nearby – will certainly create a 'landmark'; but for all the wrong reasons. 
"We need new housing that is sympathetic to the area – so hopefully the developers will respond positively to the feedback they're getting.
"Otherwise there will strong objections from the public when this matter comes to the Planning Applications Committee."
No parking spaces will be built as part of the development, apart from a few spaces for the disabled. 
Correspondence with Tesco
The following Letters are reproduced with the permission of Dr. Garry Hunt, past Chairman
To:       Mr. Dave Lewis, Group CEO, Tesco plc
From:    Dr. Garry Hunt
Date:    7th October 2019
Development on the site of Tesco Extra, New Malden KT3 4PJ
Failure of Tesco to Interact with local residents 
The attached letter was sent to you on the 16 September 2019 by post and by email and expressed the many concerns of local residents with regard to possible activities on the site of Tesco Extra, New Malden KT3 4PJ. On behalf of the many thousand of residents who are also your customers, I expressed the need for a meeting between appropriate senior Tesco staff and the local community for mutual benefit, which the Raynes Park and West Barnes Residents' Association (RPWBRA) will convene. The report of the recent public meeting organised by the Association ( see October Guide, www.rpwbresidents.org.uk) already shows the concerns of residents to possible activities on Tesco's site. 
After four weeks I have not received any response from you or any member of Tesco's staff, beyond the automatic email acknowledgement given below. This is very disappointing. You should be aware that my letter has already been published in the October edition of the Guide; the monthly community magazine of RPWBRA so many thousands of people, your customers, are aware of this correspondence. Many are asking for details of your reply.  
I am again sending this letter to you by both mail and email to make sure it is received.  This letter will be published in the RPWBRA Guide so it will be read by local residents, people in neighbouring communities and past members now living in other parts of the country. I hope this time I will receive a reply. When received it will be passed immediately to the RPWBRA for their action. 
The Association has interacted vigorously with countless companies and organisations for the benefit of the local community during the past ninety years. As a past Chairman, I have considerable first hand experience of such activities over several decades. Never before have we been ignored.  
I have once more copied this letter widely to local Councillors, MP and Chairman of the RPWBRA and also the Chairman,Tesco plc. In addition, the letter has been sent to the editor of the RPBWRA Guide. 
cc Cllrs Hina Bokhari, Eloise Bailey, Carl Quilliam, Cllrs David Dean, Daniel Holden, Nick McLean, Stephen Hammond MP, John Elvidge (Chairman RPWBRA), John Allan, Chairman, Tesco plc
The Reply:
To:       Dr. G. Hunt
From:    Lesley Anne Logan, Customer Service Specialist, On behalf of the Executive's Office. Tel: 0800 072 6685
Date:    7th October, 2019
Case Reference: 3631249 
Thank you for your letter addressed to Dave Lewis, our Chief Executive. As work commitments are currently keeping Dave away from the office, I am writing on his behalf. Please be assured he is kept informed of all contact received into this office.  
I was sorry to hear that some buildings we own have fallen into disrepair. I appreciate your concern about this and that you have taken the time to get in touch with us about this matter.  
I have reached out to Mark, our Property Manager who is in charge of this area. He has advised that we try to keep on top of external maintenance and undertake regular inspections of these buildings. Despite the security we have in place, sadly these buildings have attracted unwanted visitors.  
We are trying to come up with a permanent solution to ensure this area is more astatically pleasing and as soon as we can provide more information we will do so to the local community.  
I have asked for Tom, our local Community and Communications Manager who covers your area to get in touch with you so that he can arrange a meeting with you about this area.  
I hope that this is resolved quickly for yourself and our other local residents.  
If I can be of any further help please do not hesitate to get back in touch with us via post, email (This email address is being protected from spambots. You need JavaScript enabled to view it.) or call (0800 072 6685 – Monday-Friday 8am-8pm, Saturday 8am-6pm).  
19/P2387 - 265 Burlington Road
OBJECTIONS ON BEHALF OF THE ASSOCIATION 
Our committee member, David Freeman, has submitted the following on behalf of our Association.
Attention Case Officer . On behalf of Raynes Park and West Barnes Residents Association I submit the following comments. 
A ) Although not part of the Application I need to point out that the Newsletter distributed widely by Redrow Homes was highly misleading . This drew from the New London Plan ( a GLA document ) which sets out a target delivery in future years of 1,328 home pa. The Newsletter stated that Merton was " expected to deliver " this number of homes each year .
However the New London Plan is still in draft form and NOT an Adopted GLA Plan.
Merton's housing target remains at 411 homes pa which derives from the existing London Plan of April 2016.
B ) SITE PROPOSAL
Site Proposal RP3 in Merton's draft Local Plan October 2018, sets out LBM proposals for a comprehensive redevelopment of the WHOLE   of the Tesco site including the Store and Petrol Station. The Application in question is for a development on approx. one third of the site .
There is clear conflict here between Merton' s Local Plan and the proposals in the Application.
C ) DESIGN
Planning Guidance : Policy 14 LDF Core Planning Strategy and Policy DM D 1 and DM D2 Sites and Policies Plan July 2014.
I submit that there is clear conflict with the guidance set out in the above Policies by failure of the proposals to " relate positively and appropriately to the scale ,density,proportions, massing and height of the surrounding street patterns and by failure to protect existing development ( in nearby streets ) from visual intrusion .
D ) TALL BUILDINGS
Merton's draft Local Plan provides a useful definition of a Tall Building . I quote ." a tall building is a building which is substantially taller than their surroundings ". 
The proposals submitted are for seven blocks of flats ( but NO houses !  ) ranging in height from 6 to 15 storey.
Starting from Merton's LDF Tall Buildings Background Paper 2010 and Design Policy CS 14 Core Planning Strategy July 2011, reinforced by Strategic Policy LP D 5.1 Placemaking and Design in the draft Local Plan October 2018 from which I quote :
" Proposals for tall buildings will be permitted only in Town Centres in Colliers Wood,Morden and Wimbledon."
The Tesco car park site is not even close to Raynes Park which is a  LOCAL Centre and nowhere near Wimbledon Town Centre.
The proposal for " tall buildings " on the application Site is in FLAGRANT CONFLICT with the Planning Guidance quoted above .
Perhaps I should add - going back to the definition - that there can sometimes be doubt as to what " substantially taller " means . BUT NOT IN THIS CASE . The highest residential building ( under construction ) in the surrounding area is 5 storey.
A 15 STOREY BUILDING IS SUBSTANTIALY TALLER THAN A 5 STOREY BUILDING . Fact!
E ) HOUSING MIX
Planning Guidance : Sites and Policies Plan July 2014 Policy DM H 2 and draft Local Plan Policy H 4.3.
The proposal is to build 456 flats made up as follows ;
114 x one bed units =  25 %
290 x two bed units =  63.5 %
52  x  three bed units = 11.5 % 
The target mix set out in Merton's Sites and Policy Plan is 33%, 32% and 35% but these have been slightly modified in the draft Local Plan to 33%, 33% and 34%.
The proposal to build almost two thirds of the flats as two bed units is way out of alignment with the policy . There would be too high a proportion of two bed flats and not enough '  family ' units. The proposals are in clear conflict with planning guidance.
F ) PUBLIC TRANSPORT ACCESIBILITY LEVEL ( PTAL ) AND TRANSPORT IMPACTS 
The Tesco car park site is beyond reasonable walking distance of both Raynes Park and Motspur Park Railway Stations and has limited bus service connections. In consequence it has a rather low PTAL rating between 2 and 3 ( out of 6 ).With an influx of probably more than 1,000 people and 220 car parking spaces it is obvious that the proposals would lead to a serious increase in traffic congestion in Burlington Road even greater than currently exists . 
The proposals are in conflict with Policy DM D 2 of the Sites and Policies Plan July 2014 in that there would be significant adverse impact on the existing transport infrastructure and local environment.
G ) FLOOD RISK
The Application Site is within fluvial ( river ) flood zones 2 and 3 and therefore at risk of surface water flooding. Such a location would be suitable for SOME types of development but not I suggest for high-density residential use.
And Finally let me say that Raynes Park and West Barnes Residents Association ( RP&WBRA ) is NOT opposed to any new housing in the Borough . We are supportive of Merton 'delivering 400 plus new homes pa hopefully a MIX of houses and flats . A high proportion of these schemes are in ' backland ' areas on so called ' windfall ' sites.
We support this type of development where - in terms of numbers - the new residents can be assimilated into the local network without causing strains , on the local social services, for BOTH them AND the existing populace.
However let me indulge in a Compare and Contrast exercise.
I suggest Redrow Homes proposals could well be a ' natural fit 'in the centre of a New Town  like Milton Keynes for example. There are in fact large blocks of flats in MK within the Town Centre and within a short walk to the main Transport Hub. The residents look down on to a wide shopping parade with housing development only in the very far distance. Many of the residents are either single or couples and many do not have a car - very limited on site parking. They use the Car Club. 
Would this type of development be a ' natural fit ' on the Tesco car park in West Barns .Hardly . 
The site is NOT a Town Centre location.
It is nowhere near a main Transport Hub.
Most of the new residents would insist of having a car but only about half of them would have a nearby parking space. And where would they find school places for their children, a GP Surgery, a NHS Dentist a Local Park . The list could go on.
They would be locked in between the A3 and the Railway lines breathing in the fumes from vehicles standing still for 15 minutes or more in Burlington Road waiting to get over the level crossing .
WHAT SORT OF QUALITYOF LIFE WOULD THAT BE FOR ANYBODY?
 Also in terms of Design the tower blocks would - by contrast with the local scene - stand out like huge monoliths bearing down on the residents of Seaforth Avenue and the roads beyond. Should they have to live with that sort of intrusion. 
I pose this question . Would these proposals meet the requirements of a key piece of Merton Planning Guidance - Core Planning Strategy  Policy CS 14 ? I quote :
"All development needs to be designed in order to respect, reinforce and enhance the local character of the area in which it is located ".Think about each of the three components.
I submit that set against this test alone the Redrow scheme would be a total failure.
On behalf of the RP&WBRA for all the reasons outlined above I urge the Planning Applications Committee to REFUSE this application . Thank you for your time. 
David Freeman
Tesco Site Development - Public Meeting