Local news
A Local Street Party - June 2022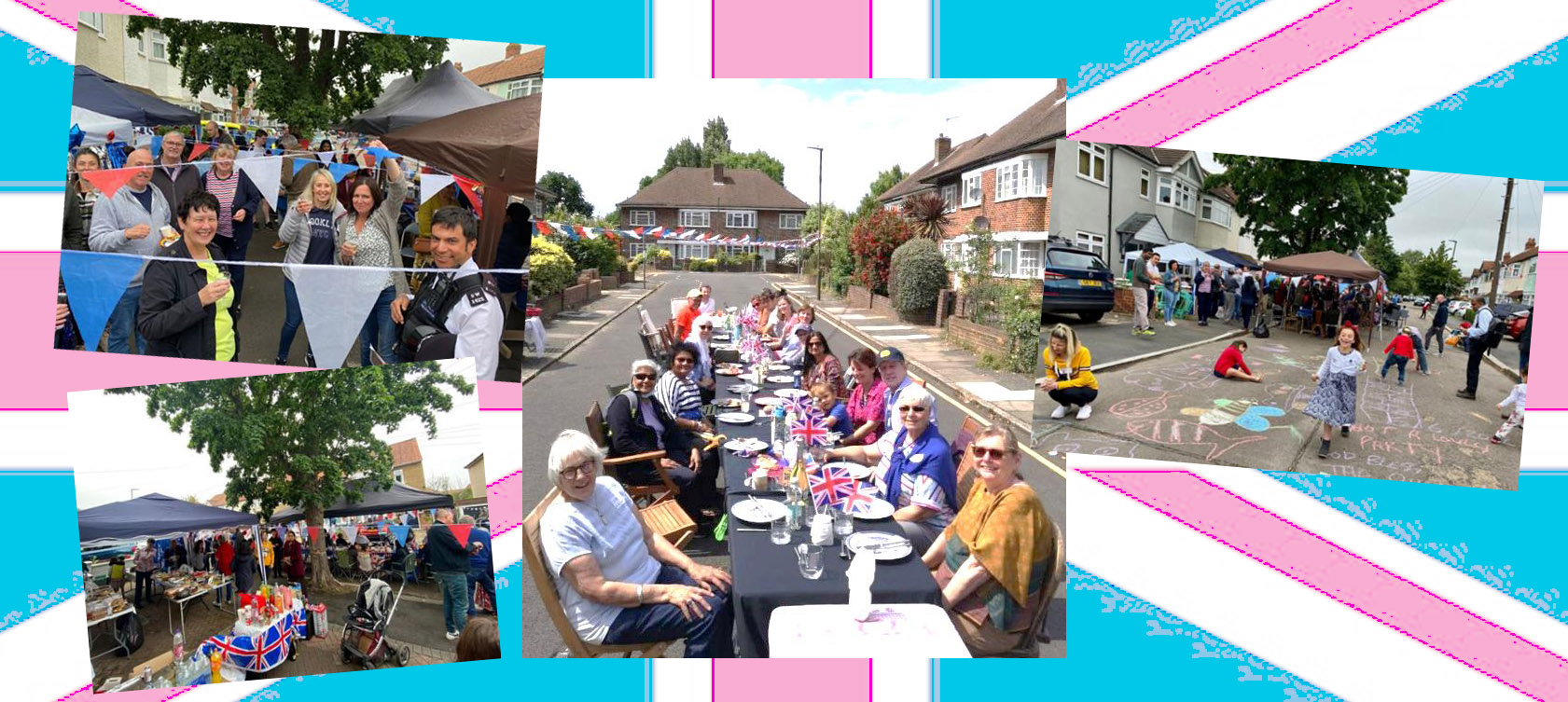 From one of our members ... 
At the start of the first lockdown, the family who live opposite us made a rainbow and displayed it in their front window. We made a sign in reply, that read "Hey, we love your rainbow! Stay safe!" and were ashamed not to be able to put their names on it. In fact, we only knew the names of those living either side of us - everyone else just had a nickname. 
Fast forward two years, and I'm pleased to be able to say that I'm on first-name terms with probably half of the 69 properties on the street. To think, it took a pandemic!  
Our street party (held to celebrate both the Platinum Jubilee and Neighbourhood Watch Week) was attended by nearly 100 enthusiastic residents. I met neighbours I'd never even seen before, in seven years of living here! Many commented on how pleased they were to live on a street where such an event could be a success, and there was a real buzz in the air as people made connections and friendships. 
I learned how to say hello in Tamil, which kids are learning to cycle without stabilisers, how best to tackle hay fever and aphids, that if you say you need a gazebo you get four, and that if you say you need some tables then a carpenter on your street kindly makes you one that's 20ft long 
Community takes effort to build and needs to include everyone. I'm so grateful to the neighbours who: 
·         surveyed all residents to get their views about closing the street for a party, 
·         arranged an online collection pot to cover necessary expenses (which raised more than £200 in small donations), 
·         completed tedious applications and risk assessments, 
·         leafleted every property to ensure those not on WhatsApp were included, 
·         displayed posters explaining the event, translated into some of the languages spoken on the street, 
·         distributed colouring and drawing sheets to all the children, who returned them once complete. Their artwork was then copied and five different designs were distributed to each house in the street. Residents displayed them in their front windows, turning the street into a gallery of artwork for the Jubilee, 
·         devised a scavenger hunt for families to do during the party, with things to find, riddles to solve, and questions to ask their neighbours so that we learned a little about each other, 
·         brought out their garden furniture, (or even built some specially) put it up and helped clear away, 
·         made delicious celebratory dishes from their culture and shared them so generously, 
·         uncomplainingly marshalled each end of the street in 45-minute shifts, or longer! 
We're going to try to keep the momentum going and neighbours are signing up to take part in the next Merton Garden Streets planting days www.sustainablemerton.org/ gardenstreets 
Of course, everyone being tipsy on community spirit is the perfect opportunity to encourage neighbours to become members of the Residents'Association! Let's keep finding ways to make lemonade out of that Pandemic lemon!
Raynes Park Water Fountain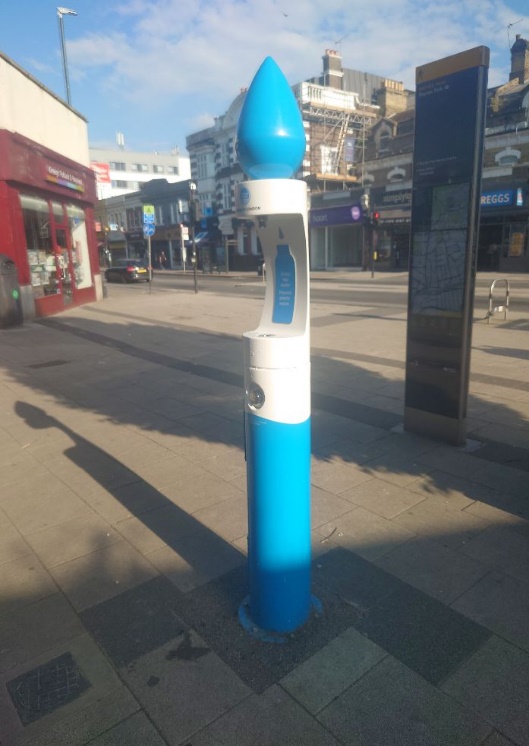 Outside the Coombe Lane entrance to Raynes Park Station, thanks to Thames Water and The Mayor of London one of more than a hundred drinking water fountains has been installed.
The aim of this is to reduce the number of single-use plastic water bottles used in the capital and provide free access to healthy tap water. Please refill a reusable bottle rather than buying a single-use one.
The Mayor and Thames Water have covered the cost of the fountains and their installation. They will be owned by Thames Water who will maintain and clean the fountains for at least 25  years. 
Michael Marks, RPWBRA Secretary
.
Raynes Park Railway Embankment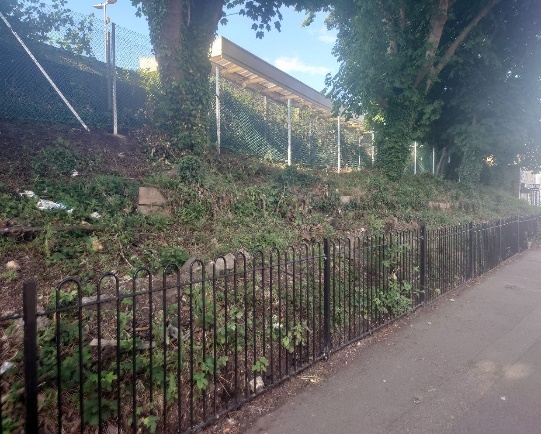 Thanks to the Raynes Park Association, you may have noticed that over the last few years the overpowering advertising hoarding, which was hiding the railway embankment along Coombe Lane, opposite Boots, has been removed. More recently a new railing has now been installed and a lot of the overgrown bank has been cleared. It is their intention to have the terracing repaired and the ground planted with perennial plants, shrubs and spring bulbs, improving the appearance of the area for the enjoyment of the local community.
Michael Marks, RPWBRA Secretary
Request from Chris Larkman, Chair of the Apostles Residents' Association 
CALLING ALL RESIDENTS: WILL YOU HELP US TO IMPROVE THE RAILWAY EMBANKMENT IN RAYNES PARK? 
We are looking for volunteers to help us create an attractive landscape on the embankment on the north of the railway at Raynes Park – the bit of land opposite Boots.  Network Rail has given permission to the Raynes Park Association to manage this embankment.  So we're setting up the 'Friends of Raynes Park' to help dig over, plant, and look after the embankment.  Our work will make Raynes Park look great!  
Flash Floods - July 2021
Mark Allison, the Leader of Merton Council has written to Thames Water demanding urgent action following the severe flooding which made the centre of Raynes Park impassable on Monday 12th July and also badly affected other roads in the neighbourhood. 
We were first alerted by a local resident who sent photos taken in Grand Drive during the downpour and then a video revealing a half-submerged vehicle stranded under the railway arch. And this was just the beginning! 
As our Association was founded in 1928 because of flooding issues, perhaps it is time for developers and planning departments to listen to our concerns about building proposals.
Our thanks to Margaret Nally for these images.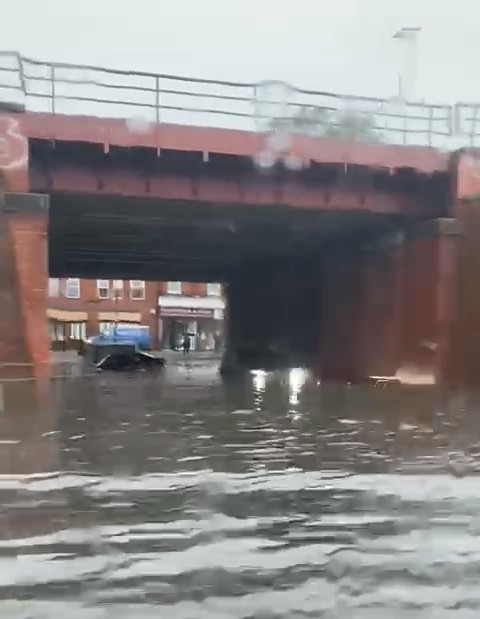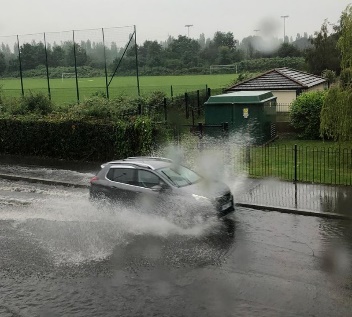 At the Raynes Park Community Forum, held on Zoom on 16 September 2021, we heard from representatives of MERTON COUNCIL, the ENVIRONMENT AGENCY and THAMES WATER about what they intend to do to improve the way in which storm water is handled in and around Raynes Park. It is rather perplexing that the responsibilities for surface water drainage are so confusing. However, they explained some of the actions being taken. These includes more frequent removal of silt from gullies and sewers and changing the way in which some of the local sewage pumping stations operate during storms. 
It's fair to say that many present at the meeting felt that "More Action" is required by the authorities, not just "Activity". Nevertheless, residents were very appreciative that the representatives had taken the time and trouble to attend the Forum and had explained what is being planned to improve things. One important point is that Thames Water and the Environment Agency both now have emergency telephone numbers for reporting floods: 
Thames Water: 0800 316 9800
Environment Agency: 0800 807 060
Grand Drive - Zoom Meeting with Council Officers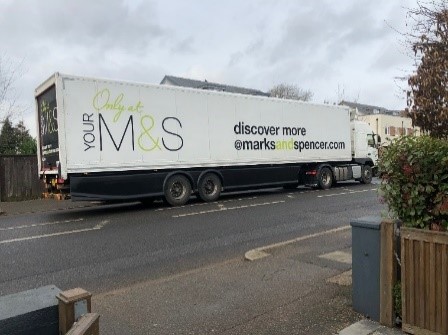 FACT: A recent survey showed that Grand Drive is used by an average of 11,000 vehicles per day. The details can be accessed on: https://tinyurl.com/yckmy6eu. 
GD residents have to contend with huge lorries illegally using the road as early as 5am.  The vibrations cause cracks in their properties and damage to pavements and the road surface. Over the past few years the volume of traffic has increased and the pollution levels have risen.  There is also an increased safety factor for pedestrians and cyclists. 
On the last day of January, theRPWBRA held an extra committee Zoom meeting to raise the issue with council officials. RPWBRA Committee Members John Elvidge, John Townsend, Michael Marks, Clare Townsend, Dick Coleman, Jerry Cuthbert & Mary-Jane Jeanes joined with Grand Drive representatives Demetri Anastasiou, James Bushell, Lucy Bushell, Pepi Ferrari and Mark Nicholson, plus Cllr Hina Bokhari, with the intention of finding solutions through discussion with Chris Lee, Director of Environment and Regeneration and Paul McGarry, Head of Future Merton. 
Representatives from the traffic police and London Lorry Control Scheme (LLCS) offered useful information but were unable to attend. 
Demetri Anastasiou has written an expert summary of the GD problems (Click here), so it was no surprise that Paul McGarry's presentation emphasised the difficulties involved in improving matters. 
The LLCS rules that vehicles over 18 tonnes are not allowed in the zone Mon-Fri: 9.00pm - 7.00am or from 1.00pm on Saturdays to 7.00am on Mondays.  A map of the scheme can be found at https://lcspermits.com/#schememap 
However, HGV operators are not obeying the LLCS rules and all types of vehicles are often breaking the 20mph limit. Unfortunately, the LLCS has only 5 Inspectors for the whole of London. However, they have been active in the area, issuing 124 penalty notices on GD, 67 on Martin Way and 768 on Bushey Road. 
Important: a recent police speed check found that many local residents from the  roads surrounding GD were breaking the 20mph speed limit in Grand Drive. 
The road surface has been inspected by the council and is currently ranked 135th out of 1167 roads in Merton for defectiveness, so they are not saying that it is in good condition, but that there are 134 roads with priority - and as we know, there is not a lot of money available for repairs. Demetri Anastasiou  pointed out that the sheer volume and weight of traffic on GD meant that it would continue to deteriorate more quickly than other roads. Suggestions from the meeting included more speed signs painted on the road and more electronic flashing signs for speeding cars. Currently, LLCS will only put signage up at the boundaries such as this one at Tolworth,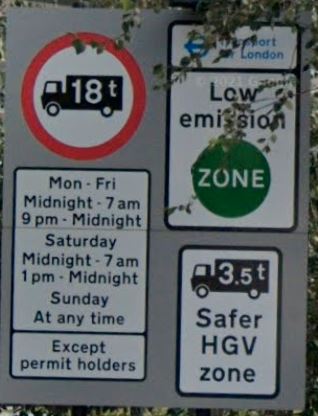 but this should be reconsidered as GD is in the middle of a zone. 
Chris Lee will also be writing to various companies in the borough reminding them of the restrictions. There is also talk of a zebra crossing near the  GD Surgery. 
Referring to the traffic volume checks, Paul McGarry explained that the council have sensors measuring pollution and number of vehicles in each class using the road. It also counts cyclists and pedestrians. Details can be found at https://tinyurl.com/yckmy6eu.

If HGV drivers need to make a journey in the controlled zone they are able to obtain a permit. Common users of these permits are supermarkets delivering daily fresh produce. Those of us in neighbouring roads benefit from essential and non-essential deliveries and we are all part of the problems and the solutions. We need to ensure that we ourselves keep to the speed limits, report worrying incidents and work together for the safety and wellbeing of our community.

Michael Marks, Secretary RPWBRA
Grand Drive Traffic - Report
Report by  our member, Demetri Anastasiou, Chartered Civil Engineer 
BACKGROUND
Grand Drive is a designated "B" road. The official classification states: "B-roads are numbered distributor roads, which have lower traffic densities than main trunk roads or "A" roads. This classification has nothing to do with width or quality of the physical road, and "B" roads can range from dual carriageways to single track roads with passing places." The definitive list of B roads was published on 1st April 1923, following consultations with local authorities. Government funding towards repairs of these roads was set at 60% for the former and 50% for the latter. This is where the problem originates as this classification has its origins in an Act passed nearly 100 years ago where the volume of traffic, the varying traffic mix and the operation requirements of theses B roads have changed dramatically over the years. 
1.THE GEOMETRIC CHARACTERISTIC OF THE ROAD
Grand Drive is approximately 1,800m from the traffic lights at Bushey Road (A298) to the roundabout at Tudor Drive. The road varies considerably in width particularly after the introduction of some traffic calming measures a few years ago.  
Traffic Calming Measures
These include the area around St John Fisher School, the mini-roundabout at Westway/ Southway and the traffic lights at Crossway and Cannon Hill  Lane. 
Inclination of the Road & Speeding
There is a huge inclination North to South of 8-10 metres up to a high point around 120 GD opposite Blenheim Road, with a significant drop of approximately 8 metres to Meadway Road, just after Elm Walk. 
These characteristics inhibit drivers but also encourage them to accelerate up the hill towards the crest of the road then roll downhill, often exceeding the speed limit. 
Going south to north, from the Crossway lights to the Bushey Road is a speeding section.
Traffic Police have confirmed this behaviour. 
This driving behaviour can only be corrected by appropriate, frequent warning & advisory traffic signs and random policing which is currently rare or non-existent. 
2. VOLUME & MIX OF TRAFFIC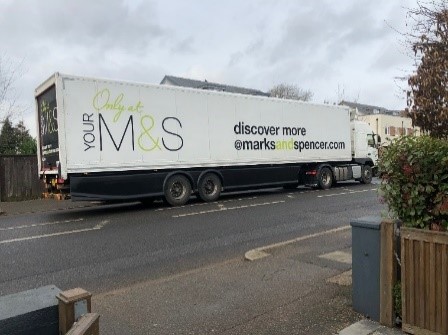 Many years ago, residential car traffic proliferated, peaking at certain times. Then, with the development of the Garth Road Amenities (Merton Refuse Centre, Garth Rd Refuse & Recycling Centre, Suez Recycling & Recovery UK facility) a huge number of 6-axle articulated lorries use the road for waste, recycling, dumping or loading and transporting away from the site. Additionally, the rental of Merton land for the B&T Plant hire LTD and similar operations have changed significantly the traffic mix on GD from cars to HGV lorries. 
This change has been exacerbated by HGV through traffic from the A298 (Bushey Road) to A24 at Stonecot Hill and through Tudor Drive/ Sutton Common Rd to A217. 
Also a key contributor to the traffic volume and speeding is the excessive use of the road by delivery vans (Amazon, DHL UPS, PDP, et al) 
At certain hours of the day there is a continuous flow and abuse of the speed limits by workers' vans and delivery vans. 
3.  0PERATIONAL/USE/REQUIREMENTS/CHARACTERISTICS  
There are restrictions in place from London Lorry Control Scheme which bans HGVs over 18 tonnes from using Grand Drive between 9 pm and 7 am on weekdays and 1 pm on Saturdays until the following Monday at 7 am. However, I can assure you categorically that HGV lorries do not adhere to this ban as Grand Drive has no traffic signs to advise/warn the HGV drivers and the road is not policed.  
4.  TRAFFIC MANAGEMENT DEFICIENCIES 
Current traffic management deficiencies and key omissions contributing to HGV unauthorised use and speeding are clearly the lack of any comprehensive traffic management in place other than Merton collecting money from offenders in two yellow box locations driving South to North on Grand Drive. There is serious lack of informative and traffic prohibiting signage for HGV usage exclusions and speed limit. There is a flashing speed limit sign on the 'uphill' from North to South which, as I explained before, the geomorphology of the ground and the road makes it difficult for the HGVs to speed contrary to the downhill segment where there are a couple of small 20 mph signs on lamp posts. Therefore, the wrong positioning of the electronic sign and small speed limiting signpost require an overall traffic management re-thinking and definite their repositioning. On two occasions recently the Traffic Police Unit checking traffic in both directions positioned at Heath Drive facing North confirmed that the road is inadequately signposted for speeding restrictions and HGV use.  
5.  CONDITIONS OF THE ROAD SURFACE 
Some of you might be aware of the efforts of the residents to persuade Merton to resurface Grand Drive. Eventually this was achieved, was accepted but only for a small segment. The road has not been maintained so it has deteriorated further ever since. The deterioration was exacerbated by the gas works when Conway were the BG contractor to reinstate the road. There was little supervision as it can be seen by the current condition of the road surface cracking and subsiding in many places. Clearly a very inferior and cheap work surprisingly accepted by the Roads & Streets Department of Merton Council!!!  
6.         RECOMMENDATIONS 
(i)   Firstly there is a need for an Automatic Traffic Measuring Device to be installed halfway along the 1,800m of Grand Drive. There are two cables on the road that include sensors to pick up the traffic volume and mix for a number of working days, identifying the traffic use.  
(ii)  Large warning signs for HGV lorries prohibiting use of Grand Drive between 9 pm and 7 am on weekdays and from 1 pm on Saturdays until the following Monday at 7 am. These signs like those at the A3, warning about emission control zones, must be placed just after the A3/A298 flyover at the traffic lights between Bushey Road and Grand Drive on junction and equally approaching on A298 from the East.  Signage like this must be placed on the A24 and A217 junctions both ways with B279 at Stonecot Hill and Oldfield Road junctions.  
(iii)   Merton Council (and possibly Traffic Police) to notify the main offenders of HGV use after hours and of speeding, which include  Veolia, Garth Road Reuse & Recycling Centre, SUEZ Recycling and Recovery UK facility, B & T Plant Hire Ltd plus other smaller operations in the Garth Road area using HGV lorries and , unidentified skip lorries driving without load cover and the security chains free to sway and make noise hitting the skip container. 
(iv)     Notify the following offenders (speeding) about the speed restrictions in the area: TfL for Bus route 163, Amazon, DPD, TNT, DHL delivery vans plus all grocery delivery vans.  
(v)    Efficient and effective speed limit signposting: There is an urgent need to add more 20 mph sigh posts on the lamp posts in both North and South traffic flow directions.  
(vi) Policing the road. The three days in the last year that a Met Police Road Traffic Unit was in the area significantly reduced the speeding of all traffic. Therefore, frequent spot checks will enhance the awareness of drivers. Again, this needs to be planned as twice the Police carried out the checks during or near peak times where congestion was evidence. The best time is during working mid-day and/or after evening rush hour. 
(vii)      Improvement to the condition of the road surface of Grand Drive for its full length. It is worth pointing out that 4.3% of all the Tax collected in central Government by all taxpayers, including pensioners, goes for Transport improvements. A significant amount of the Council Tax in Merton should go to road maintenance and improvement. This is not evidenced anywhere in the Borough and with road, street and pavement works unsupervised so the Utilities - Water, Gas, Power Networks and Openreach have had a free hand..   Therefore, going forward, close supervision from the 'Municipal Engineer' of Merton Council is needed for all works remedial, improvements or new at Grand Drive. 
A simplified guide about lorry weights and sizes may be read at https://assets.publishing.service.gov.uk/government/uploads/system/uploads/attachment_data/file/211948/simplified-guide-to-lorry-types-and-weights.pdf
Treasurer's Update; March 2022
Thanks to our amazing Area Coordinators and Road Stewards we have achieved almost 90% of our expected subscriptions. Given the difficulties which we have all encountered since the beginning of the pandemic, this is very encouraging. 
As we are now at the end of the financial year 21/22  I will be sending reminders to residents who have been receiving Guides but have not yet paid their annual membership sub of £3. 
Many thanks to all the members who have paid – and extra thanks to the generous members who have added donations! The accounts will be audited as always by Brian Lewis Lavender and will be printed in the April Guide. 
John Townsend, Treasurer RPWBRA
Changes to Constituency Boundaries - Update March 2022

Do you live in Parkway, specifically from No 22 or above that number?
Or, perhaps in Elm Walk in an odd number from 49 or above?
Or in Elm Walk, in an even number from 80 or above?
Or Meadow Close (even numbers 66 and above)? 
If so, then the Boundary Commission proposes moving you from the "Wimbledon" constituency (MP: Stephen Hammond) to "Mitcham and Morden" (MP: Siobhain McDonagh) .
The Boundary Commission's proposals are now out for a second stage public consultation. 
We think these streets have been reallocated simply to even up the numbers between the two constituencies. However, most residents in these streets do, we are sure, logically feel part of the Wimbledon constituency, which encompasses most of the Raynes Park and West Barnes areas, as against being in either Morden and Mitcham, which are both much further away. 
The proposals are now in their final public consultation stage, with a closing date of 4 April 2022. So there is still time to make a submission. To find out more and how to submit your views, visit https://www.bcereviews.org.uk/
Jerry Cuthbert, March 2022
Thames Water - Flooding Roadshow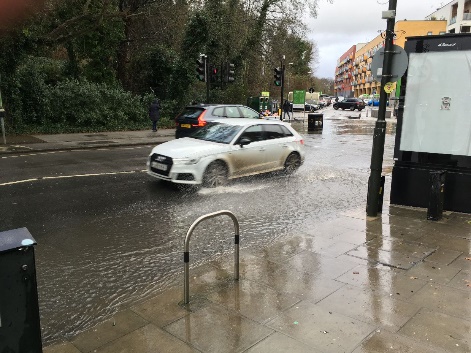 The Holiday season is over and on the first working day of 2022 the road through Raynes Park was flooded.   
As you may have seen on Wednesday 12 January, Thames Water parked a van on the forecourt outside Raynes Park Station for the purpose of discussing the flooding problems in the area.  
A few councillors were in attendance together with the council's communication officer. The council staff who are responsible for the gullies were not available and very few people had been notified of the event.
Most gullies running along the edge of the road against the kerb in Merton are now cleaned by a small vehicle. This is a start, but they need to be cleared more thoroughly.
The council appear to have stopped removing the leaves and dirt which go into the kerb drains. These drains link the road surface to the sewer below which is Thames Water's responsibility.  
The sewers were started late in the 19th Century and their capacity was not designed for what we route into them. Just keeping the gullies and drains clear will not solve the problem of the under capacity of the sewer pipes.  The infrastructure below ground needs to be brought in line with what is being built above ground.  
IMPORTANT ADVICE: TELEPHONE CALLS ARE EFFECTIVE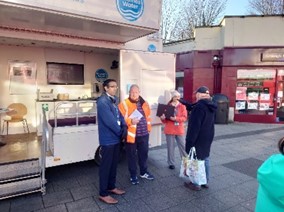 If a road or area floods please first call: 
Thames Water 0800 316 9800
to report it. A telephone call is much more effective than an email. Also call Merton Council to keep them informed.  
This link to Merton Council's website has a useful page describing who to contact and their details.  
Above is a link to Thames Water Questionnaire if you want to report flooding. There is a greater effect if you telephone Thames Water 0800 316 9800   
RPWBRA CONCERNS - A Question for Thames Water 
Why were only a small number of the local residents informed about the TW roadshow? Only a few roads were leafleted and the RPWBRA was not informed. It was only thanks to Chris Larkman from the Apostles Residents' Association that we heard about the venture, but this was at very short notice and gave us no time to muster attendance.
As a result, the photographs taken at the event show very few residents, mainly passing shoppers, whereas a properly advertised event with Council support would have seen a large, interested group of concerned residents who have been affected by the flooding issues for years.    
The idea was a good one but the lack of publicity rendered it largely ineffective.
Michael Marks - Secretary
Traffic Problems in Grand Drive
Please give us your views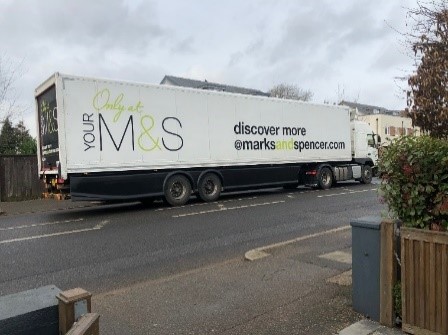 Several of our members who live in Grand Drive have raised concerns over the excessive traffic speeds in Grand Drive.  HGVs are reported as being a particular problem due to the noise and vibration and the damage this causes to health and property alike. Our Association is keen to hear the views of our members about these problems. 
We expect that members in other roads may also be suffering similar problems but the situation is made more complicated in Grand Drive than for most other roads because it is part of TfL's London Distributor Road network. TfL are therefore responsible for traffic lights and other safety features (speed cameras, raised junctions, chicanes and the like) and Merton has to get agreement from TfL to add these sorts of measures. 
There is also the associated issue of pollution, both due to Nitrogen Oxide (NOX) and also particulate emissions. Merton does monitor NO2 levels at some fixed points along Grand Drive and elsewhere in the borough.
The sensors in Grand Drive show annual average NO2 levels are in excess of the national objective of
40 mg m-3. 
This link takes you to Merton's most recent Air Quality Annual Status Report:
 https://www.merton.gov.uk/Documents/Annual%20Status%20Report%202020.pdf 

There is also the matter of enforcing the new 20 mph speed limit and the existing London Lorry Control Scheme, which bans HGVs over 18 tonnes from using Grand Drive between 9.00pm and 7.00am on weekdays. At the weekend they are banned from 1.00pm on Saturdays until the following Monday i.e. no HGVs on Saturday afternoon or all day Sunday. 
Those are the rules, but regrettably they are frequently ignored. 
Grand Drive residents are seeking solutions! We all understand that delivery drivers must get from A to B and we value their hard work. They have supported the country throughout the pandemic, keeping essential work and maintenance going and delivering food and goods to those locked down or restricted. 
However, the welfare of residents is being affected by the constant thundering of huge vehicles from 5.30am, and there is danger to the young, the elderly and the infirm from speeding vehicles in general. The stress for the residents, damage to the roads and pavements (and in some cases to houses) and the worrying aspects such as air pollution are all everyday concerns for those in living along Grand Drive and other streets in our area. 
Please let us know of your concerns, either by email to our Association at here or by posting on our Nextdoor Group, either privately or publically, at nextdoor.co.uk/g/84vfly7fh/
Clare Townsend
Grand Drive Action!
Report by John Townsend 
A small group of residents met on 20th September 2021 and were joined by Councillor Bokhari and by chartered civil engineer Demetri Anastasiou,  whose comprehensive explanation of the Grand Drive issues may be read here 
This local group, is seeking solutions to a range of ever worsening traffic problems in Grand Drive. Many of our members who live in other parts of our area will recognise the issues, but the complexity surrounding the Grand Drive problems is compounded by the mixed areas of responsibility - Merton Council, the Police, London Lorry Control, Transport for London - and neighbouring boroughs. 
Ironically, whilst there appears to be a nationwide dearth of HGV drivers, for a combination of reasons including Brexit, the Grand Drive stretch appears to be accommodating more and more heavy goods vehicles and speeding delivery vans. 
I have the greatest of respect for these drivers, who have difficult deadlines and who have kept our lives manageable throughout the pandemic with deliveries, waste disposal, essential maintenance etc., but the road, pavements and houses are suffering serious damage.
ACTION: Our Association, in conjunction with our local councillors intends to hold a meeting bringing all the strands together and seeking a clear step by step solution from the relevant council officers, representatives of other traffic organisations and police. In order to achieve this turnout we may have to be patient! 
The date and venue for this meeting will be arranged as soon as possible and we will invite members to send in questions.
One of our members made a pertinent comment about a fine he received recently in Wimbledon. He inadvertently drove into the newly pedestrianised Russell Road, was caught on camera and received an automatic fine. Yet no one seems to have the money or the will to deal with the illegal use of Grand Drive! 
Meanwhile, we are planning a discussion involving as many of the relevant authorities as possible for January 2022. It will be held under the joint auspices of our Association and the Grand Drive Action Group.
John Townsend
The RPWBRA Nextdoor Group
Our Committee Member, Dick Coleman, is keen to improve communications, both with and between members, so is encouraging members to join the Association's official RPWBRA members' group on Nextdoor,
In the past few months, we've set up a members' group on Nextdoor, a social networking service for you and your neighbours, as a means of providing up-to-date news on local issues.
We've particularly focused recently on the big planning proposals, such as at Tesco, and the Meadowview Road playing fields, where it's important to keep abreast of developments. The RPWBRA Group works both ways, and we hope our members will also find it an easier way to give us feedback, raise issues we might be able to help with, and help each other.
Nextdoor is a free service, all you need to do to join the Group is visit: https://nextdoor.co.uk/g/84vfly7fh/