Local news
Best Wishes to John Braden
J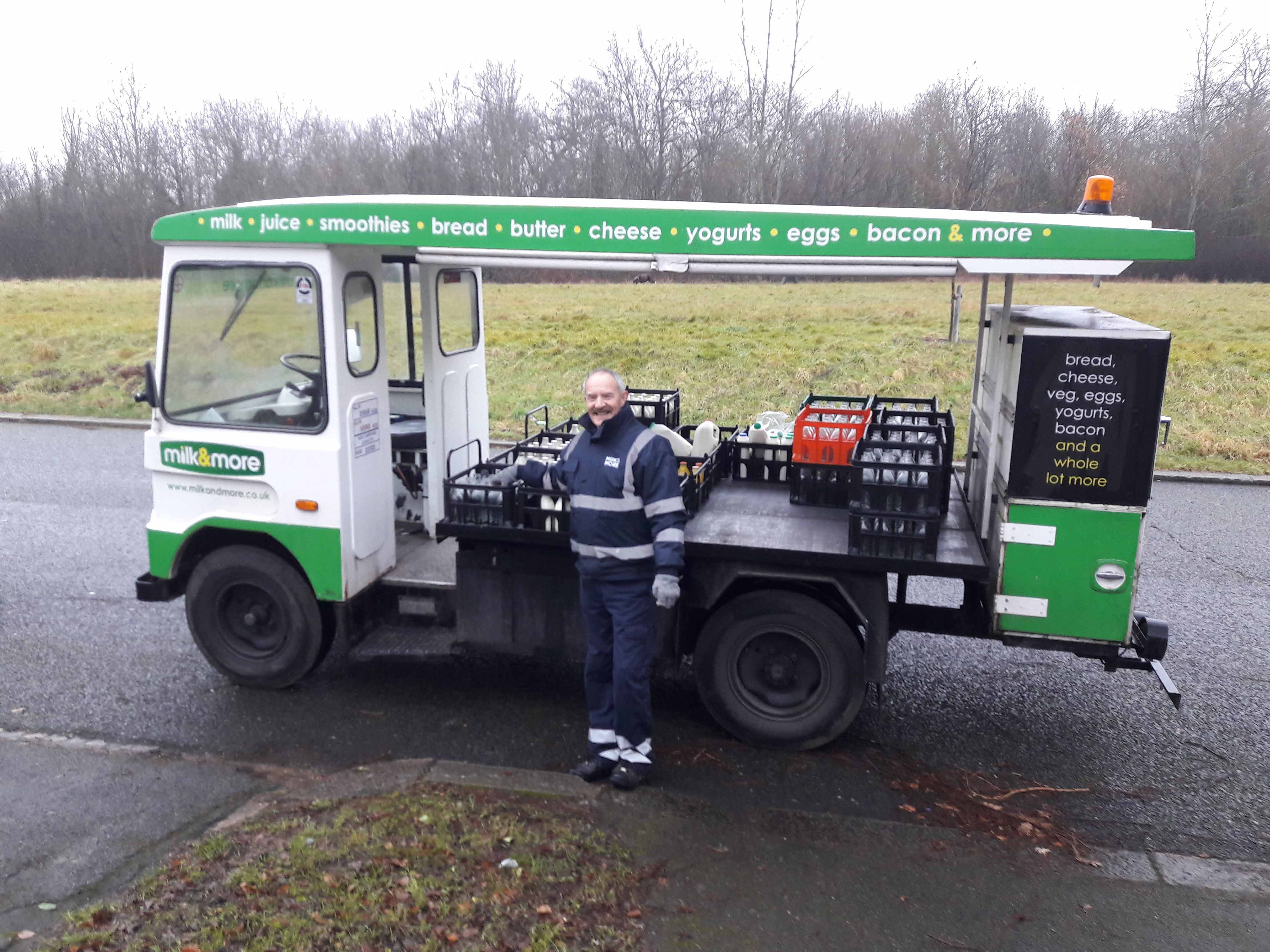 OHN BRADEN, MBE – LOCAL MILKMAN AND FRIEND 
In this month's blog, our chairman, John Elvidge, tells us about the retirement of John Braden, a cherished and admired member of our community for nearly 50 years. 
This is why: one neighbour who 'inherited' John on moving here in 1992 speaks of his 'reassuring presence' and undemonstrative but spontaneous kindness to another neighbour, a widower who was living alone with very few visitors. John would deliver the milk into his kitchen with a friendly word. 
Another customer speaks of the posters that used to be on her classroom wall when she was five years old, back in the early 1950s. They were called People Who Help Us and there were three: The Policeman, the Postman and The Milkman. 'Nowadays we rarely see The Policeman who is busy elsewhere, the Postman seems to change every few months, but - luckily for us - The Milkman remains the same affable presence that we knew sixty years ago. What was once true for us has still been true for our grandchildren.' 
Another fan writes:  
John, who has been driving his 'Milk & More' van and timely serving his customers, is a jolly face to look forward to every morning. We have been his customers over a couple of decades. Our friendly experience – he is always cracking jokes - is pleasant to remember. We send best wishes for his retirement, a well-earned time of his life. 
Many people mention John's conversations on the doorstep, referring especially to his holidays - the animated anticipation and then the relaxed retrospect. But I can think at once of so many more topics that have arisen spontaneously: backache, stolen cars, computers, researching family trees, the state of the dairy business (no surprise there), the foibles of education, mental arithmetic and its superiority over calculators…has anyone known John get a bill wrong?  And the changes that forty years have brought to Raynes Park. 

We might go on getting the milk, but after February we'll surely miss the warm and generous chat that comes with it. 
Tom
West Barnes Library - Feb 2018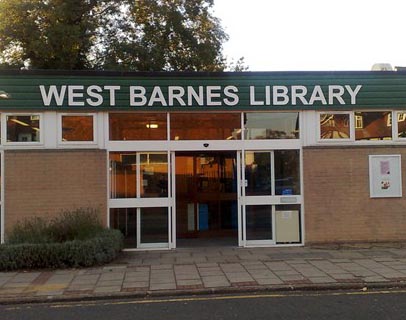 News from West Barnes Library... 
About our Volunteers
There are currently 36 volunteers at West Barnes Library, who perform a range of duties that assist the permanent staff and allow the library to maintain its opening hours.  (The spur for the present Monday volunteering,  in particular, and the formation of the Friends of West Barnes Library, was when, in 2011, it seemed possible that the library might have to close on Mondays. The support offered by the Friends and those who volunteered to cover Mondays meant the library could remain open five days a week.)
Volunteers' work include 'meeting and greeting' those using the library; assisting library users with the computers and printing; shelving books and ensuring that books are in the right order (so they can be found!); locating books required by other libraries; setting out (and putting away) furniture and equipment for events (such as local history talks and the Rendezvous Group).  Many volunteers are also involved in activities organised by the Friends of the library. 
Ever since the Friends of West Barnes Library was formed in 2011, there has been a close connection between them and the volunteers.  Most of those involved in organising the Friends are, or have been, library volunteers.  The Friends organise Quiz Nights, fairs, Board Games evenings, local history talks and talks by authors, and from time to time buy items for the library--such as the tables and a sandwich board given during the past year.  
Toby Ewin
Parking Charges - Kingston Hospital
A Letter Received about KINGSTON HOSPITAL'S PROPOSAL TO CHARGE PARKING FEES FOR BLUE BADGE HOLDERS 
"I write to you as somebody whom I believe to be involved in a Residents' Association in [the] Kingston [area]. For those of you who do not know me, I'm James Giles, a community activist in New Malden and I am involved in a number of community organisations here.
"You may [not] be aware that, from 22nd January, Kingston Hospital is set to introduce parking fees for those with blue badges, i.e. disabled people. Until this point, parking has been free.
"The Kingston Independent Residents Group (KIRG) has launched a campaign to reinstate free parking at Kingston Hospital for blue badge holders, branding proposed changes by the NHS Trust a 'disgrace'
"I ask you if you would please be so kind as to distribute the link to this very urgent petition to your members and residents. It is so important that we demonstrate to the hospital the damage that this will cause to the most vulnerable in Kingston.
http://kingstonindependents.org.uk.gridhosted.co.uk/news-and-updates/urgent-petition-to-save-free-parking-at-kingston-hospital-for-disabled-people/
"If you are not on-line you can write to:  Cllr. M. Clark, at 135c South Lane, New Malden, Surrey KT3 5HQ.  Cllr. Clark is the Kingston Councillor who will be addressing this matter on the Health Scrutiny Committee.
"Thank you in advance for your support.
"James Giles"
No Wheelies Please
From the No Wheelies Please - Merton Group 
The results of two surveys (one borough wide, and the other by the Apostles Residents' Association) have indicated that over 90% of the respondents reject the Council's proposals for fortnightly waste collections (from October 2018) and the introduction of 68,000 wheelie bins across the borough. 
The NO WHEELIES PLEASE - MERTON group, have instigated a non-party-political RESIDENTS' REFERENDUM to enable residents to make known their preferences for the frequency of dustbin waste collections, and for 80 litre, lidded, recycling bins in a uniform colour, instead of wheelies and open topped boxes. Thephotos on the website say it all! (but there's loads more info at- www.nowheeliesplease-merton.org.uk. 
Having gathered the first thousand signatures, the group will be trying to secure face to face negotiations with the Council and Veolia Waste Management (who are taking over Merton's waste collection service this month).
Raynes Park Association - Jan 2018
Raynes Park Enhancement Plan
Railway News
A meeting was held between Paul McGarry LBM, Neil Milligan LBM, Tony Edwards, Chris Edge & Chris Larkman.  The purpose of the meeting had been to discuss how to respond to a recent unhelpful email from Kirsty Scott (Network Rail) regarding improvements to Raynes Park Station.  It was agreed that Chris Larkman would raise the issues with Stephen Hammond who has subsequently agreed to call a meeting at Westminster with Network Rail and key RPA members.
Advertising Hoardings
The RPA has also askedLBM to take enforcement action against the owners of the property on Coombe Lane at the junction of Durham Road for removal of the advertising hoardings.  Chris Larkman has alsomet with Shay Brown, Station Manager, who has agreed to note the matters which are specifically South West Rail to see how she can assist. 
Bins to the North of the Skew Arch.
  Stephen Crowe agreed that these bins should be removed, and he is going to follow up on this.
Local Business Issues
It was reported that cars continue to travel the wrong way on the one-way system, and there have been 'several accidents' including one serious one which was witnessed by Julie Donabie from her shop.  Julie also said there has been several 'smash and grab' robberies including one opposite her shop when someone on a scooter smashed a car window to steal a bag.  She claimed there are still problems with flooding and illegal parking e.g. on pavements.  
It was noted that Thames Water had made it clear at the last Community Forum that issues of flooding relating to the public sewer should be reported directly to them on 0800 807 060 or 0800 316 9800 rather than LBM.  Blocked drains remain LBM's responsibility.
New Malden – Raynes Park Pedestrian & Cycle Route
This has now been formally approved.  Details of the route through Raynes Park to be consulted on soon.
CrossRail2
Jerry Cuthbert noted that the project was not given the formal go-ahead in the budget, though it had received a brief mention. 
 Chris Larkman
Merton's Scrapped Weekly Collections
Merton Scrapped Weekly Collection - FAQs
As you know Merton's council's current administration is planning to scrap the weekly rubbish collection.  Over 3500 people replied to the opposition parties' survey, with 95% against the administration's plans.  Many of you asked for more detail, so here is an FAQ which prepared by opposition Councillors to help you understand more about these plans.
Townswomen's Guild - Jan 2018
Alice in Winterland – the Christmas show at the Rose Theatre, Kingston – was enjoyed by a small party from the TWG.  Loosely based on the Alice in Wonderland tale it proved to be a delightful well produced play with a big cast, incorporating music and dance, and large creatures animated by teams of the cast.  For those looking for something a little different from the usual pantomime this was perfect. 
The Christmas Lunch was very well attended, arranged at The Leather Bottle, Merton.  Members had a choice of menu, all variations being well received by members. 
Our first meeting in the New Year will be on Thursday, 18th January at 1.30 at St Saviour's Church Hall.  Mel Rees will give a talk entitled 'My family and other setbacks'.  As always, visitors will be welcome. 
Best wishes from the Townswomen's Guild for a healthy and happy 2018. 
Dorothy Raymond
Diesel Levy
From:    John Elvidge (RP&WBRA)] 
To:         Councillor Stephen Alambritis 
Date:     27th January 2017 
Re:  Diesel Levy
I write as Chairman of the Raynes Park and West Barnes Residents' Association. I understand that the Council is proposing to bring in a levy on diesel vehicles as early as this April, with a surcharge for parking permits and business permits, that is likely to increase in future years.   Please take this e-mail into account in reply to the public consultation that you are (belatedly) undertaking. 
While I understand that modern research shows that such vehicles bring health issues, there does need to be a period of time for public education and during which people are able to change vehicles, otherwise the costs to them will be inordinate. Most people change their vehicles only every three years or so, and those who have recently bought such a vehicle will be heavily penalised, given the depreciation in value.  If the proposal has merit, it should be introduced over a number of years.  The proposal will also hit hardest those who are less well off, as they can ill afford to change their vehicle, simply to avoid extra costs. 
Further, there seems little evidence of such bad air pollution in Merton that it is vital to introduce this scheme at such speed. 
I trust that the Council will defer the introduction of the scheme at this time. 
Please acknowledge receipt.
 From:     Cllr. Ross Garrod (LBM)
To:         John Elvidge (RP&WBRA)
Cc:         Cllr. Stephen Alambritis
Date:      27th January 2017 
Re:  Diesel Levy 
Thank you for your email that has been passed to me as Cabinet Member responsible for the diesel levy. I have passed your response to the consultation to the Traffic and Highways team so that it can be considered. However, I must advise that it will be considered as an individual response and I would urge you to speak to members of your association to email the traffic and highways department directly should they wish to raise individual concerns about the levy. Please be reminded that the consultation concludes on 3rd February.  
Just as a note of background - the proposed introduction of the Diesel Levy is to tackle the issue of air pollution in which the emissions from diesel cars contribute disproportionately. It is estimated that air pollution kills over 9,000 Londoners and will also have a significant impact on the health of many others. I am sure you would agree that this is alarming especially as those exposed to the pollutants would be unsuspecting residents. The issue of air pollution is a top priority for the Mayor of London as the air in particular parts of London is often in breach of regulated levels. This is line with the air quality tests we have undertaken in the borough.  
As I am sure you will agree, there is a need to act to tackle this issue and as an authority we have a duty to our residents. The powers open to local authorities to dissuade the use of diesel cars are limited. In fact I would have much rather the Government bring in a scheme to incentivise the scrappage of such vehicles. However, they have consistently demonstrated a lack of willingness to act and in their absence I think as an authority we should do what we can to limit the impact and exposure of these poisonous substances impacting on the health of residents in the borough.  
I appreciate the concerns you raise about the introduction being introduced over a number of years and this was raised at a scrutiny meeting by Councillors and as result we have proposed that the levy be introduced over a three year period. The first year will be set at the reduced amount of £90 and by year three it will be £150. This will afford residents two years to prepare before the full priced levy be applicable.  
I hope that you have found my email to be helpful and once the consultation closes you will receive further communication from the Traffic and Highways team. 
Notes - RPWBRA Open Meeting - 12/09/2017
In attendance: 
Cllrs. Mary Jane Jeanes, Brian and Gilli Lewis Lavender; The Committee; Association Members; Guests, Rev Peter Kelly, Dr Ruth Charlton, Dr James March and Clare Prodlock.

John Elvidge opened the meeting by welcoming all present, and introducing the Guest speakers. 
Firstly, he invited the Rev. Peter Kelly, of St. Saviour's Church, to speak.   He had come along to introduce himself to the Association, and explain what had been happening at St. Saviour's during the last nine months since he took over his role as priest in charge. He had to get to another meeting by 8.00 p.m. which is why he took first place.  The Chairman's Comment in the October issue of the Guide referred to this impromptu and welcome visit. 
We had also invited representatives from the Epsom & St. Helier NHS Trust.   We were delighted to meet the joint Deputy Chief Executives Dr. Ruth Charlton and Dr. James March. As well as the Trust's communications Director, Claire Proudlock.   The very interesting video that they brought along, and the information about how the Trust had progressed since we last heard from them a year ago, was well received and covered by the Chairman's comment last month.  Perhaps the most surprising fact to many of us was to learn that the Trust had kept inbudget, unlike so many others. 
Proposed Telecoms Mast – Combe Lane/Cambridge Road. 
A Coombe Lane resident, Mr. Otto Hoenig, spoke of his concerns over the proposals for a telephone mast in Coombe Lane. He had attended the meeting on behalf of his neighbours to seek the Association's advice and support in objecting to a proposed re-siting of a telecoms mast from the Rainbow Estate to the corner of Coombe Lane with Cambridge Road. 
It was agreed that there were much more suitable sites in the vicinity than one so close to residential accommodation and so visually intrusive.   Residents' were advised to object to the proposal in the strongest terms and by individual letters including suggestions of more appropriate sites nearby.   It was agreed that the Association would support residents' views. 
Editor's Note:
Mr. Hoenig has since advised that Merton had turned down the prior approval application by Messrs Walden for the re-siting of the mast contrary to policies DM D1; DM D2; DM D6 of the Merton Sites and Policies Plan (July 2014), policy CS.14 of the Merton LDF Core Planning Strategy and policy 7.4 and 7.5 of the London Plan (March 2015).
Raynes Park High School Newsletters

Follow this link for the latest Raynes Park High School newsletter
Looking After Drains and Ditches
One of our Members, David Rush has kindly been keeping an eye on the ditch at Meadowsweet Close that the late Jane Bailey kept an eagle eye on, and was often to be seen cleaning out accumulated rubbish herself.   In response to a letter on our behalf from David to Tom Sly, Flood Risk Management Engineer at the London Borough of Merton, we received the following response. 
"I have made contact with L&Q directly and have requested that they raise a purchase order for their contractors, groundscapes, to undertake this work which is done annually at the end of the growing season. Following completion, I will undertake a site inspection to ensure it has been done appropriately" 
However, Tom also urged us as an Association to remind residents both in Meadowsweet Close and importantly from 167 Grand Drive to 11 Westway, whose properties back onto the ditch that they must keep their back boundary fencing in good order and not put grass cuttings/litter over this fence as this may block the flow and cause a flood risk to properties.
West Wimbledon Primary School - Newsletters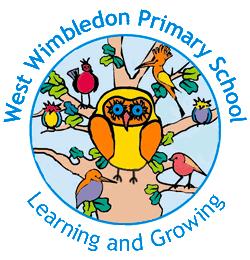 Follow this link for the latest West Wimbledon Primary School newsletter.