Local news
Raynes Park Townswomen's Guild - June 2018
When Claire Nethersole from Age Concern, Merton, visited us last month, she reminded us that they are an independent charitable trust although working closely with Age UK.  With a base in Mitcham, they raise their own funds experiencing the same difficulties in the current economic climate as other small charities, and like Merton & Morden Guild of Social Service operating in Morden to provide many similar services.   Mrs Eileen Brewer gave the vote of thanks. 
The Pavilion Club reported that they always enjoy a visit to the Earth to Table eatery in Raynes Park.  TWG ladies agree, this month arranging a lunch together there. 
The following week on a beautiful day a group visited the Millennium Embroidery and Garden, Sunbury.  A bonus discovered on arrival – the local Bead Group was there.  Before looking at the main exhibit we were able to admire their completed items (key rings, bookmarks, necklaces, bracelets and brooches) as well as wandering round to watch them at work, asking questions as we went and examining the equipment and the tiny beads!   We admired their patience and dexterity! 
A credit to them and the local community spirit, the embroidery itself is a collaborative effort of all the ladies and supporters from local organisations in Sunbury showing the principal features of the area at 2000.  Also shown are the logos of these local organisations carefully embroidered. 
Seat bookings for our summer coach outing to Worthing are now being taken.  Details below.  Please telephone if you are interested. 
WORTHING - Thursday, 16th August 2018
£15 per seat
Leaving approx. 9.00 am (times to be confirmed)
Pick-up points at:
Motspur Park, Raynes Park Station and Grand Drive – Greenway 
Return at 4.30 pm
Tel: 0208 395 9489
Motspur Park Post Office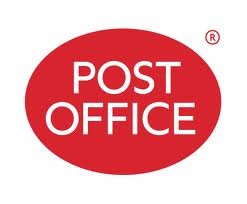 Motspur Park Post Office - 345 West Barnes Lane, New Malden 
The Association raised the closure, on 28th April, of the above Post Office with our MP, Stephen Hammond, being particularly concerned at reports that an application had been made by a local Newsagent to take over this service was not likely to come to fruition until the Autumn – far too long to wait.  Stephen Hammond has forwarded to us the following correspondence he has received on the subject. 
Dear Mr Hammond 
We're planning to make some changes to the above Post Office
For further information please see attached letter. Customer information materials will also be available in branch.
Should you have any questions regarding the branch, please do not hesitate to contact your local External Affairs Manager, Ken Penton, by e-mail on This email address is being protected from spambots. You need JavaScript enabled to view it., or by telephone on 07970 396 440. 
Yours sincerely
Audra Mirjah-Clarke
Post Office Ltd 
A letter dated 16th April 2018, attached, states: 
"Temporary Closure
… I am writing to inform you that, regrettably, following the resignation of the Postmaster and the withdrawal of the premises for Post Office use, the above branch will be closing temporarily. 
The provision of a Post Office service to our customers in the local community is important to us, and we will continue to work hard to restore services in the area as soon as possible. We would welcome any applications from potential retail partners interested in running a branch locally on our behalf. The vacancy is currently being advertised on our website: www.runapostoffice.co.uk and applications will be carefully considered. 
If you are aware of any interested parties, please do share the link with them. I would like to assure you that we are currently investigating the options available which will enable us to reinstate a Post Office service to the local community. In exploring this, it is important that any future service is sustainable for the person operating the service, and for Post Office Limited. Future provision will reflect customer numbers and usage and we may take the opportunity to establish an alternative type of service. This may be a new style branch known as a Post Office local. 
Post Office locals run alongside an established local shop and create a more modern and convenient retail experience for customers in newly refurbished premises. If you have any questions you would like to raise about this matter, please write to me via the National Consultation Team at the address shown below. Please note that your comments will not be kept confidential unless you expressly ask us to do so by clearly marking them "In Confidence". Any future changes to service provision would be handled in line with our Code of Practice which sets out how we communicate and explain changes to the Post Office network. You can find more information about the Code at the end of this letter. If others in your organisation are interested in the proposal, please feel free to let them know about it. I would like to apologise for the inconvenience the temporary closure may cause. We hope that our customers will continue to use the Post Office and full details of alternative Post Office services in the area are shown at the end of this letter. I will write to you again once I have any news about our plans for future service provision. 
Deepak Valani, Area Network Change Manager
Improved services for Mental Health
Hannah Pearson, from Merton Clinical Commissioning Group (CCG), updated the Raynes Park Forum on future Commissioning Group intentions. The slides from her presentation can be found here 
In response to questions from residents Hannah said Mental Health policy is a high priority for the CCG and there have been a number of recent improvements to local mental health services including:
Improving Access to Psychological Therapies (IAPT) service – provides support for anxiety, depression and other conditions

Merton Rapid Intervention service – a multi-disciplinary team that includes Mental Health professionals - and aims to prevent hospital admissions

Crisis Cafés – informal, drop-in support services.
West Wimbledon Primary School - Newsletters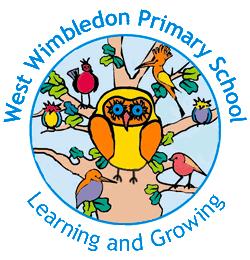 Follow this link for the latest West Wimbledon Primary School newsletter.
Parking Charges - Kingston Hospital
A Letter Received about KINGSTON HOSPITAL'S PROPOSAL TO CHARGE PARKING FEES FOR BLUE BADGE HOLDERS 
"I write to you as somebody whom I believe to be involved in a Residents' Association in [the] Kingston [area]. For those of you who do not know me, I'm James Giles, a community activist in New Malden and I am involved in a number of community organisations here.
"You may [not] be aware that, from 22nd January, Kingston Hospital is set to introduce parking fees for those with blue badges, i.e. disabled people. Until this point, parking has been free.
"The Kingston Independent Residents Group (KIRG) has launched a campaign to reinstate free parking at Kingston Hospital for blue badge holders, branding proposed changes by the NHS Trust a 'disgrace'
"I ask you if you would please be so kind as to distribute the link to this very urgent petition to your members and residents. It is so important that we demonstrate to the hospital the damage that this will cause to the most vulnerable in Kingston.
http://kingstonindependents.org.uk.gridhosted.co.uk/news-and-updates/urgent-petition-to-save-free-parking-at-kingston-hospital-for-disabled-people/
"If you are not on-line you can write to:  Cllr. M. Clark, at 135c South Lane, New Malden, Surrey KT3 5HQ.  Cllr. Clark is the Kingston Councillor who will be addressing this matter on the Health Scrutiny Committee.
"Thank you in advance for your support.
"James Giles"
Raynes Park Bereavement Service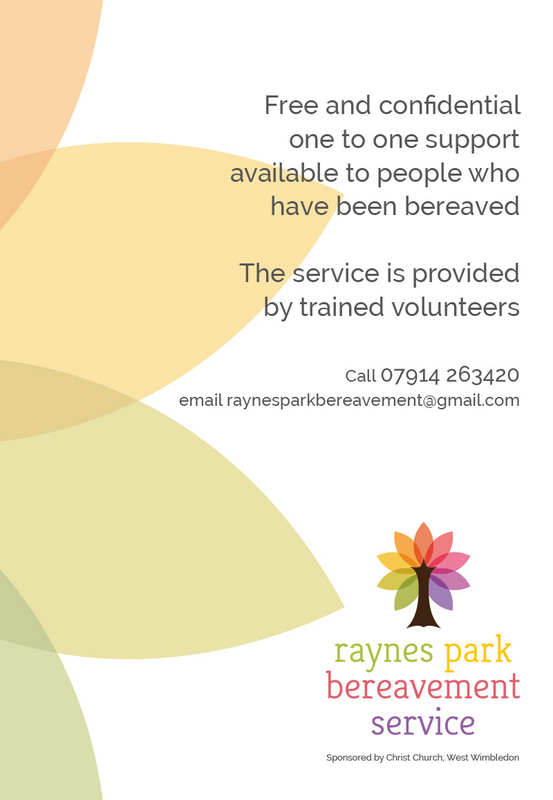 The Raynes Park Bereavement Service was launched on Monday 24 November 2014.   
The service provides free and confidential one to one support to people who have had a bereavement, recently or in the past.  
This service is provided by volunteers who have been vetted, trainedand are supported by professional counsellors.  It is being provided primarily for people living in the Raynes Park area, but it is open to requests from elsewhere.  The service is managed by Christ Church, Raynes Park, and is open to people of all faiths and none.   
The service is accessed by calling 07914 263420 or emailing This email address is being protected from spambots. You need JavaScript enabled to view it..   The volunteer will then arrange a meeting at Lambton Road Medical Practice for as many times as needed.  (If someone is housebound arrangements will be made to see them in their own home.) 
No Wheelies Please
From the No Wheelies Please - Merton Group 
The results of two surveys (one borough wide, and the other by the Apostles Residents' Association) have indicated that over 90% of the respondents reject the Council's proposals for fortnightly waste collections (from October 2018) and the introduction of 68,000 wheelie bins across the borough. 
The NO WHEELIES PLEASE - MERTON group, have instigated a non-party-political RESIDENTS' REFERENDUM to enable residents to make known their preferences for the frequency of dustbin waste collections, and for 80 litre, lidded, recycling bins in a uniform colour, instead of wheelies and open topped boxes. Thephotos on the website say it all! (but there's loads more info at- www.nowheeliesplease-merton.org.uk. 
Having gathered the first thousand signatures, the group will be trying to secure face to face negotiations with the Council and Veolia Waste Management (who are taking over Merton's waste collection service this month).
Postal Collections in Raynes Park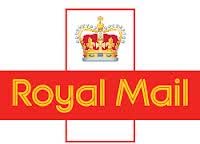 Whilst most of us use the post less than in the past, it may just be worth remembering where there is a later postal collection locally, should we need it at any time.Latest Postal Collections in London SW20 and Surrounding Area
Raynes Park High School Newsletters

Follow this link for the latest Raynes Park High School newsletter
Merton's Top 10 Parking and Traffic Ticket Spots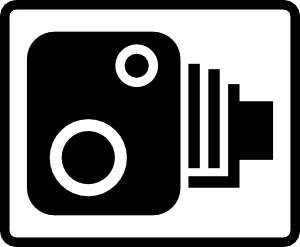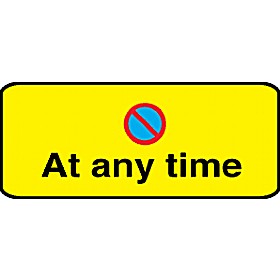 (Courtesy Wimbledon Guardian)
Hartfield Road bus lane camera, Wimbledon – 2,970 tickets
Hartfield Road car park, Wimbledon – 2,605  tickets
London Road bus lane camera, Mitcham (opposite Elmwood Road) – 2,338 tickets
London Road bus lane camera, Mitcham (opposite Bond Road) – 2,282 tickets
London Road bus lane camera, Mitcham (adjacent to Figge's Marsh) – 1,959 tickets
High Street, Wimbledon Village – 1,938 tickets
Coombe Lane, Raynes Park – 1,394 tickets
Russell Road, Wimbledon – 1,373 tickets
Coombe Lane car park, Raynes Park – 1,159 tickets
London Road bus lane, Mitcham (Armfield Crescent) – 1,100 tickets