Local news
Notes - RPWBRA Open Meeting - 12/09/2017
In attendance: 
Cllrs. Mary Jane Jeanes, Brian and Gilli Lewis Lavender; The Committee; Association Members; Guests, Rev Peter Kelly, Dr Ruth Charlton, Dr James March and Clare Prodlock.

John Elvidge opened the meeting by welcoming all present, and introducing the Guest speakers. 
Firstly, he invited the Rev. Peter Kelly, of St. Saviour's Church, to speak.   He had come along to introduce himself to the Association, and explain what had been happening at St. Saviour's during the last nine months since he took over his role as priest in charge. He had to get to another meeting by 8.00 p.m. which is why he took first place.  The Chairman's Comment in the October issue of the Guide referred to this impromptu and welcome visit. 
We had also invited representatives from the Epsom & St. Helier NHS Trust.   We were delighted to meet the joint Deputy Chief Executives Dr. Ruth Charlton and Dr. James March. As well as the Trust's communications Director, Claire Proudlock.   The very interesting video that they brought along, and the information about how the Trust had progressed since we last heard from them a year ago, was well received and covered by the Chairman's comment last month.  Perhaps the most surprising fact to many of us was to learn that the Trust had kept inbudget, unlike so many others. 
Proposed Telecoms Mast – Combe Lane/Cambridge Road. 
A Coombe Lane resident, Mr. Otto Hoenig, spoke of his concerns over the proposals for a telephone mast in Coombe Lane. He had attended the meeting on behalf of his neighbours to seek the Association's advice and support in objecting to a proposed re-siting of a telecoms mast from the Rainbow Estate to the corner of Coombe Lane with Cambridge Road. 
It was agreed that there were much more suitable sites in the vicinity than one so close to residential accommodation and so visually intrusive.   Residents' were advised to object to the proposal in the strongest terms and by individual letters including suggestions of more appropriate sites nearby.   It was agreed that the Association would support residents' views. 
Editor's Note:
Mr. Hoenig has since advised that Merton had turned down the prior approval application by Messrs Walden for the re-siting of the mast contrary to policies DM D1; DM D2; DM D6 of the Merton Sites and Policies Plan (July 2014), policy CS.14 of the Merton LDF Core Planning Strategy and policy 7.4 and 7.5 of the London Plan (March 2015).
Notes - Community Forum - September 2017
NOTES FROM THE RAYNES PARK COMMUNITY FORUM – THURSDAY 14TH SEPTEMBER 2017
Open Forum
A local resident asked when the hoardings on Durham Road will be removed as they attract fly posters. Neil Milligan, Development Control Section Manager, explained that the hoardings are technically legal; however, the council is investigating whether to act.
Statistics on the number of Fixed Penalty Notices issued since April 2017 were provided: 2,683 for littering; 0 for dog fouling. Merton Council employs five members of staff from contractors Kingdom Security.
Asked about whether road markings can be painted at the junction at the bottom of Lambton Road, Neil Milligan said that this has been raised with Chris Chowns, the Council's transport planner, but the response is that currently there is no budget to do the work. Neil agreed to raise the matter again.
Residents voiced concerns about the white line outside Waitrose, which has been moved, making it difficult for cars to get past one another and leading to traffic jams. Neil Milligan agreed to speak to Highways engineers about the matter.
Concerns were expressed about litter outside the library and in the Apostles. It was noted that the drains are also covered in litter.
Councillor Bull acknowledged the problem.
Flooding in Raynes Park Area
Townswomen's Guild - Oct/Nov 2017
RAYNES PARK TOWNSWOMEN'S GUILD
 The September meeting was, overall, a relaxed social occasion to begin the autumn season, although there was some reviewing of forthcoming events.  Two contrasting quizzes were prepared, but in the event only one was required.  Members were happy to catch up with one another over tea and cakes! 
A group met at Superfish, Morden for another regular lunch club fixture.  However, on the same day two Committee Members were sad to attend the funeral of Mrs Elizabeth Fleming who had been a loyal member of the Raynes Park Guild for many years.  We will miss her. 
On 15th November the local area Federation of TWGs have arranged their Christmas Lunch – this year at Merton College.   With such a local venue a large group from our Guild will be attending this event.  
To avoid everything happening in one week, the visit has been brought forward to Tuesday 7th November.  We will go to The Millennium Embroidery Gallery and walled garden in Sunbury.  
The monthly meeting on Thursday, 16h November (at 1.00 pm in St Saviour's Church Hall) will feature a talk by Colin Jones entitled 'Gardens of Japan'. 
Please join us at our meeting if you would like to attend, or telephone for more information about any of our activities.  Visitors are always welcome. 
Dorothy Raymond,  020 8395 9489
Diesel Levy
From:    John Elvidge (RP&WBRA)] 
To:         Councillor Stephen Alambritis 
Date:     27th January 2017 
Re:  Diesel Levy
I write as Chairman of the Raynes Park and West Barnes Residents' Association. I understand that the Council is proposing to bring in a levy on diesel vehicles as early as this April, with a surcharge for parking permits and business permits, that is likely to increase in future years.   Please take this e-mail into account in reply to the public consultation that you are (belatedly) undertaking. 
While I understand that modern research shows that such vehicles bring health issues, there does need to be a period of time for public education and during which people are able to change vehicles, otherwise the costs to them will be inordinate. Most people change their vehicles only every three years or so, and those who have recently bought such a vehicle will be heavily penalised, given the depreciation in value.  If the proposal has merit, it should be introduced over a number of years.  The proposal will also hit hardest those who are less well off, as they can ill afford to change their vehicle, simply to avoid extra costs. 
Further, there seems little evidence of such bad air pollution in Merton that it is vital to introduce this scheme at such speed. 
I trust that the Council will defer the introduction of the scheme at this time. 
Please acknowledge receipt.
 From:     Cllr. Ross Garrod (LBM)
To:         John Elvidge (RP&WBRA)
Cc:         Cllr. Stephen Alambritis
Date:      27th January 2017 
Re:  Diesel Levy 
Thank you for your email that has been passed to me as Cabinet Member responsible for the diesel levy. I have passed your response to the consultation to the Traffic and Highways team so that it can be considered. However, I must advise that it will be considered as an individual response and I would urge you to speak to members of your association to email the traffic and highways department directly should they wish to raise individual concerns about the levy. Please be reminded that the consultation concludes on 3rd February.  
Just as a note of background - the proposed introduction of the Diesel Levy is to tackle the issue of air pollution in which the emissions from diesel cars contribute disproportionately. It is estimated that air pollution kills over 9,000 Londoners and will also have a significant impact on the health of many others. I am sure you would agree that this is alarming especially as those exposed to the pollutants would be unsuspecting residents. The issue of air pollution is a top priority for the Mayor of London as the air in particular parts of London is often in breach of regulated levels. This is line with the air quality tests we have undertaken in the borough.  
As I am sure you will agree, there is a need to act to tackle this issue and as an authority we have a duty to our residents. The powers open to local authorities to dissuade the use of diesel cars are limited. In fact I would have much rather the Government bring in a scheme to incentivise the scrappage of such vehicles. However, they have consistently demonstrated a lack of willingness to act and in their absence I think as an authority we should do what we can to limit the impact and exposure of these poisonous substances impacting on the health of residents in the borough.  
I appreciate the concerns you raise about the introduction being introduced over a number of years and this was raised at a scrutiny meeting by Councillors and as result we have proposed that the levy be introduced over a three year period. The first year will be set at the reduced amount of £90 and by year three it will be £150. This will afford residents two years to prepare before the full priced levy be applicable.  
I hope that you have found my email to be helpful and once the consultation closes you will receive further communication from the Traffic and Highways team. 
Looking After Drains and Ditches
One of our Members, David Rush has kindly been keeping an eye on the ditch at Meadowsweet Close that the late Jane Bailey kept an eagle eye on, and was often to be seen cleaning out accumulated rubbish herself.   In response to a letter on our behalf from David to Tom Sly, Flood Risk Management Engineer at the London Borough of Merton, we received the following response. 
"I have made contact with L&Q directly and have requested that they raise a purchase order for their contractors, groundscapes, to undertake this work which is done annually at the end of the growing season. Following completion, I will undertake a site inspection to ensure it has been done appropriately" 
However, Tom also urged us as an Association to remind residents both in Meadowsweet Close and importantly from 167 Grand Drive to 11 Westway, whose properties back onto the ditch that they must keep their back boundary fencing in good order and not put grass cuttings/litter over this fence as this may block the flow and cause a flood risk to properties.
Raynes Park High School Newsletters

Follow this link for the latest Raynes Park High School newsletter
Pavilion Club - September 2017
Pavilion Club Members raised £320.42 at a tea party for the Macmillan Cancer Fund held on Thursday 21st September 2017.  This was over double the amount they made last year, and reflected the huge effort that was put in by everyone. 
The organizers would like to extend their warmest thanks to all who came for tea and bought raffle tickets and cakes in support of this very worthwhile charity.
West Wimbledon Primary School - Newsletters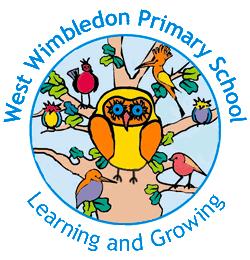 Follow this link for the latest West Wimbledon Primary School newsletter.
No Wheelies Please
From the No Wheelies Please - Merton Group 
The results of two surveys (one borough wide, and the other by the Apostles Residents' Association) have indicated that over 90% of the respondents reject the Council's proposals for fortnightly waste collections (from October 2018) and the introduction of 68,000 wheelie bins across the borough. 
The NO WHEELIES PLEASE - MERTON group, have instigated a non-party-political RESIDENTS' REFERENDUM to enable residents to make known their preferences for the frequency of dustbin waste collections, and for 80 litre, lidded, recycling bins in a uniform colour, instead of wheelies and open topped boxes. Thephotos on the website say it all! (but there's loads more info at- www.nowheeliesplease-merton.org.uk. 
Having gathered the first thousand signatures, the group will be trying to secure face to face negotiations with the Council and Veolia Waste Management (who are taking over Merton's waste collection service this month).
Raynes Park Bereavement Service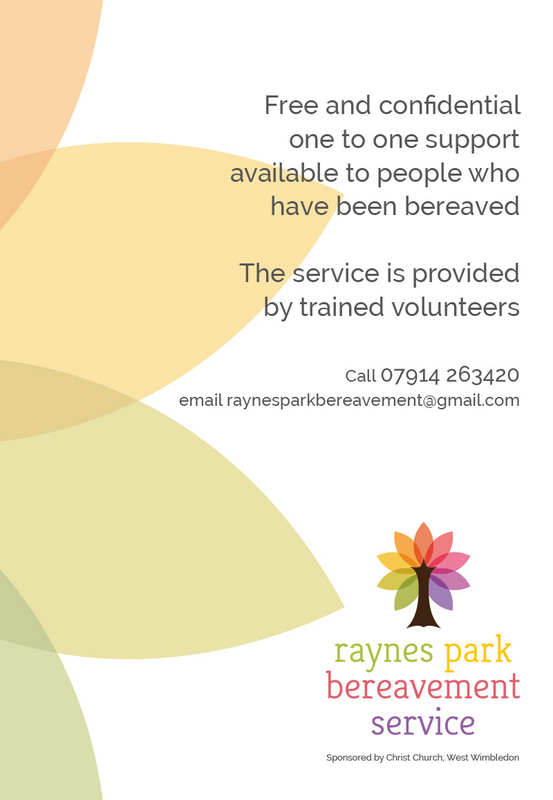 The Raynes Park Bereavement Service was launched on Monday 24 November 2014.   
The service provides free and confidential one to one support to people who have had a bereavement, recently or in the past.  
This service is provided by volunteers who have been vetted, trainedand are supported by professional counsellors.  It is being provided primarily for people living in the Raynes Park area, but it is open to requests from elsewhere.  The service is managed by Christ Church, Raynes Park, and is open to people of all faiths and none.   
The service is accessed by calling 07914 263420 or emailing This email address is being protected from spambots. You need JavaScript enabled to view it..   The volunteer will then arrange a meeting at Lambton Road Medical Practice for as many times as needed.  (If someone is housebound arrangements will be made to see them in their own home.) 
Merton's Scrapped Weekly Collections
Merton Scrapped Weekly Collection - FAQs
As you know Merton's council's current administration is planning to scrap the weekly rubbish collection.  Over 3500 people replied to the opposition parties' survey, with 95% against the administration's plans.  Many of you asked for more detail, so here is an FAQ which prepared by opposition Councillors to help you understand more about these plans.
Postal Collections in Raynes Park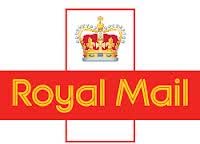 Whilst most of us use the post less than in the past, it may just be worth remembering where there is a later postal collection locally, should we need it at any time.Latest Postal Collections in London SW20 and Surrounding Area