Local news
Epsom & St Helier - Podcast
News from Epsom & St. Helier NHS Trust 
From the lifesaving to the routine, and featuring staff working behind the scenes and on the frontline of our NHS services – Epsom and St Helier have launched a new podcast (thought to be the first of its kind in the country), to help provide more of an insight into the experiences of patients and the diverse and specialised roles that our staff carry out. 
The first podcast was released on 30th November and will be available on a monthly basis via the Trust's website at:
www.epsom-sthelier.nhs.uk/podcastand for download from your usual podcast provider – simply search for 'Your Epsom and St Helier. 
The 'Your Epsom and St Helier' podcast is being produced by the Trust's Communications and Engagement Team and aims to provide a new platform for both patients and staff to share their stories with a wide audience. 
The very first episode covers the story of Rob Glanville – a professional inline skater who suffered a life-changing brain injury while out skating and was subsequently cared for by the neuro-rehab team at St Helier. Rob is joined by one of the speech therapists who treated him – Sally Tan. 
Rob gives his account of the very serious accident that he had in Hammersmith, which resulted in him suffering a sub-duralhaematoma (bleed on the brain), while Sally tells us what it was like to treat Rob and how she and her team helped him to talk, swallow and walk again. 
Director of Communications and Patient Experience, Lisa Thomson, said: "Our Trust is committed to showing members of the public what really happens in our hospitals – people's lives are being saved and changed for the better every single day in our hospitals, but sometimes those stories go unheard. This podcast aims to get these unheard stories out and available to a worldwide audience. This is a pioneering project within the NHS – we can't wait to have more people come on and share their stories with us – and we are very excited about its potential". 
"While the focus of the podcast will be NHS services, staff and the patients we care for, the conversations – as with any good podcast – can be slightly unpredictable. So, while in this first episode you might learn a little about what it's like to suffer a brain injury and how NHS experts can help, you'll also hear why we think helmets are so important and why Lewis Hamilton is the best Formula One driver of the moment. 
Crossrail 2 - Update December 2018
The Independent Affordability Review has reported to the Government. However, uncertainty continues ...
Various lobby groups are now trying to influence the outcome (businesses, LAs), but one should take the various recent statements in the press with a pinch of salt. 
Against this background, Crossrail (The Elizabeth Line) has run into a 9 month delay, has needed a £350 Million bail out and the CEO has resigned. 
Some say the three objective of Crossrail 2, 
o    Inter-connections at Euston for HS2
o    Alleviate pressure on Waterloo
o    Meeting the anticipated growth in demand for transport, caused by population growth in the London suburbs 
can be met more cost-effectively in other ways. It may be that the central London section is completed first, with later phases being deferred almost indefinitely. 
Some say that the cost of CR2 could be met by increasing local domestic and business rates of, say 1%, a bit like the Olympic Games levy. Another suggestion is for a rates surcharge on properties likely to benefit from being close to the line. 
After the Brexit deadline in 2019, it may be that the Government refocuses on infrastructure projects, perhaps with a new "Spending Review". 
TfL is currently struggling with a fall in passenger numbers and is expecting a £1bn deficit this year. 
At the same time, the controversy over the cost of rail fares rumble on. 
Also Network rail continues to struggle with delivering the electrification of the national rail network, with massive cost overruns and whole swathes of its original plans cancelled. 
The rationale behind HS2 also continues to be questioned, despite the promises made for the Northern Power House. 
Jerry Cuthbert
Raynes Park Association News
Raynes Park Station - Update
Discussions between Network Rail (NR) and the Raynes Park Association (RPA) – September 2018 
Responses from Connie Banda NR 28 September 2018 with responses from Chris Larkman RPA in italics
Matters discussed, Enchroaching Shrubs, The state of the Footbridge, Wooden Fencing, Embankment Planting, Japanese Knotweed, Kiss & Ride, Land Transfer
Raynes Park High School Newsletters

Follow this link for the latest Raynes Park High School newsletter
Raynes Park Towns Women's Guild - Oct 2018

Julia Jones was the speaker for our October meeting giving an enthusiastic talk entitled 'Travels in Iceland'.  
Julia has been travelling to Iceland for many years, originally for a holiday break but as her love and knowledge of the landscape and the hardy, resilient and hardworking people grew, eventually becoming a travel adviser and exploratory holiday break adviser.  
Obviously cold and dark in the winter, during the long light summer days the average temperature approaches 20C.  Certainly, she described a lot to see, with geysers and thermal hot springs, evidence of the periodic volcanic activity (I think we all remember the volcanic dust cloud affecting aircraft flights), waterfalls and lakes, interesting walks, pretty, small towns and villages; trolls, a herring fishing museum, and glaciers - one leading to a lake with floating icebergs.  With a very small resident population, there are far more visitors and casual workers than locals during the holiday season.  The fishing industry has contracted.  Never the- less. the sheep have kept on producing a very fine wool which the ladies make into superb warm garments. 
At our November meeting on November 15th  (1.30 pm at St Saviour's Church Hall), Michael Grimshaw's topic is 'Wildlife in Zimbabwe'. 
For further details of this meeting or of our many social activities please get in touch. 
Dorothy Raymond  Tel: 0208 395 9489 
West Wimbledon Primary School - Newsletters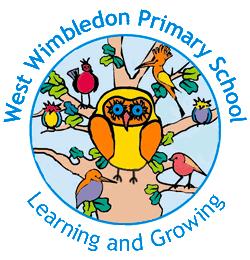 Follow this link for the latest West Wimbledon Primary School newsletter.
Film Merton 2018 - 2019
… Coming Soon
 Film Merton is an exciting initiative funded by the London Mayor's Cultural Impact Award and the local council to increase engagement in the arts amongst socially excluded members of the community. Film was the overwhelming art form of choice of local people and there is a longer-term objective of having a cinema in Mitcham.  During 2019-2020, curated seasons of films chosen by the community and high-profile guests, together with a film festival showing original short films made locally with an emphasis on new technology, will be delivered.
Raynes Park Bereavement Service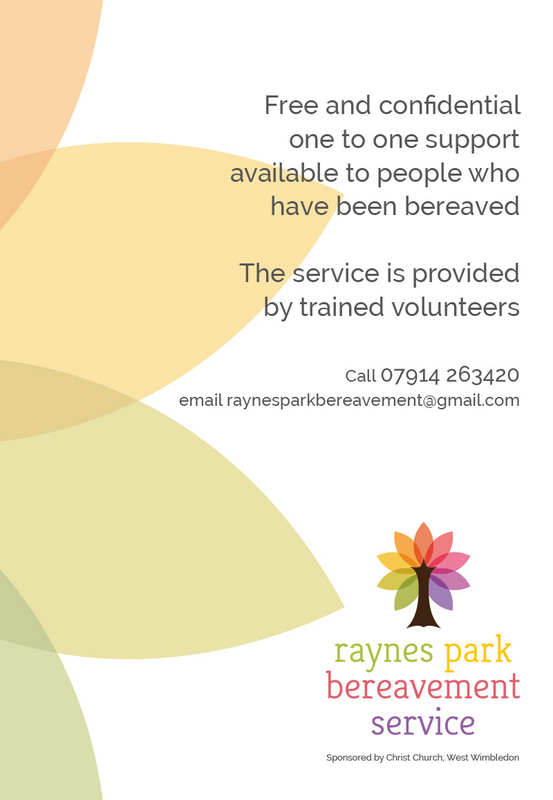 The Raynes Park Bereavement Service was launched on Monday 24 November 2014.   
The service provides free and confidential one to one support to people who have had a bereavement, recently or in the past.  
This service is provided by volunteers who have been vetted, trainedand are supported by professional counsellors.  It is being provided primarily for people living in the Raynes Park area, but it is open to requests from elsewhere.  The service is managed by Christ Church, Raynes Park, and is open to people of all faiths and none.   
The service is accessed by calling 07914 263420 or emailing This email address is being protected from spambots. You need JavaScript enabled to view it..   The volunteer will then arrange a meeting at Lambton Road Medical Practice for as many times as needed.  (If someone is housebound arrangements will be made to see them in their own home.) 
Sacred Heart - Outdoor Space
SACRED HEART PRIMARY SCHOOL HOPES YOUR VOTES  WILL WIN IT
£25,000 GRANT FROM THE AVIVA COMMUNITY FUND
 Sacred Heart Catholic Primary School, New Malden,  has entered the Aviva Community Fund Initiative and looked for the support of the local community to win a grant of £25,000 for the school.
Serving nearly 400 children from the areas of Wimbledon, Raynes Park, Motspur Park, Worcester Park and New Malden, the school, situated on Burlington Road, only benefits from two concrete playgrounds and sadly lacks green space.
Sacred Heart's active Parent Staff Association (PSA) submitted an application to the Aviva Community Fund in the hope of winning £25,000 to invest in transforming the school's outdoor spaces. Instead of plain concrete there would be nature spaces, fun seating areas, a sensory corner, and lots of opportunities for physical activities including a climbing wall, basketball nets, new play apparatus and sports equipment, and more.
Sacred Heart staff, parents and children are very excited about this potential project and are working hard to make it happen. Lending your support is simple and only takes a few minutes. You can vote for Sacred Heart Primary School's project at:
https://community-fund.aviva.co.uk/voting/project/view/4-1877  
Like all state schools, Sacred Heart faces ongoing funding cuts. Winning the £25,000 grant could have a really positive impact on the children and the local area. The PSA is hoping to supplement the grant with a crowdfunding page enabling the public to contribute directly to the project.(http://crowdfunder.co.uk/sacred-heart-school-playground-makeover).
 Voting and crowd funding close on Tuesday 20th November.
Postal Collections in Raynes Park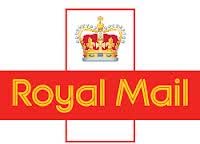 Whilst most of us use the post less than in the past, it may just be worth remembering where there is a later postal collection locally, should we need it at any time.Latest Postal Collections in London SW20 and Surrounding Area
St Saviour's War Memorial - Grand Drive
St Saviour's project to restore the memorial and remember the fallen 
A task group has been set up to restore St Saviour's war memorial and research its history and stories of those who are named on it. An exhibition is planned to open in the church two weeks before Armistice Day so local people can appreciate what the Great War meant for the community and the sacrifices it made. It is unlikely that all work on the restoration will completed before then, though it is hoped that it will have begun.  
A restoration team will start raising funds once all the required permissions have been obtained. It is hoped that much of it will be covered by grants though there is likely to be a gap. If you would like to contribute towards it, and pledges have already been made, please contact St Saviour's Priest-in-Charge, Peter Kelley.    
Another team of local volunteers has been researching archives, press coverage and other leads to build up a picture of what went on and the individuals involved.  It is keen to hear from anyone who might be able to provide relevant information. Perhaps members of your family, or the families of people you know, lived in this area and were involved in the Great War and may have been commemorated on the St Saviour's memorial.  You may have stories, anecdotes, press cuttings, photographs and other memorabilia relating to those times and the men who gave their lives that you could make available to us.  If so, or if you have any leads you think it would be worth following, please email: This email address is being protected from spambots. You need JavaScript enabled to view it., or ring the parish office (02085409406) or talk to anyone you know at St Saviour's.
Merton's Top 10 Parking and Traffic Ticket Spots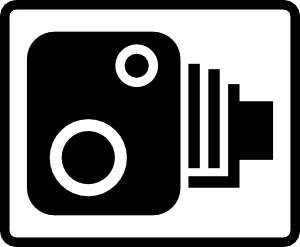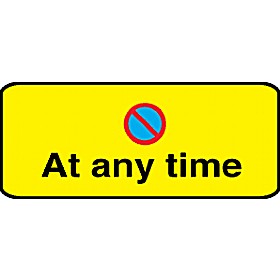 (Courtesy Wimbledon Guardian)
Hartfield Road bus lane camera, Wimbledon – 2,970 tickets
Hartfield Road car park, Wimbledon – 2,605  tickets
London Road bus lane camera, Mitcham (opposite Elmwood Road) – 2,338 tickets
London Road bus lane camera, Mitcham (opposite Bond Road) – 2,282 tickets
London Road bus lane camera, Mitcham (adjacent to Figge's Marsh) – 1,959 tickets
High Street, Wimbledon Village – 1,938 tickets
Coombe Lane, Raynes Park – 1,394 tickets
Russell Road, Wimbledon – 1,373 tickets
Coombe Lane car park, Raynes Park – 1,159 tickets
London Road bus lane, Mitcham (Armfield Crescent) – 1,100 tickets