Local news
Sir Joseph Hood Memorial Playing Fields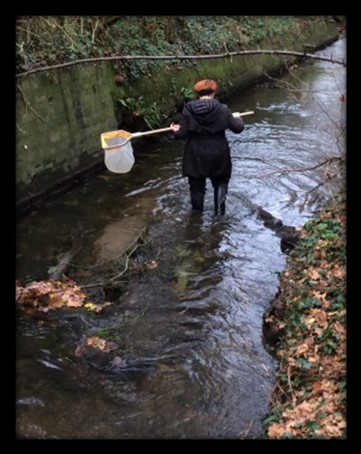 The Friends of Sir Joseph Hood Memorial Playing Fields works hand in hand with Merton Council and other organisations to help maintain and enhance our park. Funding has previously been obtained to improve the facilities e.g. tennis courts, exercise equipment, paddling pool, to provide a summer cafe and also to enhance the look and natural feel of the surroundings, such as tree / bulb planting and the meadow sections.
There is also lesser known activity that takes place within the park boundary. Every month a small group of volunteers from The Friends gather by the Beverley Brook and participate in a significant Citizen Science research project. Riverfly Monitoring is an initiative spearheaded by the Riverfly Partnership which ensures that groups can take action to conserve the river environment by monitoring water quality.
The South East Rivers Trust is a brilliant conservation organisation and their coordinator Jess has helped to set up Riverfly Monitoring in the Beverley Brook.
The team working in our park is one of four along the Brook, which flows from Worcester Park into the Thames near Barnes. The process is effectively pond dipping, but in a slightly more scientific way. The waders are donned, we climb into the water and then the riverbed is  gently 'kicked' or 'swept' to allow the riverflies to rise into the water flow and are captured in a special net.
Thereafter it is a matter of placing the contents into viewing trays followed by intense spotting and counting of species. Each of the targeted invertebrate types scores points, with the total score providing a good estimate of the river quality at that time. Our monitoring point generally produces dozens of Caseless Caddis and Gammarus (freshwater shrimp).
We hope one day to find more Cased Caddis, Olives and Mayfly larvae, which would be great indicators of improving water quality in a London river. So, if you happen to see a strange group of people carrying buckets and nets across the park on a Saturday morning then you know that science is about to take place.
For more information click Friends of Sir Joseph Hood Memorial Playing Field
Jane Pritchard