Local news
All About Jan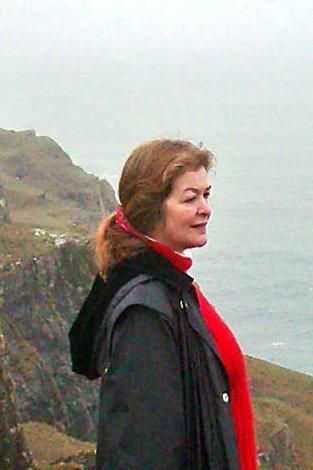 The loss of Jan Bailey as Secretary was a great blow to the Association, with whom she had been involved for around an unbelievable 30 years.    Jan was a great character, and we thought that many readers would enjoy reading something about her background, and some of the reasons for her great interest in engineering, underground waterways, and flood relief.
Jan came from mixed stock.  Her father was a Russian-Jewish, Welsh Cockney, and her mother was a Saxon with a bit of Welsh blood.    Jan was very close to both her parents,   Her father was General Manager of a factory, and when she was 8 years old he started taking Jan to work with him" to see how things were done" He was also a complete DIY man as well as a frustrated farmer, and by and by the age of four Jan was her Dad's best mate!   Jan described her mother as a brilliant couture dressmaker/designer.   Both her parents had beautiful singing and speaking voices and musically were great sight-readers.   By the age of five, Jan knew "the Children of the New Forest" – her father's favourite book) by heart.  
Another of Jan's mentors at an early age was her Uncle, - Birmingham's Regional Head of Sewers and Rivers who took her around with him to inspect underground waterways and sewers and taught her the importance of the whole water conservancy industry. 
 Jan's brother was ten years her senior.  But, despite the age difference, like all brothers and sisters, they fought - with dangerous bows and arrows;  an air pistol; and with every kind of unarmed combat nature (rather than training) could devise. All Jan's cousins were boys too, and, except for one for whom Jan babysat, the same age as her brother.   Jan also played and fought with them, something of a Tomboy it would seem. 
When her brother was 18 he began studying Civil Engineering. Jan says she remembers sitting at his elbow and learning from his textbooks alongside him, and at 14 she designed a boat and when years later her brother found the design he built it as his first boat - no modifications needed.  
Jan was a keen swimmer and only stopped when she easily beat her father in the Brighton Two Piers race, which Jan said "made him feel old".  She didn't swim again until she was living in Plymouth, then she did half a mile a day in Plymouth Sound each evening from March to October.   She also played tennis, took ballet and piano lessons. 
At nine years old, Jan started serious voice and drama classes, taking all the Associated Board Exams and eventually gained a place at RADA.   She also took the LAMDA extra mural exams and won Honours in the final Gold Medal exam. Jan started serious singing classes at the age of 18. 
One of Jan's first jobs was to work within the Theatrical empire of Impresarios Emile and Prince Littler.  She describes this as a "gift" – very hard work but fascinating – where she learned about design, planning, costume and fashion.  Physhe Littler Wright (pronounced Fish) ran a couture business on the side).  At that time Physhe was also designing and building the interior of Westward TV Studios in Plymouth for Enile and Peter Cadbury, so Jan also had the opportunity of learning about interior design as well.   She also learned something else as a Buyer – "never spend a halfpenny if someone else will supply the same thing for a farthing - and hunt fast"! 
At 19, Jan was one of the 30 girls and boys picked from 1,000 auditioning from all over the world for the September intake to RADA.   The next two years of 'psychological bashing' as Jan puts it, was lots of fund but terrifying. During the holidays Jan worked for Manpower for John Tydeman at the BBC; for various solicitors, and during her second year for Trevor Donaldson's a Property Management company in Jermyn Street. 
Jan's career spanned many different.  After gaining a diploma from RADA, she spent five years as an Actress, Singer and Dancer in Repertory, Musicals, Pantomime, Revue and Cabaret. Then, after retiring and settling in Plymouth, she spent time in management; as a Demonstrator; worked for Save and Prosper; and finally ran the white goods operation for Bosch through Dingles (Plymouth's House of Fraser store).  She was then spotted by Jenny Winters – an ex-Hartnell model who arranged fashion shows in the West Country and needed a lively assistant who understood the rag trade.   She would arrange the shows for Wednesdays (Jan's day off) and evenings, and together they worked the West Country also undertaking TV advertisements and voice-overs. 
However, in 1978 Jan's favourite drama Tutor from RADA appeared at Dingles.   Knowing Jan as a successful performer, she was cross with her for leaving the business, and persuaded Jan to help tutor her ex-students - now with the newly formed Plymouth Rep - whose Director Jan knew to be a great Production Manager but a somewhat less able Artistic Director. 
In August 1980 that same Tutor arranged for Jan to be interviewed by Gordon Stratford, the new General Manager of the hole in the ground that was to become the Theatre Royal - with an opening date of May 1982 – the job was to become his Personal Assistant.   He was having difficulty in finding someone with all the right skills and background.  Jan was  captivated by Gordon from the outset and remained so as life partners  she said,  her untimely death last may. 
Together from April 1981 they built and staffed the new Theatre against all the odds of daft delays and massive interference from the Board of 17.  This was made up of City Councillors and other City worthies, only one of whom knew anything about the business and was very supportive, but who was continually outvoted by the rest. 
Eventually, when Gordon resigned in October 1983, it took the Board nine months to persuade a new person that he would be given a free reign.  Meanwhile Jan stayed to help the Theatre's wonderful House Manager (who became Acting General Manager) to continue running the show. 
After a brief rest, Jan joined Plymouth Manpower again undertaking various roles as required,  and in October returned to the bright lights of London, where she stayed, working for Manpower during the week and returning to the West Country for weekends.  
In 1985 Gordon sold his flat in Plymouth and moved to London to be with Jan.   They chose to live in Raynes Park because by then Jan was working full time in the West End for the Advertising Agency Ogilvy Mather, and Gordon was a Theatre Management Consultant to theatres in the South East, including Wimbledon and Leatherhead.  Raynes Park was, therefore, a halfway house. 
Gordon and Jan lived a very full life, enjoying visiting art galleries, exhibitions,  and theatres,  cooking and gardening, and also going to Hampstead Parish Church for Evensong, which in Jan's view encompassed all the need for live,  beautiful and serious music along with spiritual experience, all at the same time. 
Despite their busy lifestyle, at home, and with visiting family and friends, Jan still found time and energy to start working for the Association around this time.   "Giving something back to the Community" as she might say, which she did for the next 30 years.   She was a truly indomitably woman and we loved her and she is so very greatly missed. 
Taken from Jan's notes about her life and edited by Jill Truman