Local news
Raynes Park High School - February 2015

This is an exciting and busy time for the Sixth Form.
Year 12 and 13 AS / A Level students are eagerly awaiting results from their Pre Public Exams (Mock exams).
The Results Assembly on Wednesday 21st January included a 'target setting' session to help students focus on the months ahead.  The 21st January was also the second of our Sixth Form drop down days covering study skills, interview techniques and careers, along with reviewing students' progress to date. 
Sixth Form Parents Evening -Thursday 12th February 5-8pm
All Year 13 Students who applied to universities for September 2015 have had offers and are working hard to achieve their required grades. They have applied for courses ranging from Engineering, Mathematics, Media, to Psychology, Sport and Social Work, to name just a few. 
Our Year 12 Level 3 students will be visiting the annual UCAS Fair in March. All the universities are represented along with organisations providing information and guidance on choices after Sixth Form including apprenticeships, the Armed Forces and volunteer work. We will be following this up with a University Information evening for parents and students after Easter. 
Don't Miss this year'sAwards Assembly - Organised and produced by the students, which House will take the 2015 trophy? 
Our Sixth Form students' hard work and achievement was celebrated at their own end of term assembly. 
Ms Lawner presented awards for key subjects and Mr. Castle gave a tablet to SMX student Priyanka Shrestha who was one of the students who achieved 100% attendance and positive added value. Once again it was a fitting end to what had been a long and busy term. 
Ms Lawner, Director Sixth Form 
Digital Rangers Graduate with Flying Colours
Raynes Park High School had a graduation ceremony with a difference on Tuesday 13th January. Members of the Rendezvous and The Pavilion Clubs in West Barnes were presented with certificates having successfully completed their six week 'Digital Rangers' computing course in the school's Sixth Form. Thirteen 'silver surfer' students took part in the BT Internet Rangers programme which partners schools with local senior citizen groups to teach computer skills. 
The project led by teachers Ms Derrington, KS3 Maths Coordinator and Mr. Priddle, Head of ICT and Computing, involved students giving one-on-one support to the senior citizens on diverse topics such as, how to find supermarket deals, internet safety tips, and what to look out for when Internet shopping. They also sent Tweets, set up Facebook pages and learnt how to email, use Word, PowerPoint and Excel. 
"The programme opened up a whole new world to me", Joan Fennell, said. "I was so scared of all computers, the subjects and the content were exactly the right level, especially for the 'oldies'."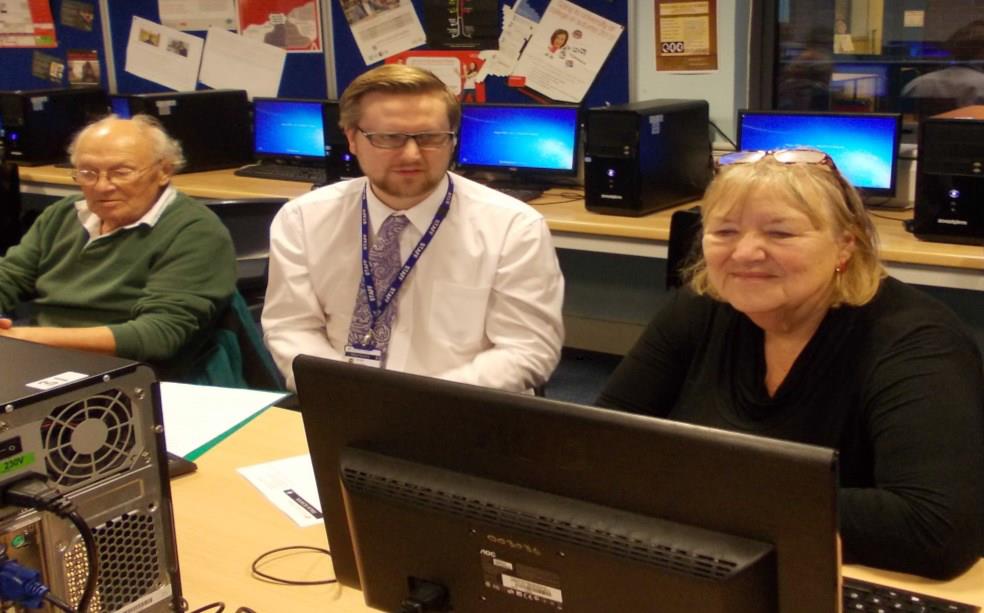 RPHS student Shahmir Khan (11NZ) said, "Seeing the group's progress every week and knowing our support has helped them achieve what they couldn't at the beginning of the programme has given us a lot of pleasure".  
Mr. Wheatley said "Judging by the buzz in the classroom every week, students young and old were thoroughly enjoying the practical lesson."  
RPHS is planning another five week Digital Ranger Course in the spring term. Anyone over the age of 65 interested in learning how to use computers, tablets, smart phones or social media should contact Ms MacEwen