Local news
Raynes Park High School - June 2014

Student Flies High in Pilot Aptitude Challenge 
Year 10 student Aaron Price will be taking to the Wiltshire sky following his success in a Pilot Aptitude Test, which he completed at the recent Royal Aeronautical Society's annual careers event. The event, which was attended by over 150 students aged 14 -18, provided inspirational careers information and advice about opportunities and pathways in aerospace and aviation.
Aaron, one of 13 Raynes Park High School students who attended the event on 23rd April, achieved joint top score in an aptitude test for budding pilots and is being rewarded with a flight in a vintage plane to be flown by a BA pilot with 30 years' experience. 
The test involved four elements: Computer simulation, compass and altimeter, tailgating and shape recognition.
Aaron said: "It was amazing to get top marks in the pilot aptitude test. I really enjoyed the day which opened my eyes to the different technologies and the range of careers within the aviation industry. It was fascinating to learn about the essential work of engineers and the technologies used in the planes built to defend our country".
Headteacher Phillip Wheatley said: Offering students opportunities to explore a diverse range of careers is a key focus of our Careers Academy and inspires them to consider exciting career paths."
Ms Honor - Careers Support & Work Related Learning Leader
Geography Department Receives Award 

Earlier this year Raynes Park High School successfully achieved the Secondary Geography Quality Mark with Global Learning. During the Easter holidays the Geographical Association Annual Conference was held at the University of Surrey (Guildford), where Ms Kugele and I were delighted to be formally presented with the Secondary Geography Quality Mark with Global Learning. 
The award ceremony followed the public lecture given by Professor Iain Stewart of Plymouth University, more popularly known through his many television documentaries. Professor Stewart spoke about being a 'geo-communicator' and the importance of raising awareness of the many geographical issues affecting us in the 21st century. He then presented us with the award. 
Jack Fenwick-Boylan and Katie Sullivan also attended the lecture and awards' ceremony. Both students are studying Geography in Year 12 and hope to go on to study the subject at university.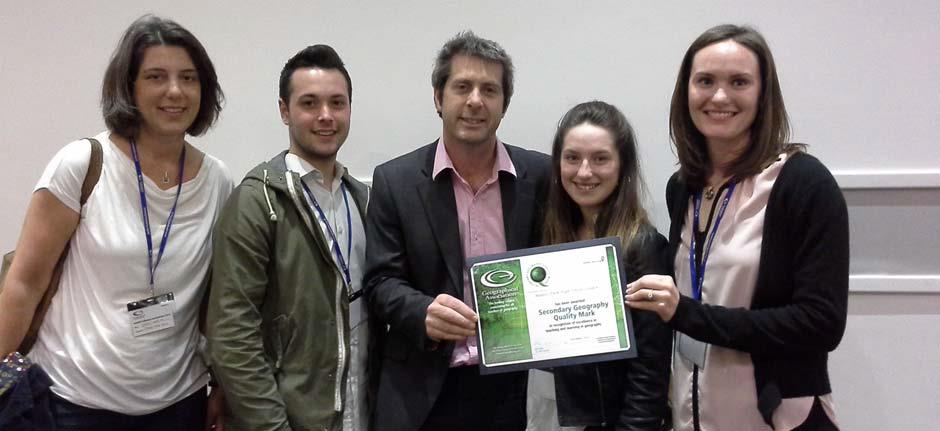 From left to right: Dr Cabral / Jack Fenwick-Boylan / Professor Iain Stewart / Katie Sullivan / Ms Kugele  
Dr Cabral - Head of Geography
Swimming Success
Congratulations to Sixth Former Athena Lewis Gkogka (Miltons X House) who won 2nd place in the London Regional Swimming Championships in May. We are tremendously proud of Athena's achievement.
Mr Hayes - Head of PE 
RPHS Rugby Receives £2000 Boost - Endorsement from Etihad Airways and Harlequins RFC.
Tuesday 13th May is a day many Year 9 and 10 rugby players will remember for years to come. It was a day when they had the opportunity to meet the Harlequins players and take part in a training session run by coaches and playing staff from Harlequins RFC. The opportunity came about following a successful bid by Raynes Park High School for a grant from Etihad's Grassroot Fund. The event provided a chance for the students to gain greater knowledge and understanding of rugby from professional players and coaches who perform to crowds every weekend and play on the international stage. 
In addition we were presented with a giant cheque of £2000 to help kick start our rugby academy. The students were ecstatic to meet such icons of the sport, including the England Captain Chris Robshaw, as well as take part in a high quality training session. I was extremely proud of their behaviour and the way they represented Raynes Park High School. It was safe to say that even members of staff were as star struck as students, including a certain Mr Wheatley. I would like to say a very special thank you to Etihad and Harlequins RFC for ndorsing our idea and helping fund our project, as well as the Professional Sport Group who organised the afternoon. 
If you would like any further information regarding rugby at Raynes Park High School please contact me at email address:
This email address is being protected from spambots. You need JavaScript enabled to view it. 
Mr Boyton - Head of RugbyTEM Event