Local news
Raynes Park High School- January 2014

Children In Need 
A huge thank you to all Raynes Park High School students and staff for raising money in aid of the Children In Need and the DEC (Disasters Emergency Committee) appeal for the relief effort in the Philippines. Together we raised a grand total of £1087.52.
Ms Fowler - Assistant Headteacher 
Merton in Bloom Awards
Congratulations to the student who won the Merton in Bloom drawing competition (11- 14 category). Last month she was awarded her prize at the Council Chambers, by Councillor Krystal Miller, the Mayor of Merton,
Ms Curtis - Head of Art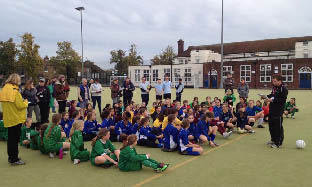 Raynes Park High Leaders
Raynes Park High School hosted the annual Merton Girls' Football Tournament. The tournament was refereed by Raynes Park High School Leaders. The eight primary schools which participated were Merton Park, St John Fisher, Sacred Heart, West Wimbledon, St Matthews, Hatfeild, Poplar and Joseph Hood. It was an extremely competitive tournament and very well officiated by Raynes Park High leaders. 
The top four teams have gone on to play in the Merton Finals which will also be officiated by RPHS students.
Mr Hayes - Head of PE 
Basketball Academy
I am proud to announce that the U14 team has won two of their last three games, with the most notable win 77 – 57 over Feltham Warriors. Travelling with only six players the team rallied to an outstanding victory against one of the title contenders. U16 player Njoh Witter has slowly become a major force in the league by producing some awesome displays, scoring an average of 20 points per game. Big results against Reading Rockets 84 – 38 leaves the team second in the division. Our U18 team is playing against some very established teams in their 1st season and have been narrowly beaten in the last 3 matches. The team has worked tirelessly in training displaying a huge desire to turn around the results in the New Year. 
Mr Grant - Basketball Coach and AIC Manager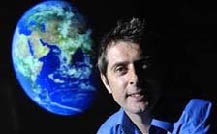 Geography A Level Students attend Conference on Hazards
Our Year 12 geographers attended a Hazards Conference at the Emmanuel Centre in Westminster, Central London with approximately 500 other A Level students. They heard from eminent geographers in the field of Hazard management on Volcanic and Earthquake disasters – Professor David Petley, Professor Fiona Tweed and the famous Professor Iain Stewart (see photo - he presents BBC TV documentaries such as 'The Rise of the Continents' – worth a look!). They discussed future potential disasters along the Himalayan Arc in Nepal, in Naples in Italy from Vesuvius and the Campi Flegrei, among others. 
Careers in Disaster Risk Reduction
Dr Kate Crowley from CAFOD also talked to students about future careers in Hazard Management and Disaster Risk Reduction Work with charities, governments and international organisation. Anyone interested in working with communities around the world in reducing risk from disasters should visit the following excellent websites: www.redr.org.uk (go to 'become and aid worker') www.preventionweb.net. 
Dr Cabral - Head of Geography
Geography/Art  Child Soldier Competition
This year, Global Learning Week's theme was based on 'Child Soldiers'. To support this and raise awareness of the issue, the art department created a 'one off' lesson and competition for Year 9 students to take part in.  Students watched a YouTube clip highlighting the impact of war in Uganda and were asked to respond to this using photomontage and text to create a powerful propaganda poster. There were some fantastic entries and the students were extremely mature in their responses. Each winner received a wonderful art pack including a wide selection of media and equipment. 

Ms Scoging - Art Teacher
 Girls' Football
The Year 7 and 8 girls have made a fantastic start to the season and are proving not only that they are committed, but also very talented players.
So far the girls have represented Raynes Park High School in the AFC Wimbledon tournament, FFC tournament and the Merton 6–a–side tournament. They are currently ranked 2nd in the Borough. The teams have been extremely motivated, reliable and enthusiastic, and have been a pleasure to train. They have represented RPHS in a positive light in all their outings and have been excellent role models to other students. 
The girls will now join up with the Year 9 squad to play in the South London Schools League.
Ms McGullion ‐ PE Teacher