Local news
A Local Street Party - June 2022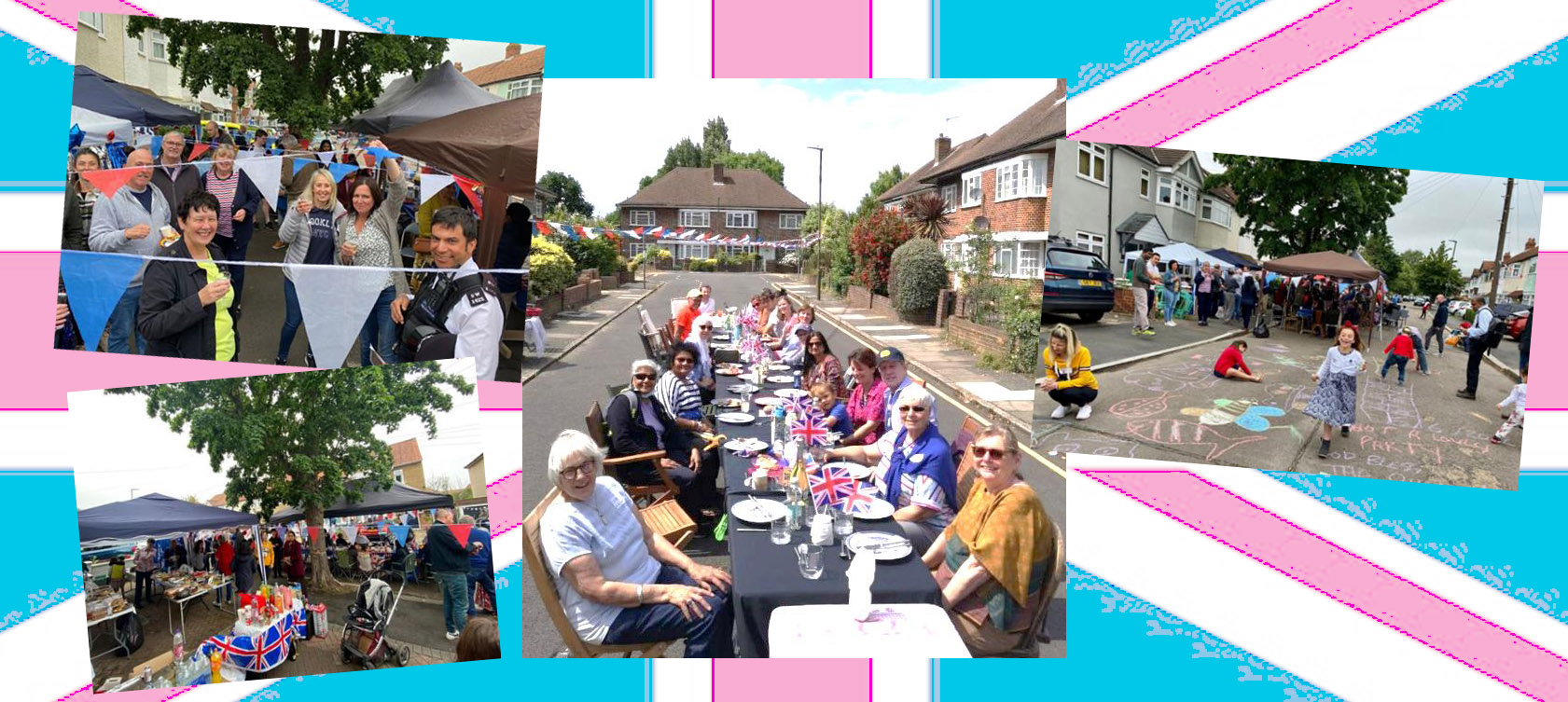 From one of our members ... 
At the start of the first lockdown, the family who live opposite us made a rainbow and displayed it in their front window. We made a sign in reply, that read "Hey, we love your rainbow! Stay safe!" and were ashamed not to be able to put their names on it. In fact, we only knew the names of those living either side of us - everyone else just had a nickname. 
Fast forward two years, and I'm pleased to be able to say that I'm on first-name terms with probably half of the 69 properties on the street. To think, it took a pandemic!  
Our street party (held to celebrate both the Platinum Jubilee and Neighbourhood Watch Week) was attended by nearly 100 enthusiastic residents. I met neighbours I'd never even seen before, in seven years of living here! Many commented on how pleased they were to live on a street where such an event could be a success, and there was a real buzz in the air as people made connections and friendships. 
I learned how to say hello in Tamil, which kids are learning to cycle without stabilisers, how best to tackle hay fever and aphids, that if you say you need a gazebo you get four, and that if you say you need some tables then a carpenter on your street kindly makes you one that's 20ft long 
Community takes effort to build and needs to include everyone. I'm so grateful to the neighbours who: 
·         surveyed all residents to get their views about closing the street for a party, 
·         arranged an online collection pot to cover necessary expenses (which raised more than £200 in small donations), 
·         completed tedious applications and risk assessments, 
·         leafleted every property to ensure those not on WhatsApp were included, 
·         displayed posters explaining the event, translated into some of the languages spoken on the street, 
·         distributed colouring and drawing sheets to all the children, who returned them once complete. Their artwork was then copied and five different designs were distributed to each house in the street. Residents displayed them in their front windows, turning the street into a gallery of artwork for the Jubilee, 
·         devised a scavenger hunt for families to do during the party, with things to find, riddles to solve, and questions to ask their neighbours so that we learned a little about each other, 
·         brought out their garden furniture, (or even built some specially) put it up and helped clear away, 
·         made delicious celebratory dishes from their culture and shared them so generously, 
·         uncomplainingly marshalled each end of the street in 45-minute shifts, or longer! 
We're going to try to keep the momentum going and neighbours are signing up to take part in the next Merton Garden Streets planting days www.sustainablemerton.org/ gardenstreets 
Of course, everyone being tipsy on community spirit is the perfect opportunity to encourage neighbours to become members of the Residents'Association! Let's keep finding ways to make lemonade out of that Pandemic lemon!