Local news
Raynes Park Railway Embankment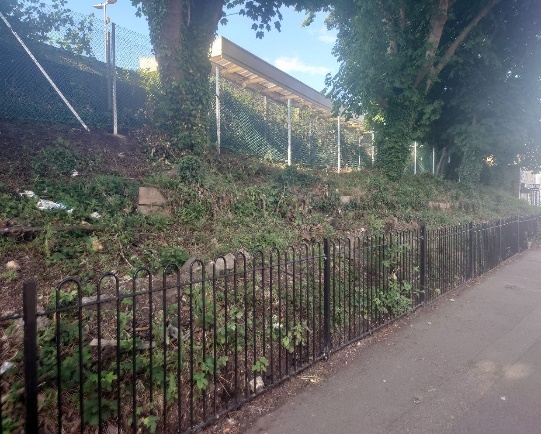 Thanks to the Raynes Park Association, you may have noticed that over the last few years the overpowering advertising hoarding, which was hiding the railway embankment along Coombe Lane, opposite Boots, has been removed. More recently a new railing has now been installed and a lot of the overgrown bank has been cleared. It is their intention to have the terracing repaired and the ground planted with perennial plants, shrubs and spring bulbs, improving the appearance of the area for the enjoyment of the local community.
Michael Marks, RPWBRA Secretary
Request from Chris Larkman, Chair of the Apostles Residents' Association 
CALLING ALL RESIDENTS: WILL YOU HELP US TO IMPROVE THE RAILWAY EMBANKMENT IN RAYNES PARK? 
We are looking for volunteers to help us create an attractive landscape on the embankment on the north of the railway at Raynes Park – the bit of land opposite Boots.  Network Rail has given permission to the Raynes Park Association to manage this embankment.  So we're setting up the 'Friends of Raynes Park' to help dig over, plant, and look after the embankment.  Our work will make Raynes Park look great!