Local news
Thames Water - Flooding Roadshow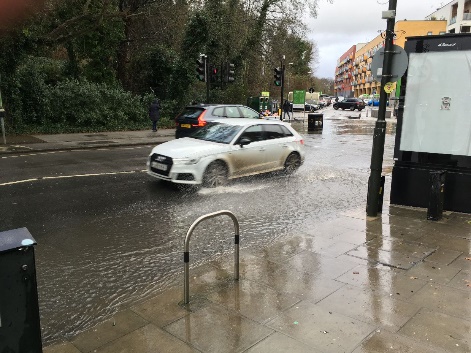 The Holiday season is over and on the first working day of 2022 the road through Raynes Park was flooded.   
As you may have seen on Wednesday 12 January, Thames Water parked a van on the forecourt outside Raynes Park Station for the purpose of discussing the flooding problems in the area.  
A few councillors were in attendance together with the council's communication officer. The council staff who are responsible for the gullies were not available and very few people had been notified of the event.
Most gullies running along the edge of the road against the kerb in Merton are now cleaned by a small vehicle. This is a start, but they need to be cleared more thoroughly.
The council appear to have stopped removing the leaves and dirt which go into the kerb drains. These drains link the road surface to the sewer below which is Thames Water's responsibility.  
The sewers were started late in the 19th Century and their capacity was not designed for what we route into them. Just keeping the gullies and drains clear will not solve the problem of the under capacity of the sewer pipes.  The infrastructure below ground needs to be brought in line with what is being built above ground.  
IMPORTANT ADVICE: TELEPHONE CALLS ARE EFFECTIVE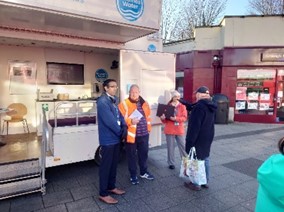 If a road or area floods please first call: 
Thames Water 0800 316 9800
to report it. A telephone call is much more effective than an email. Also call Merton Council to keep them informed.  
This link to Merton Council's website has a useful page describing who to contact and their details.  
Above is a link to Thames Water Questionnaire if you want to report flooding. There is a greater effect if you telephone Thames Water 0800 316 9800   
RPWBRA CONCERNS - A Question for Thames Water 
Why were only a small number of the local residents informed about the TW roadshow? Only a few roads were leafleted and the RPWBRA was not informed. It was only thanks to Chris Larkman from the Apostles Residents' Association that we heard about the venture, but this was at very short notice and gave us no time to muster attendance.
As a result, the photographs taken at the event show very few residents, mainly passing shoppers, whereas a properly advertised event with Council support would have seen a large, interested group of concerned residents who have been affected by the flooding issues for years.    
The idea was a good one but the lack of publicity rendered it largely ineffective.
Michael Marks - Secretary