Local events
Raynes Park Tennis Club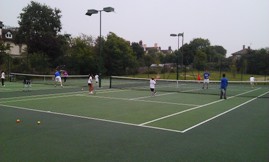 Raynes Park Residents Lawn Tennis Club News - April 2017 
The club is holding an Open Day on Saturday 22nd April between 1pm and 4pm. This is primarily aimed at adults including -beginners, those whose skills are a little rusty - and experienced players who might have recently moved to the area. 
This doesn't mean that we aren't interested in helping juniors who will be welcome on the day, it's just that the enormous success we have had under our head coach, José Marquez, has led to all our courses for juniors being fully subscribed, despite us putting on an additional days coaching. 
José is proposing to run summer camps in the school holidays with under-9s between the 24th and 28th July, and older children up to 16 in the following week 
 Please contact the club for further details and confirmation.  You can turn up for the Open Day on the day, but if you want more details of the events taking place and the chance to register in advance, you can access the Information through the LTA at: Clubspark.lta.org.uk where you click on Open Days and search on SW20 andthen click on Raynes Park Residents LTC. 
Paul Sadler