Local events
Carved in Stone - 29 October 2016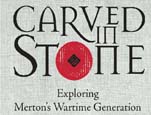 Fighting far from Home: First World War Collection Day
Saturday, 29 October, 11am – 4pm
Morden Library, Merton Civic Centre, London Road, SM4 5DX 
As part of the Carved in Stone project, Merton Heritage Service is keen to talk to current Merton residents whose ancestors fought in the First World War, or contributed to the war effort – whether through industry, charitable work, or as medical staff. On Saturday 29 October, the Heritage team and members of Age Exchange will be staging a special collection day at Morden Library. If you have family war stories, photographs or memorabilia that you would like to share, they would love to hear from you. Staff are particularly keen to hear from local residents whose ancestors travelled from overseas to fight for the Allied cause.
Thousands of servicemen and volunteers from Africa, India, the Caribbean, Ireland, Canada, Australia, New Zealand and Newfoundland fought alongside British troops during the war. They travelled half way across the world to fight for King and Empire; many made the ultimate sacrifice and lie buried in military cemeteries far from their family and homeland. To broaden our knowledge of wartime history, Heritage staff would like to hear from residents, whose relatives fought on either side of the conflict.
The collection day will run from 11am to 4pm and will also feature a range of activities from talks and displays, to archive film and the chance to handle genuine wartime objects.
If you would be interested in this event, or have family stories that you would like to record for posterity, please contact Merton Heritage Centre. Tel. 020 8545 3239/4038  or email This email address is being protected from spambots. You need JavaScript enabled to view it.