Local events
Carved in Stone - WW1 Project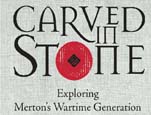 Share your family's stories of World War One.  
Did any of your relatives live in Merton during the First World War? 
As part of the Carved in Stone project two War Story Day events are being hosted across Merton in the months of June and August. We hope that they will be interesting and engaging days where members of the public will be able to learn about Merton during the First World War. Additionally, we hope to contribute to the known heritage of Merton through the filming of short video interviews with residents whose relatives fought in the First World War, and/or who supported the local war effort. 
If you have family stories that you would like to share, or wartime memorabilia that we can record for posterity, we would be delighted to hear from you. 
The War Story events will also feature a range of talks, photographic displays, children's crafts and access to wartime documents and objects. 
War Story Day 2:  is on June 20th, 10am - 4pm. Acacia Centre, Grove Road, Mitcham. 
War Story Day 3: will be on August 1st, 11am - 5pm. Wimbledon Studio Theatre, The Broadway, Wimbledon. 
If you would like to be interviewed, or want more information about the events, please contact:
Kelvin Shewry or Sarah Gould, Tel. 020 8545 4038 / 3239
Email: This email address is being protected from spambots. You need JavaScript enabled to view it.
 Link to Carved in Stone