Local events
The Pavilion Social Club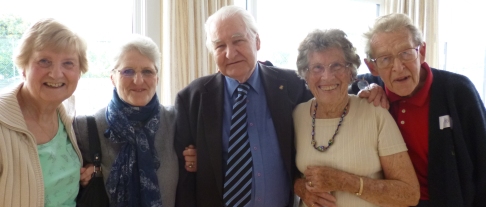 Since its inception on 20th March, The Club has continued to grow from strength to strength, with over 30 signed up members and a regular attendance of between 15 and 20 each week.   This photograph was taken on 24th April , when a full house enjoyed a most interesting and amusing talk from retired local Vet, Jim Sinclair on his life's work.   Mrs. Florence Mahoney gave the vote of thanks. 
We have weekly get-togethers for men and women over 55 to develop friendships and social links.
INTERESTED?
Do join us on Thursday afternoons at THE PAVILION, 129 GRAND DRIVE
(The old Raynes Park Residents' Tennis Club) from 2.00 to 4.00 p.m
EVERYONE WELCOME! 
We have weekly get-togethers at the Pavilion, with a range of activities including occasional guest speakers and visits to places of interest in the London and the South East but our main focus is on developing social links and enjoying friendships.
Light refreshments will be available.
For  more information please do not hesitate to contact
  Jill Truman on 020 8879 3525 
or Andrea Hannan on 020 8540 0164