Local events
St Saviour War Memorial Rededication - 20 Nov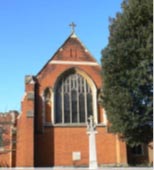 WW1 MEMORIAL REDEDICATION  - 14.00 SATURDAY 20th NOVEMBER 2021 
In November 2018 the 13th Wimbledon Scout Group was very involved with the development and launch of the Men of Raynes Park Exhibition. This launched an appeal to raise funds to re-carve the names of the 97 men from the Parish who died as a result of the Great War on the memorial in the church grounds. 
The restoration was completed in November 2019, when the total cost of £23,500 was raised by community donations and pledges, including the Tesco and Waitrose Community Support Schemes. 
We had planned to have a service of rededication in May 2020, but this was postponed because of Covid 19 lockdowns. Thankfully we are now able to look forward to this celebration in the continuing life of our Parish Church and the Community of Raynes Park. 
Our War Memorial will be REDEDICATED ON THE CENTENARY OF THE FIRST DEDICATION 20th NOVEMBER 1921. 
For the rededication event, an outdoor service will be taken around the memorial at 14.00, with the presence of the incoming Mayor of Merton, Stephen Hammond MP, and Ward Councillors. Representatives will be invited from our three large donors Young's Brewery, Groundwork UK – Tesco Bags of Help team, and Waitrose. We hope to have Uniformed Groups, relatives of the named men, and the community planting the 97 named crosses in the memorial garden. 
12.00 St Saviour's Church will be open to view the original Men of Raynes Park Exhibition
13.00 'The Story of the Raynes Park Memorial Restoration'
13.30 'Wing Commander Frank Brock, Vice Admiral Sir Roger Keys and the Unveiling of the Raynes Park Memorial'
14.00 Rededication Service outside by the War Memorial