Local developments
P16/4853 - Former Wolfson Centre, SW20
To:       Planning Representations
            London Borough of Merton
From:   RP&WBRA
Date:   13th February 2017 
Re:  Planning Application 16/4853 – Former Wolfson Centre, Copse Hill, SW20 
We write to object to the above application which represents a significant departure from the established design principles with resultant negative impact on the Copse Hill Conservation Area.   We would suggest that the design approach does not preserve or enhance the character of the conservation area and indeed has a negative impact on the neighbouring MOL (see 5.5 of the Merton Core Planning Strategy). 
Most significantly, we object to the excessive increase in density proposed. The proposed density is  close to 200 habitable rooms per hectare, which for this site, we believe, should be no more than 150 to 200.   In a Conservation area such as this, we consider that the density should be very much at the lower end of this range.  Also seeking to build 5 and 6 stories in a Conservation Area is unacceptable. The height should be restricted to that of the surrounding buildings.                                                                                                                      
Additionally, there is no compelling case for this revised P/A in terms of the number of proposed housing units.
(Figures sourced from Merton Annual Monitoring Report 2014/2015).  The GLA London Plan target for Merton was 320 Dwelling Units per annum, which was well exceeded for 5 years in a row, but for the 5 years from 2016 to 2021 this target (set by GLA) has been increased to 411 dwelling units per annum. For years 2014/15 the number of housing completions was 459 well above not just the old target but also the new target. 
Moreover Merton projected housing provision for the next 5 years safely exceeds not only the new target but also the figure if the 5% safety 'buffer' is added on. 
The neighbouring site is a SINC – home to nocturnal bats and wildlife, we would suggest that there will be a detrimental impact of light pollution from the proposed large blocks. 
According to Transport for London, this site has low public transport accessibility with a rating of 1b, i.e. only one bus and a 20 minute walk to the nearest station.  The Application is proposing a total of 96 car parking spaces.  These two factors suggest a potential for very many additional cars onto Copse Hill with a resultant deleterious effect on traffic congestion in the area and pollution. 
Policy CS8 of the Merton Core Strategy sets a target of 40% affordable housing on sites providing 10 or more homes (subject to viability) and London Plan Policy 3.11 seeks to maximise affordable housing.   This proposal allows for only 25 units (30%) which is inadequate. 
In summary, the proposals are in conflict with Policy DM D2 (Design Considerations) of the Sites and Policies Plan July 2014 by failure to relate appropriately to the siting, scale, density and height of the surrounding buildings, the local context and the local landscape. Also the potential increase in traffic density is very likely to result in adverse impact on the lives of nearby residents and have adverse impact on road safety.  
We urge the Planning Applications Committee to refuse this application.
Crossrail 2 - Update February 2017

What the RPWBRA is doing? 
Through its membership of the Raynes Park Association (RPA), our association is joining forces with other local residents' and business associations, in anticipation of another round of public consultation on Crossrail 2 in Spring 2017. 
Crossrail 2 coming to our area 
Crossrail 2 is a new railway line, which is planned to come through Raynes Park and Wimbledon stations, providing a completely new link from our area to central London and northwards into Hertfordshire. 
The Crossrail 2 trains are planned to provide a direct service from Raynes Park to new destinations in central London. After calling at Wimbledon, the trains will run in tunnels all the way to Tottenham Hale. There are expected to be several below-ground stations in central London, including inter-connections at Victoria, Tottenham Court Road and Euston/St Pancras. 
It will thus make many destinations easier to reach, without the need to travel via Waterloo. For example, it should be easier to reach the City and Docklands by taking Crossrail 2 to Tottenham Court Road and changing onto the soon-to-open Elizabeth Line, rather than going via either the Waterloo & City or Jubilee tube lines, as at present. 
In the opposite direction, the Crossrail 2 trains are planned to serve the existing Network Rail branches all the way to Shepperton, Hampton Court, Chessington South and Epsom. These branches will also continue to carry national rail services to and from Waterloo. These branches, of course, converge on Raynes Park. 
Public Consultation in Spring 2017 
Whilst Crossrail 2 in not programmed to be completed until 2032, we are likely to have several years of construction work in our neighbourhood. Despite this seeming far in the future, the opportunity for us to have our say is likely to be very soon, because once the key decisions are taken, it will be much harder to change things later. 
Currently, the Crossrail 2 team is considering the recommendations of the National Infrastructure Commission and the Government on the business case for the scheme. They have been tasked with finding £4bn savings from a budget of around £27bn, which is quite a challenge. 
As a consequence, the next phase of public consultation, which was originally scheduled for the end of last year is now postponed until this spring. 
What the results of the cost saving exercise may be and when the public consultation may re-start, we have no idea. Stephen Hammond, our MP, has asked for a meeting with Crossrail 2 to find out what we might expect and when. 
Impact on Wimbledon Town Centre 
In the winter of 2015/2016 there was an initial public consultation concerning the underground section through central London, which included the area to be taken up by an expanded Wimbledon Station and the land required above ground immediately to the west of Wimbledon Station for sidings to allow trains to reverse direction. 
Whilst these proposals were very much an initial outline and broad-brush in nature, they proved highly controversial, as they implied that the Centre Court shopping mall would be demolished, together with many other buildings (both old and new) around the station. 
Due to the largely adverse public reaction, Crossrail 2 went away to reconsider their plans for Wimbledon Station. Whilst we know that several other ideas about how the extra platforms may be accommodated were under consideration during 2016, nothing more has been made public for the reasons explained above. 
Safeguarding 
As part of the 2015/2016 consultation process, Crossrail 2 issued "Safeguarding" plans. These delineate the boundaries of the land likely to be required, both during construction and for the permanent works. These plans have a statutory significance, insofar that (a) any planning applications within the safeguarded areas must be referred by the planning authority to Crossrail 2, in case they might have an impact of the scheme and (b) that landowners within the safeguarded areas may apply for compensation from blight, if they consider they have materially suffered as a result. 
However, the safeguarding plans published so far for our area only relate to the public consultation that has taken place over the proposals for Wimbledon and the associated sidings. 
Nothing has been published about any proposals west of Lower Downs Road. 
Likely Changes in Raynes Park and Motspur Park 
However, we know that it is planned to run something like double the number of trains through Raynes Park and onto the four branches to Shepperton, Hampton Court, Chessington South and Epsom. The initial proposals indicate that this will necessitate two extra railway lines running between New Malden and Wimbledon, through Raynes Park. (one in each direction). This would thus increase the existing four lines to six along this stretch of track. 
However, we know that Network Rail have been busy working with Crossrail 2 on the design details and we expect that new information will be forthcoming fairly soon. 
Suffice it to say that these additional lines will be a tight fit through Raynes Park town centre, particularly at the station, where there is very little spare railway land. 
Ideally, if Raynes Park Station is to be significantly modified, we like to see straighter platforms (without the dangerous gaps we have at the moment) and step-free access from street to trains on all platforms. Whilst, of course, the devil will be in the detail, the RPA is keen to get the best outcome for Raynes Park. 
We are also concerned about what is planned for the two level-crossings along West Barnes Lane (i.e. at the junction with Burlington Road and at Motspur Park), as it seems inevitable that these level crossings would cease to be practical with the planned increase in trains. It is also anticipated that improvements will also need to be made to Motspur Park Station. 
We consider it important that any changes to the station in Raynes Park incorporate improvements to the connectivity with pedestrian, cycle, bus and road routes. We also would like to see the plans incorporate improvements to the public realm around the station. 
Find Out More 
You can find out more and subscribe for email bulletins on the Crossrail2 website, http://crossrail2.co.uk/ . You can also find out more on our MP's website, https://www.stephenhammond.net/campaigns/crossrail-2 . 
In the meantime, we urge local residents and businesses to participate in the next public consultation, when the time comes. 
Jerry Cuthbert, 2 February 2017
Rainbow Industrial Estate - Planning Approval Granted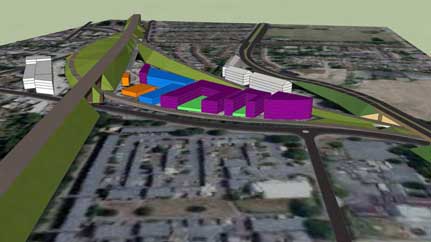 Many of you will be aware that planning approval was granted by Merton Council last September for redevelopment of this site. In fact there were two applications, one to provide 215 flats and 9 houses plus a small number of office and small business units. The other was to provide, what is known as, a 'Kiss and Ride'facility at the entrance. This, in brief, is a drop-off and pick-up arrangement incorporating a roundabout.
Office of the Mayor - The Greater London Authority (GLA ) 
The approval by Merton Council was, to be precise, only in draft form. The reason for this is that with applications on large sites and where the proposals are for more than 150 residential units the GLA holds responsibility for the final approval (unless the Secretary of State for Communities and Local Government intervenes). As I write this aspect is unknown but is probably unlikely. 
At City Hall - GLA HQ - planning matters are delegated to a Deputy Mayor, Sir Edward Lister. He informed Merton Council on 24 November last year that the GLA were content to leave the 'determination' of the applications to Merton and therefore did not wish to direct refusal. All of this was notwithstanding a robust Objection to both applications by this Association and by many other people. The grounds for our Objection were fully set out in the Guide in the February edition last year.   So the applicant - Workspace 12 Ltd - would now be free to proceed with their proposals. This does not mean however that demolition of the present buildings and redevelopment is likely to start in the near future   for several reasons. 
Change of Use 
As with all large scheme applications approval is granted subject to a number of formal 'Conditions'and in this case it is quite a long list. In large part the reason for this is the very significant 'Change of Use'being contemplated - in short the conversion of what is currently an Industrial site into a largely residential development. Workspace Ltd. or more likely specialist companies acting for them, will be required to submit reports to Merton Council covering a wide range of issues, When these reports are considered they will  (hopefully from the  point of view of the applicant) be 'discharged' meaning the Condition has been satisfied or the proposals are acceptable. 
Conditions 
It might help if I give a couple of examples. Bearing in mind that Rainbow has been an active Industrial site for many years it is probable that there is at least some contamination of the land. There will be a Condition that the extent of this will have to be investigated and suitable measures set out to deal with the problem. I should add that this particular task - on a site like this - could take several months. There have been instances where it has taken years to clean up serious contamination. 
Secondly there will be a Condition that proposals for 'Soft Landscaping 'should be provided: trees, shrubs and green spaces. As you might imagine there is not much greenery on site at present!  In this case the Council will assess whether the programme of work looks acceptable and if so will 'Discharge'the Condition. 
Most of these Conditions have to be dealt with before any actual construction work starts but some come into play later on e.g. a programme for the maintenance and upkeep of the site for a specified period of time.    
Land Ownership 
The Rainbow site is a bit unusual in terms of land ownership. Workspace hold title to a large part of the site beyond the railway bridge but the entrance roadway, up to the bridge, is owned by Network Rail who also own land and a large building close to the railway lines. These NR facilities were excluded from the proposals in the planning applications. You can see from this that redevelopment of the Estate is far from straightforward but there are one or two further complications. 
The 'Kiss and Ride 'Proposal 
It would appear that right up to the time when Merton Council gave draft approval to the applications last September there was no clear evidence that Workspace and Network Rail had agreement over use and therefore redevelopment of the entrance roadway. This does seem odd bearing in mind Workspace have been working on their plans for some 5 years and given that there is only the one entrance with no scope for an alternative. In short the entrance is critical to ANY redevelopment of the site. It does make one wonder whether the Kiss and Ride will be delivered and this is supposed to be THE aspect of the proposals of benefit to the wider public.
That said there is another tricky issue waiting in the wings. 
Crossrail 2 (CR 2) 
Many of you will have heard about this huge scheme still very much in the planning phase. For us locally the main focus of the proposals is the intention to provide rail links from Shepperton, Chessington South and Epsom to Victoria and Euston all routed through Raynes Park Station. The CR 2 proposals are being worked up - it would appear - on a Station by Station approach and are subject to revision all the time depending on, for example, ground surveying and the feedback from consultations. 
The CR 2 Team, including representatives of Network Rail and Traffic for London wisely point out and I quote "We still cannot guarantee that a railway will be built". The current plan is for two additional tracks running south from Wimbledon Station into Raynes Park Station which would have new, much longer platforms and new signalling. Raynes Park Local Centre would be facing a huge building programme if, .of course, it all goes ahead. To give you a flavour of what might be to come - one of the published documents says - "Raynes Park will become a Major Interchange Station with up to 20 CR 2 trains per hour into, and across, central London". Perhaps our Station will become Raynes Park Junction.  Perhaps! 
'Safeguarding'the Land 
As you can imagine huge building works at local Stations and alongside the tracks will require additional land either permanently or (relatively speaking) on a short term basis. So the CR 2 Team are 'safeguarding' land either side of the existing tracks and Stations, but as far as we are concerned, this process of setting the boundaries of land needed has only reached just North of Wimbledon Station. 
The 'safeguarded'areas would be needed for storage of materials and heavy plant and of course the construction of additional tracks and platforms etc. As we understand it, when all the construction is finished, a lot of the land previously 'safeguarded' in the wider areas will be returned to the previous use. But there will be inevitable loss of land and probably some buildings for the new tracks and rebuilt Stations. 
Impact on the Rainbow Estate 
We still wait to see the proposals for 'safeguarding' the land around Raynes Park Station the details of which may not be available until well into next year but it is worth looking at what has happened at another site similar in some ways to Rainbow. 
The CR 2 proposals include a 20 mile tunnel under Central London which was originally intended to emerge SOUTH of Wimbledon Station at the Dundonald Road Industrial site. However this was changed and the tunnel 'Portal', as it is called, would now be NORTH of Wimbledon Station on the Gap Road Industrial site. 
It so happens that a Planning Application was submitted on this site in late 2014 for a mix of residential and business use not very long before the Crossrail team were setting out the boundary of the land which would need to be 'safeguarded' in order to build the 'Portal'. In the event the whole of the Application Site (for the residential/business application has been 'enveloped'by the safeguarding process. As you might guess in consequence Merton Council has refused the Gap Road Planning Application. Is it possible, I wonder, whether the same fate awaits the Rainbow site only with a different sequence of events? 
What Happens Now?
Well, planning approval for the residential/business redevelopment of the Rainbow site sits on the table but there are a string of Conditions which need to be worked through and presumably some sort of working arrangement will be needed between Network Rail and the developers over redevelopment at the entrance roadway if we are ever to see the long-awaited Kiss and Ride;  but then sometime during the second half of next year the CR 2 Team will define the boundary of land to be 'safeguarded' around Raynes Park Station. 
In the light of what has happened at Gap Road and the extent of the 'safeguarding' we can expect around Wimbledon Station you have to wonder how much of the Rainbow site will still be available for residential/business redevelopment  once the CR 2 Team get to grips in our area. Remember there is only the one entrance to Rainbow which I assume would HAVE to be safeguarded but more than that surely it would be critical to be retained as the entrance for plant and materials for the re-building of Raynes Park Station perhaps for the whole of the construction period - up to 10 years! 
This sounds like a muddle. If the Greater London Authority and the Government are serious about CR 2, and remember it has been known for ages that Raynes Park Station is crucial for the proposed extension of CR 2 services out to Kingston, Surbiton and beyond, would it not have made more sense for either the Mayor or the Secretary of State to have 'directed'that the Planning Application considered last September be put ON HOLD until the availability of the Rainbow site was much clearer? Sadly there does not seem to be any process for this sort of joined-up thinking.
Click the following link for our previous article about the Rainbow Estate - Rainbow Estate Planning Application - September 2015.
Proposed Redevelopment of West Barnes Library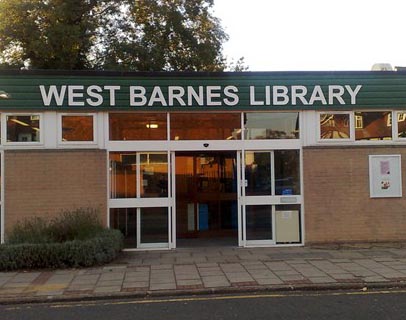 Merton Council is planning to redevelop West Barnes Library (Motspur Park). Having considered how such a development would fit into the Borough's Development Plan, the Library Service is shortly to begin seeking ideas on what facilities you would like to see in a new library. This will lead to a Development Brief that will be used to seek a developer to undertake the project. 
The Council currently envisages a development similar to the one at Raynes Park Library; incorporating some form of residential space on several floors above the ground floor. The ground floor would contain the new library, plus a meeting room and toilets. 
The site's close proximity to Motspur Park Station and the opportunity to incorporate step-free access to the station, should not be overlooked.  
More information can be found at
 here

. Later this month (September 2014) the public consultation will begin and you will be able put forward your own views, via the council's website.
During the development works, the Council plans to operate a temporary library somewhere else within Motspur Park.
.
Raynes Park Ehancements
The Raynes Park Association, of which our Residents' Association is a member, has launched a campaign to sort out the southern entrance to the "Scew Arch", which is currently a scruffy hodge podge of weed infested planters, rubbish bins, stumps of old street lamps and general urban detritus. Here's some idea of what it could be like.

  Before                                                                              After 
Merton's Builders' Code of Practice
With all the building work taking place in the Borough, Members should be aware of the code of practice governing the control of noise and pollution that must be followed by builders and the action residents make take for their infringement. The Code of Practice may be downloaded here.