Local developments
Bellway's Plans to build houses on Meadowview Sports Ground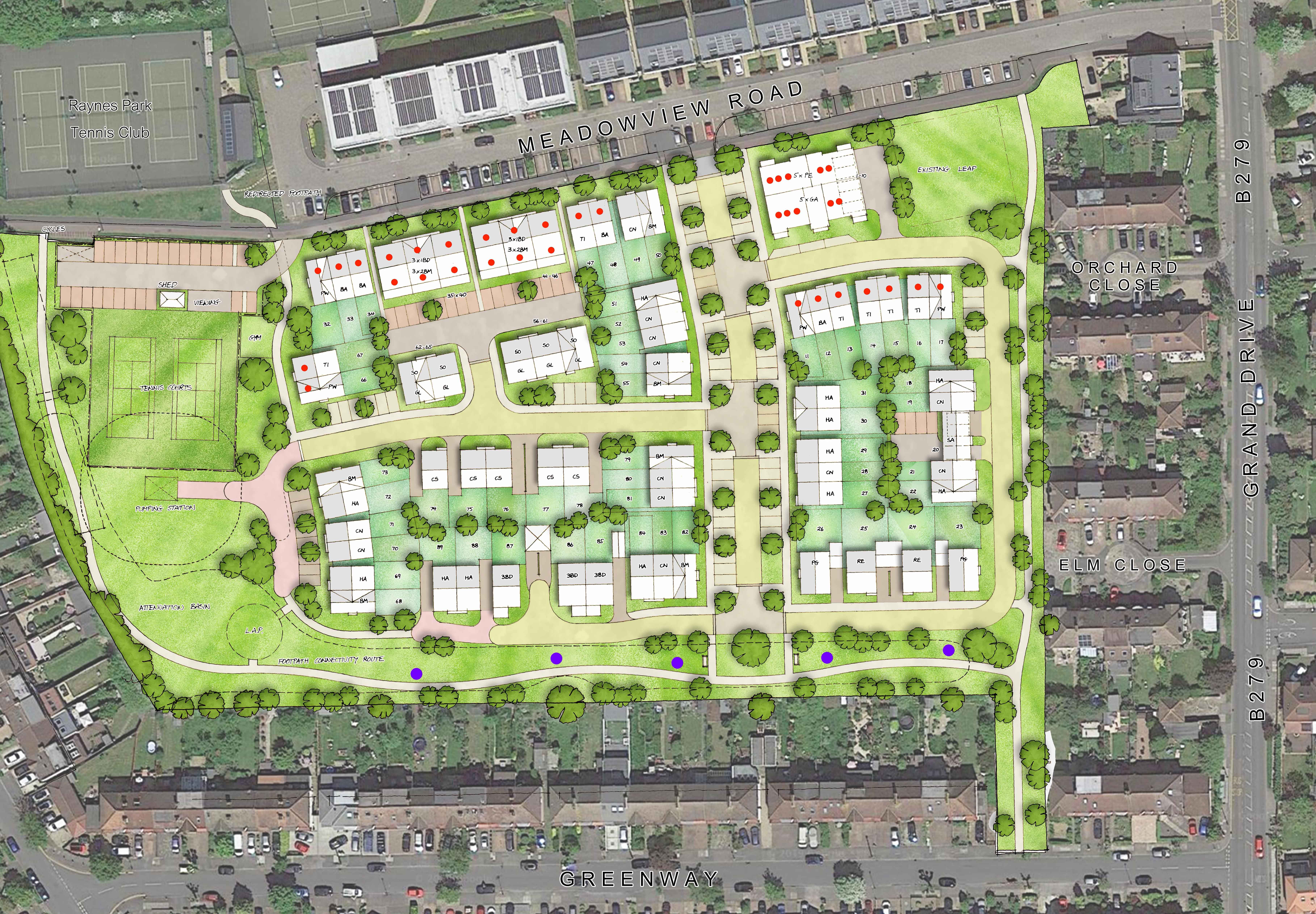 Updated 5 March 2021
Planning Application 20/P3237 to build 89 homes on the former LESSA Sports Ground in Meadowview Road.
The application was formally registered 16th November 2020. Before the 9th December 2020 deadline, our Residents Association, together with 203 residents filed 200 objections to the Planning Department; only 3 representations were in favour.  The Residents' Association explained why the field should be kept for sport; 83% of residents agreed.  The other main concerns are increased traffic congestion (74%) and flooding (72%). 
Both the Environment Agency and the borough's Flood Risk Officer have objected because of flooding concerns, although Thames Water has not. 
As well as objections to the development, there have also been several clubs showing interest in using the field for its original sporting purpose. Bellway Homes have not made it easy for clubs to rent this land and it has only been the planning application which has drawn attention to the site.
We are now awaiting a Planning Application Committee date to see if permission will be refused or granted. 
As an association, we are continuing to press for all the relevant and latest information concerning this major planning proposal which will affect so many residents. We will update you via our website and the Nextdoor app.   Michael Marks
Previously on 23 February 2021 - Sport England decides to Object to Bellway's Planning Application
This Association has now received a copy of an email from Sport England sent to Merton's Planning Dept, setting out its reasons for making a formal objection to this planning application (ref: 20/P3237). We sincerely hope this is this first step towards securing a new future for this playing field. Sport England's email may be read by clicking on this link  Email from Sport England to Merton 20/P3237. 
Previously on 12 February 2021 - Application 20/P3237 - Sport England
Bellway has now submitted its planning application, Ref 20/P3237, which can be seen on Merton's Planning Explorer.
We have been very concerned recently because Merton Council has stopped publishing on its Planning Explorer most letters of objection to applications submitted by members of the public. However, we have now obtained copies of all the objections (formally called "Representations").
Our new committee member, Mary-Jane Jeanes, has been reading them all and discovered that Sport England, a statutory consultee for this application, had raised no objection to the loss of this sports field. 
We  therefore wrote to Sport England reminding them of all the details. Our letter may be read here. We urged Sport England to reconsider its position. As reported above, Sport England has now submitted a formal objection to this planning application. 
Previously: November 2020
Both our Chairman, John Elvidge, and Vice-Chairman, David Freeman have submitted letters of objection, which may be read by following these links:
Chairman's Objection to Bellway's Application 20/P3237
Vice-Chairman's Objection to Bellway's Application 20/P3237
Our MP, Stephen Hammond has also submitted an objection.
We urge our members to also submit objections to Merton's Planning Department, which can be done by email. The deadline is 9 December 2020
Previously ...( 24 August 2020)
We have just learned that Bellway Homes have indicated that they intend to deliver a letter to local residents on Tuesday 25th August setting out their intention to build some 90 units of accommodation on the Sports Ground in Meadowview Road, Grand Drive (Formerly the "LESSA" Sports Ground).
More details of Bellway's plans can be seen here and here . 
Nowhere in their letter do they explain that they have owned this land since 2010, having bought it following a public inquiry, in which the Planning Inspector held that there should be permission only to build the 44 homes now on the site, and on the clear basis that the rest of the land should be retained for sporting use. Five tennis courts were also provided for the Raynes Park Tennis Club.
Nowhere in the letter do Bellway set out the Council's planning policy for the site. The proposed policy is that "Sporting or community use of the whole site will have to be demonstrated as undeliverable before any other use can be considered".  It is designated as Open Space. It is officially noted that "the site may have opportunities for whole site sports use. Use of the site for sports use or other uses compatible with the designated open space should be actively demonstrated prior to any alternatives being taken forward".  
The decision letter from the Inspectorate approved the continued use of the sports field for football and rugby. The decision also makes reference to the laying out of pitches and a pavilion. The Inspector appears to have swayed by a proposal by King's College School that they wished to use the sports field for its junior pupils.  In the event, KCS did not take up this option.
However, the decision stated that, in that case, the ground had to be made available to any other School or a Sports Club. The Residents' Association suggested to Bellway on a number of occasions another junior school which would be interested in taking up a lease, as well as a sports club, but nothing resulted from our approaches. 
So far as we are aware, they have not attempted in any way in the past ten years to bring the ground to the attention of other schools or sports clubs.  They ought to demonstrate this very clearly before planning permission for housing should even be considered.
We would normally have called a public meeting to discuss these proposals, but, sadly, Covid 19 prevents this.
We hope that if residents are contacted by Bellway, they will say to them firmly that the site should be used for sports, and particularly for junior sports.  It is so important that this message gets through to Merton's planners now. 
If a planning application is made, then we would urge individual residents to oppose it in the strongest terms, and hold Bellway to the conditions on which they bought the land.
And, if anyone reading this knows of a School or sporting club which needs a good sports ground of 2.8 hectares, do, please, get in touch with us urgently at This email address is being protected from spambots. You need JavaScript enabled to view it.
John Elvidge, Chairman, 24th August 2020