Local developments
Next at 88 Bushey Road
This email has been recieved by the Association concerning the proposed at 88 Bushey Road
 Sent:
Thursday, July 04, 2013 11:32 AM
Subject:
Proposals for a Next Home and Fashion store, 88 Bushey Road, New Malden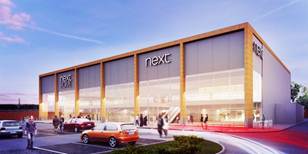 On behalf of Friends Life (AXA Real Estate) and Next plc, we would like to update you on the proposals to create a new Next Home and Fashion Store at 88 Bushey Road, New Malden. 
Earlier this year we held a public exhibition of the proposals at Raynes Park Library (in April) and at Next's Wimbledon store (in May).  Over 50 people attended to view the plans, speak to the project team and leave feedback. 
We have also met with Raynes Park High School on several occasions to discuss the career and learning opportunities the proposed store could offer for its students.  We are continuing to engage with the school and Next hopes to build this into a long term relationship. 
The store would
create
over 200 jobs
, as well as access to Next's training and apprenticeship programmes. 
We have been very pleased with the widespread local enthusiasm for the idea of a Next store in Bushey Road. 
97% of responses so far have indicated support for the proposals
.  We have also set up a dedicated Facebook page (Next4NewMalden) which has attracted over 500 members. 
A full planning application has now been submitted to Merton Council.  The planning documents are available to view on the Merton Council website
http://tinyurl.com/ohdw68c
, planning reference number
13/P1802.

We would be delighted to brief you on the proposals at your convenience and to answer any questions you may have at this stage. 
Please do not hesitate to contact me on
0207 587 3433
or email
This email address is being protected from spambots. You need JavaScript enabled to view it.
at any time. 
Our consultation team is available to respond to local residents
•             Freephone 0800 458 6976
•             Email:
This email address is being protected from spambots. You need JavaScript enabled to view it.">

This email address is being protected from spambots. You need JavaScript enabled to view it.



Information is also on the project website at
raynesparknext.com

We look forward to hearing from you 
Best regards, 
George Burr 
04/07/2013 
Also from: Paul Lloyd
Your Shout
0800 458 6976 Freephone

http://yourshout.com