Local developments
Crossrail 2
SAY 'YES' TO CROSSRAIL2!CONSULTATION ends 2nd August 2013 (updated November 2013: See the link at end of this article)
Overview
Crossrail 2 would create a new high-frequency, high-capacity rail line running between south west and north east London, running up to 40 trains per hour through the central part of the route.  Transport for London (TfL) and Network Rail (NR) are now seeking views on the proposals. It replaces an earlier scheme known as the Chelsea-Hackney Line, which already has a safeguarded route. The current consultation process runs until August 2nd 2013. 

Benefits of Crossrail 2
Crossrail 2 would help to relieve congestion on both the national and TfL rail networks, and would support economic development in and around London.  Specifically, Crossrail 2 would relieve Waterloo station and so allow more 'fast' trains to use the station. Some of the existing stopping services to Waterloo would be re-routed onto the Crossrail 2 line, and would then stop at Clapham Junction, Victoria, Euston etc (see map) instead of Waterloo.
 
It is intended that Crossrail 2 would also relieve Euston station once High Speed 2 scheme is in place, which is essential if major transfer delays at the Euston terminus are to be avoided.
 
Once built, journey times between Wimbledon and Euston could be more than halved, taking just 15-17 minutes between the two stations.

Route options: Metro vs Regional route
Preliminary work has identified two possible routes: a 'Metro' option offering a high-frequency, underground service which would start at Wimbledon (NB no route to Motspur Park), and a 'Regional' option that includes wider connections with the north east and south west, including Motspur Park.
 
Both options share a similar route through the centre of London, as shown below.  These maps are available at a larger size on TfL's website (see link below).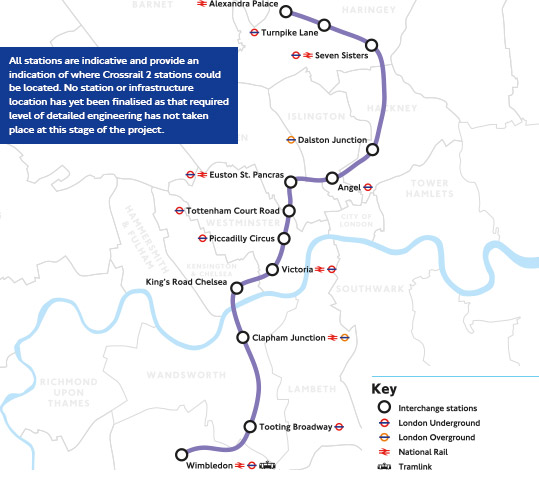 "Metro" Option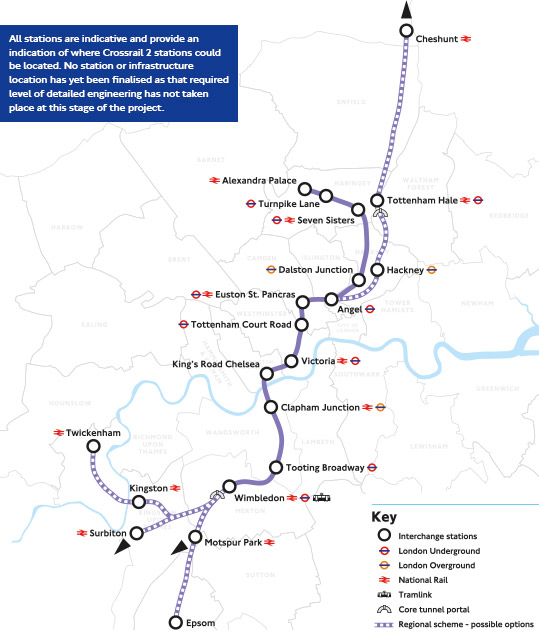 Regional Option
 
The Regional option, as proposed, would include branches to Surbiton, Twickenham (via Kingston) and Epsom.  Motspur Park station would be on the Epsom branch, as shown above.

Timing and funding
The timing for delivery depends on funding, as the project will require a mixture of public and private funding if it is to proceed.  Other major schemes in London are already progressing on this basis, for example Northern Line extension in Battersea.
 
In reality, the Regional option is likely to be more feasible when considering private sector funding, as the area it covers is so much larger and the potential for shared funding from future developments is therefore much greater. Current projections show that the scheme could be in place in the early 2030s.
 
Consultation process and suggested response
The consultation process is now open and it is essential that we respond positively and in specific detail if we want to support the Regional option, which would directly benefit Motspur Park.  There are no other major transport schemes in Network Rail or Transport for London's programme which have the potential to create economic benefits for our area on this scale. Consultation responses can be made individually and/or as a group.
Of course, major schemes come with their downsides.  Locally, we are well aware that there are issues to be tackled to do with the specific scheme impacts.  For example, we will need to raise the issue of the level crossings close to Motspur Park Station and also the need to mitigate and disruption caused by additional trains using the line through Motspur Park.  There may also be issues of construction noise and similar that need our attention.  However in the scale of the proposed scheme, these are all issues that could be tackled in an appropriate way, especially if they are brought to the attention of the design teams during this early project design stage.
  
Update: November 2013 - The consultation results report is now available online at www.crossrail2.co.uk