History: Building Raynes Park
WW1 - 100 Years On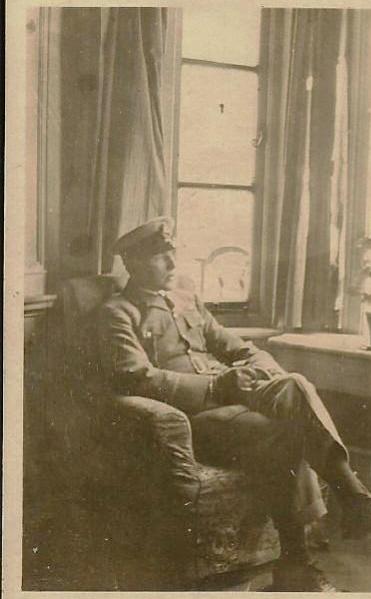 Whilst many of us have vivid memories of WW2, there are few that remain (and none, as far as I know in Raynes Park or West Barnes) who have personal memories of WW1, though of course, we have had parents, uncles and aunts, who were part of it all.
My own father was a pilot in the Royal Flying Corps. He was born in 1898, joined up when he was 18, and was shot down twice. Hardly surprising when one remembers that the aircraft they used were seemingly made with balsa wood and paper! Being in the Flying Corps changed his life.  He had been going to read theology, but after the war, he became an agnostic, and instead of Edinburgh, went to Glasgow University to read medicine. 

When he finished his studies -like so many Scots - he came south to England, where he spent the rest of his life.  This picture is nearly 100 years old, so you must forgive the poor quality. 
WW1 Poets 
Many of us are aware of the great World War One poets like Wilfred Owen, Robert Graves and Rupert Brooke.  However it was very interesting to discover that one of our Members, David Coleman has been researching the poetry of Rex Freeston who ranks among these great poets but because he perished early in the war before fulfilling his literacy promise, he remains for the most part unsung.   He interrupted his studies at Oxford University to enlist in The Royal Berkshire Regiment, and his death meant that he never completed his degree.  David's research has found him to be remembered on the Roll of Honour at both his College (Exeter) and in St. Andrews Church, Clewer, in the Diocese of Oxford.   Elsewhere there is a paucity of information about him and David was pleased to be able to make more intimate details of Rex Freeston known to both the aforementioned bodies and to Windsor Information Bureau. 
We celebrate the work of Rex Freeston with the following poem in some unpublished verses "Two Nights": 
I listened to the bugles, and I hearkened to the bells
In old Oxford city, a night long, long ago:
O, the bells were full of music like the sound of fountain wells,
But the others played a music I never thought to know.
There's a lilt of martial music and a cry of fountain wells
In the barrack square tonight beneath the lonely tree:
And I laugh to hear the bugles, but I weep to hear the bells
For I know the bells of Oxford will ring no more for me.
In "Challenge" comes a clarion call: 
Tempestuous hours, you shall not crush
My soul to silence ere I will!
Your heavy sadness shall not chill
Within my breast the ardent flush
Of hope and love, and all things pure
From high ambition, lofty rage:
Nor weaken my proud heritage –
To dream, to do, and to endure!