Planned roadworks
Approach Road - 8 March 2021 for 3 weeks
We have just learnt that Thames Water will be operating a lane closure and contra-flow system in Approach Road, Raynes Park (the south side of Raynes Park Station) from 8th March 2021 for approximately 3 weeks. This is essential work to enable them to make repairs to a sewer pipe.
DELAYS WILL BE INEVITABLE                        
Roadworks Bulletin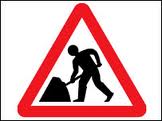 Please click here to view the latest update of Merton Council's Roadworks Bulletin.  The bulletin is designed to give the public advance notice of roadworks in Merton, to minimise delays and other problems associated with the works.
If this above link does not work, you can access it directly by going to www.merton.gov.uk and then selecting Transport and Streets > Roads, highways and pavements > Roadworks > Roadworks Bulletin at any time.