Local news
Raynes Park Vales FC re-applies for Late Night Licence
Update 1 May 2021
The Raynes Park Vale Football Club have now re-applied for a licence to sell alcohol, show films, have live and recorded music and serve Late Night Refreshment, seven days a week and up to midnight on Fridays and Saturdays and to stay open until half-past-midnight on Friday nights/Saturday mornings and Saturday nights/Sunday mornings.
The full application details may be seen at
https://www.merton.gov.uk/Documents/current%20licensing%20applications%2029042021.pdf on pages 11 & 12.
This application is effectively to operate a "pub" open to all. selling alcohol off and on the premises, with extended late-night hours at weekends into the early hours of Saturday and Sunday mornings, with live music and other forms of entertainment. 
The closing date for representations is 26 May 2021.
REPRESENTATIONS SHOULD BE MADE IN WRITING TO: 
Licencing Section, London Borough of Merton, 14th Floor, Civic
Centre, London Road, Morden, Surrey, SM4 5DX or by email to: 
This email address is being protected from spambots. You need JavaScript enabled to view it.
The Application Reference is WK/202103135
Traffic Problems in Grand Drive
Please give us your views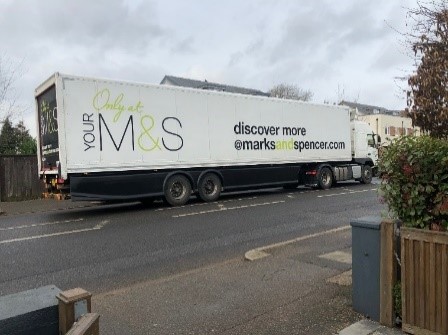 Several of our members who live in Grand Drive have raised concerns over the excessive traffic speeds in Grand Drive.  HGVs are reported as being a particular problem due to the noise and vibration and the damage this causes to health and property alike. Our Association is keen to hear the views of our members about these problems. 
We expect that members in other roads may also be suffering similar problems but the situation is made more complicated in Grand Drive than for most other roads because it is part of TfL's London Distributor Road network. TfL are therefore responsible for traffic lights and other safety features (speed cameras, raised junctions, chicanes and the like) and Merton has to get agreement from TfL to add these sorts of measures. 
There is also the associated issue of pollution, both due to Nitrogen Oxide (NOX) and also particulate emissions. Merton does monitor NO2 levels at some fixed points along Grand Drive and elsewhere in the borough.
The sensors in Grand Drive show annual average NO2 levels are in excess of the national objective of
40 mg m-3. 
This link takes you to Merton's most recent Air Quality Annual Status Report:
 https://www.merton.gov.uk/Documents/Annual%20Status%20Report%202020.pdf 

There is also the matter of enforcing the new 20 mph speed limit and the existing London Lorry Control Scheme, which bans HGVs over 18 tonnes from using Grand Drive between 9.00pm and 7.00am on weekdays. At the weekend they are banned from 1.00pm on Saturdays until the following Monday i.e. no HGVs on Saturday afternoon or all day Sunday. 
Those are the rules, but regrettably they are frequently ignored. 
Grand Drive residents are seeking solutions! We all understand that delivery drivers must get from A to B and we value their hard work. They have supported the country throughout the pandemic, keeping essential work and maintenance going and delivering food and goods to those locked down or restricted. 
However, the welfare of residents is being affected by the constant thundering of huge vehicles from 5.30am, and there is danger to the young, the elderly and the infirm from speeding vehicles in general. The stress for the residents, damage to the roads and pavements (and in some cases to houses) and the worrying aspects such as air pollution are all everyday concerns for those in living along Grand Drive and other streets in our area. 
Please let us know of your concerns, either by email to our Association at here or by posting on our Nextdoor Group, either privately or publically, at nextdoor.co.uk/g/84vfly7fh/
Clare Townsend
A letter from our Life President - April 2021
No-one could have known - least of all me - what was ahead of us fourteen months ago and just how much our lives and perspectives would change. 
Many people have suffered great sadness and loss and those of us that have been spared the worst of what the pandemic was to bring have learned to appreciate things that perhaps we took for granted. Meeting up with friends and family; enjoying a professional haircut; being able to travel and revisit the seaside, country houses and parks; having a meal out at our favourite restaurant; the reopening of our clubs and societies, retail therapy and simply having fun. 
Hopefully, in time, we can all look forward to kicking Covid into the long grass and, like smallpox and the bubonic plague, into the annals of history. But this has been a much needed wake up call for us all. We must never forget the lessons we have learned: the importance of friends, the kindness of strangers, and last but not least, to look after our environment and our wonderful planet.
 Jill Truman
Report from our Treasurer
December 2020
It is almost eight months since we were required to cancel our AGM as a result of the pandemic.
I hope that you are all keeping well and I look forward to meeting up again when we can safely do so.
As we are a non-profit making organisation, I had some serious  concerns initially about our ability to afford printing and incidental costs without dipping into the last of our reserves.
Fortunately, and thanks to our tireless road stewards and brilliant  members, we have over half of our annual subscriptions banked already. This is very encouraging and I would be grateful if those of you who have not yet renewed this year could do so in one of the following Covid-safe ways:
£3 in cash or cheque put in an envelope with your name and address clearly marked. This envelope can then be put through your road steward's door or mine.
£3 by direct bank payment (BACS) to RPWBRA, Sort Code: 30-99-66, Account no: 32070068, adding your name as reference.
From Our Secretary - April 2021
PLANS: CROSSWAY GARAGES
This month's Inbox has contained several emails about a letter received by many residents about proposals for garages accessed from Crossway.   
Axis and Mohsin Cooper Architects are planning to demolish the existing garages and build three blocks of flats four storeys in height, providing 18 residential units. The proposals can be seen at https://tinyurl.com/n34p5pzu  
if you want to comment on this proposal, email Axis at This email address is being protected from spambots. You need JavaScript enabled to view it. with the subject ;
"Garages Accessed from Crossway, Raynes Park". 
Please copy in our Residents' Association (here) so that we are aware of your thoughts. 
RP&WB Residents' Association have arranged to extend the consultation date to 6pm 12th April.  
GARTH ROAD HOUSEHOLD REUSE AND RECYCLING CENTRE
Our inbox has been alive with concerns about the Garth Road facility so, in common with many local organisations and councillors, we have been in touch with Merton Council to find a way forward. The adoption of a booking system during the pandemic was initially unpopular, but as residents became familiar with the process, it appeared to be working quite well.
 Then, in March, the Centre reverted to its open system but, at times, there were alarmingly long queues.Councillor Hina Bokhari kindly forwarded an email to us from Charles Baker, Merton Strategy and Commissioning Officer, who has explained that when the booking system was ended, there was a surge of cars arriving at the facility. 
We have since heard that the online booking system has now been re-instated.
Charles Baker is also examining ways of allowing non-vehicular use which would require careful arrangements for safety reasons.
 Michael Marks, RPWBRA Secretary
A Big Thank You to all our Volunteers
Throughout the year our committee members, pavilion management group, area coordinators and road stewards work together to:
Listen to residents' views,

Act upon local concerns, (e.g. The Tesco/Redrow development)

Keep residents informed about local activities and organisations

Publish and distribute the Guide throughout the year

Run and take care of the Residents' Pavilion on a daily basis

Run this website
All this unpaid work enables us to keep the Residents' Association subscription fees to an astonishingly low £3 per year! 
Our Chairman, John Elvidge, thanked volunteers and their families at an enjoyable Christmas Social held at the Pavilion on Saturday 7th December. During the afternoon he presented Linda Fitch (who is standing down from her role within the pavilion management group) with a beautiful plant.
 AFTER THE PARTY - Andrew Barwick and David Freeman wield the vacuum cleaner!
The RPWBRA Nextdoor Group
Our Committee Member, Dick Coleman, is keen to improve communications, both with and between members, so is encouraging members to join the Association's official RPWBRA members' group on Nextdoor,
In the past few months, we've set up a members' group on Nextdoor, a social networking service for you and your neighbours, as a means of providing up-to-date news on local issues.
We've particularly focused recently on the big planning proposals, such as at Tesco, and the Meadowview Road playing fields, where it's important to keep abreast of developments. The RPWBRA Group works both ways, and we hope our members will also find it an easier way to give us feedback, raise issues we might be able to help with, and help each other.
Nextdoor is a free service, all you need to do to join the Group is visit: https://nextdoor.co.uk/g/84vfly7fh/
Raynes Park High School Newsletters

Follow this link for the latest Raynes Park High School newsletter
Local Issues - Updates Feb 20021
Drainage Problems in Motspur Park 
Reported concerns around the Sir Joseph Hood Memorial Playing fields area with drainage ditches blocked causing flooding to footpaths and gardens appear to be under control. We investigated the situation as did the local West Barnes Councillors. 
Cottenham Park LTN proposal 
There is concern around a proposed Low Traffic Neighbourhood scheme affecting access to and from Cottenham Park Road. As always, there is concern that some roads will benefit from traffic reduction but others will suffer as a result. The aim – to reduce pollution – is admirable but all aspects need consideration. 
Continuing Grand Drive traffic issues 
Although there has been a meeting of the Scrutiny committee which our committee members followed on the Merton Council You tube, there was no clear way forwards for residents' concerns. It has been suggested that residents worried about damage from vibrations should get in touch with their Insurance companies.
Secondly, the speed limit should be enforced and thirdly, air pollution levels MUST be monitored.
West Wimbledon Primary School - Newsletters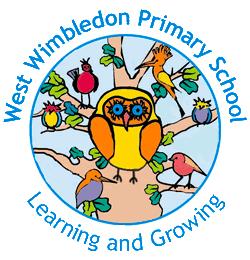 Follow this link for the latest West Wimbledon Primary School newsletter.
New Committee Member: Mary-Jane Jeanes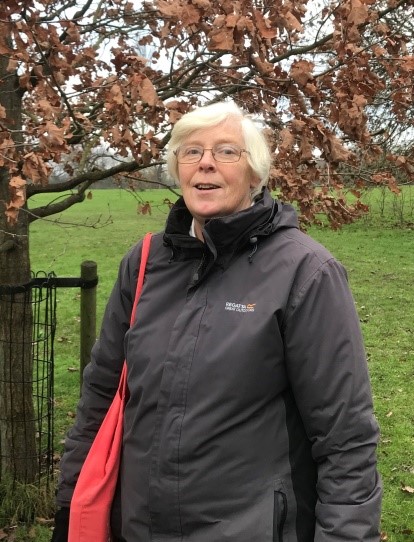 We are pleased to welcome Mary-Jane Jeanes onto our Committee. Mary-Jane has been a keen member of our Association for many years and has helped considerably on planning matters. Her help has been crucial with the plethora of controversial applications currently in the pipeline. 
Mary-Jane is also the Chair of the Friends of Cannon Hill Common. She writes, 
"Now that we are again asked to limit ourselves to essential travel only, more local people are visiting, and appreciating Cannon Hill Common.  I am sure our members will want to join me in thanking the many volunteers who help with regular litter-picking. 
"A number of people have also asked the Friends of Cannon Hill Common about tree identification. The Friends plan to have a "Tree Trail", with notices identifying different tree species on the Common, during Love Parks Week (12th to 20th July, 2021). 
"In the meantime, the Friends' website (https://www.friendsofcannonhillcommon.co.uk/) has a link to Tree Talk https://tinyurl.com/y4dzp6x2 which has maps showing many of the most important trees in London.  The Tree Talk map also identifies street trees and you can create your own "tree walks".
The Woodland Trust has a free app, to help identify trees: https://www.woodlandtrust.org.uk/trees-woods-and-wildlife/british-trees/. 
"Once the pandemic is over, the Friends will resume regular events, such as Bat Walks, plus butterfly, bird and flower identification events." 
Mary-Jane Jeanes
This email address is being protected from spambots. You need JavaScript enabled to view it.
Raynes Park Bereavement Service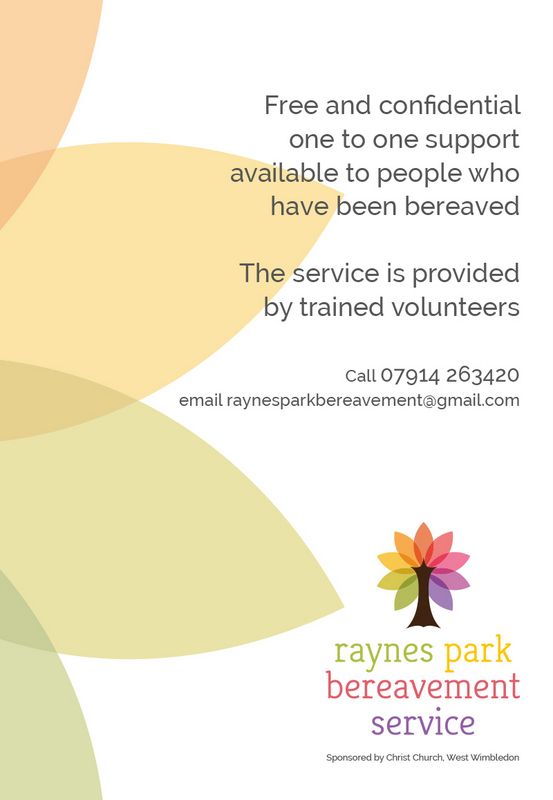 The Raynes Park Bereavement Service was launched on Monday 24 November 2014.   
The service provides free and confidential one to one support to people who have had a bereavement, recently or in the past.  
This service is provided by volunteers who have been vetted, trainedand are supported by professional counsellors.  It is being provided primarily for people living in the Raynes Park area, but it is open to requests from elsewhere.  The service is managed by Christ Church, Raynes Park, and is open to people of all faiths and none.   
The service is accessed by calling 07914 263420 or emailing This email address is being protected from spambots. You need JavaScript enabled to view it..   The volunteer will then arrange a meeting at Lambton Road Medical Practice for as many times as needed.  (If someone is housebound arrangements will be made to see them in their own home.)