Local developments
Revised Proposals for 38 Crossway
On 9 July 2021, we received the following email and attachment from the planning consultant working on the proposals for 38 Crossway.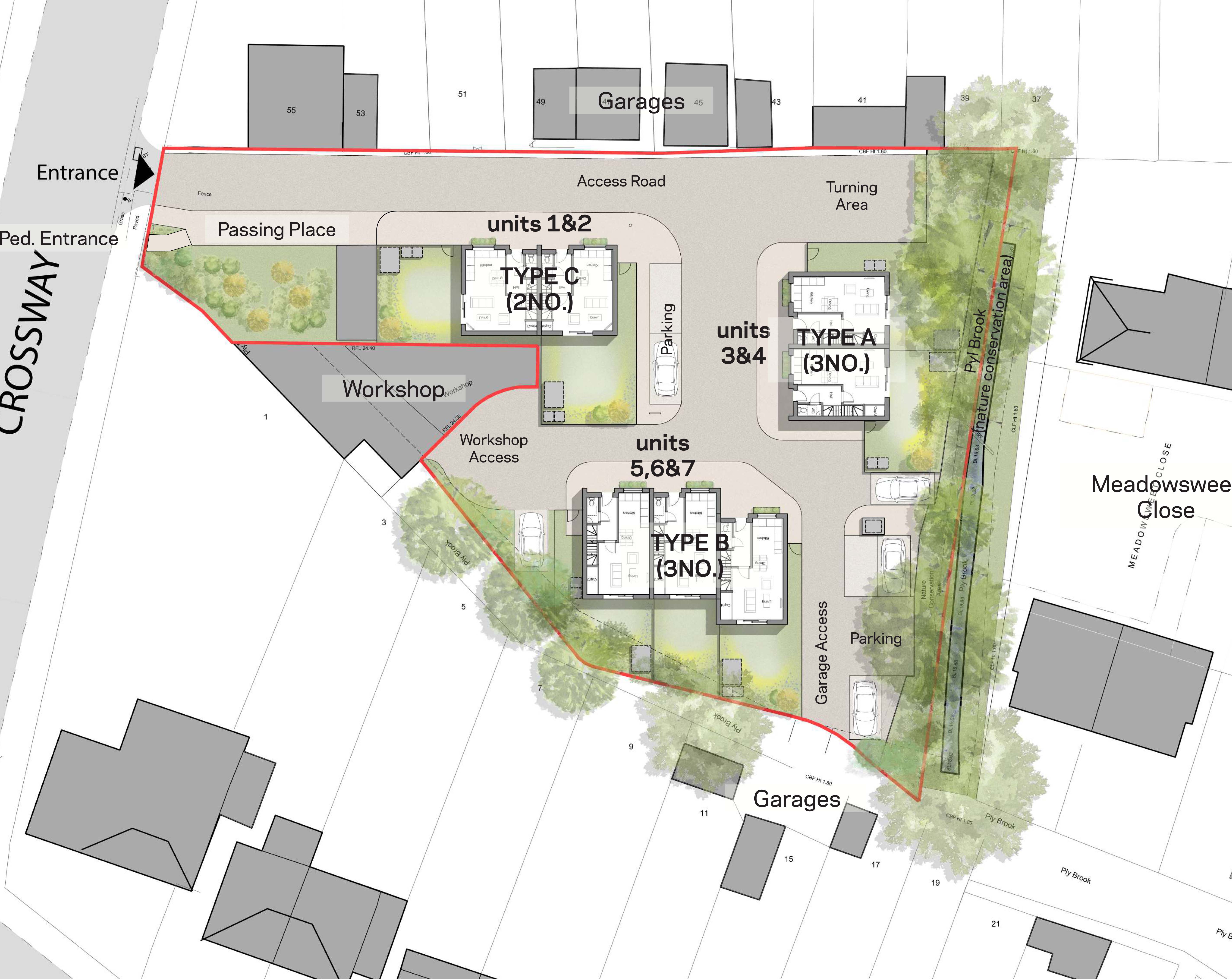 The planning application will be submitted on Monday. I've attached the site layout plan showing 7 residential houses which would be three storeys in height, with the top storey being within a pitched roof.
I'm under no illusions that everyone who raised objections will consider that this addresses every one of their concerns. However, we consider this a good proposal at the Site, and it is reduced in extent from what was previously shown to neighbours.

Regards
Chris Heather, Senior Consultant, Axis
Bellway's Plans to build houses on Meadowview Sports Ground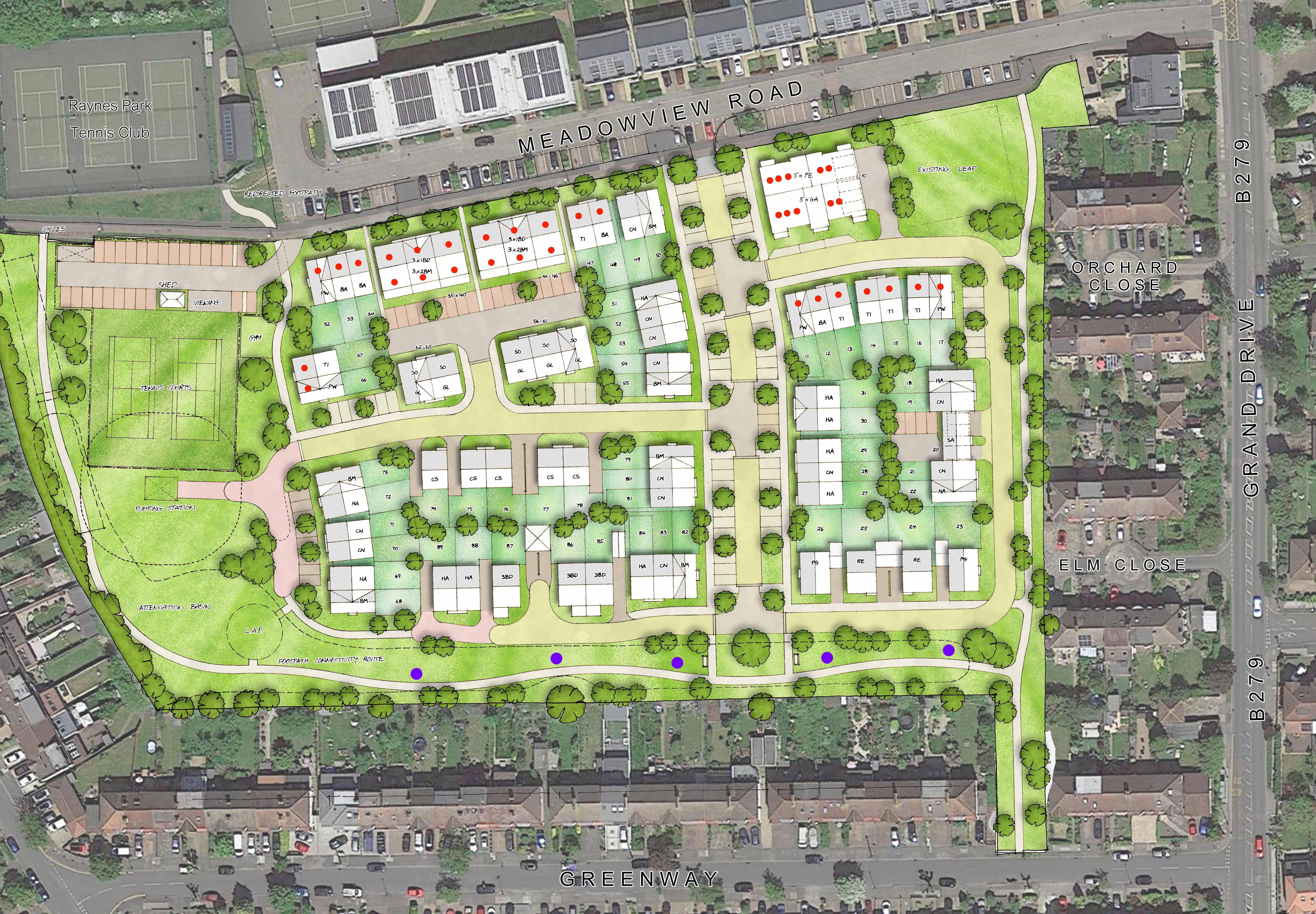 Updated 5 March 2021
Planning Application 20/P3237 to build 89 homes on the former LESSA Sports Ground in Meadowview Road.
The application was formally registered 16th November 2020. Before the 9th December 2020 deadline, our Residents Association, together with 203 residents filed 200 objections to the Planning Department; only 3 representations were in favour.  The Residents' Association explained why the field should be kept for sport; 83% of residents agreed.  The other main concerns are increased traffic congestion (74%) and flooding (72%). 
Both the Environment Agency and the borough's Flood Risk Officer have objected because of flooding concerns, although Thames Water has not. 
As well as objections to the development, there have also been several clubs showing interest in using the field for its original sporting purpose. Bellway Homes have not made it easy for clubs to rent this land and it has only been the planning application which has drawn attention to the site.
We are now awaiting a Planning Application Committee date to see if permission will be refused or granted. 
As an association, we are continuing to press for all the relevant and latest information concerning this major planning proposal which will affect so many residents. We will update you via our website and the Nextdoor app.   Michael Marks
Previously on 23 February 2021 - Sport England decides to Object to Bellway's Planning Application
This Association has now received a copy of an email from Sport England sent to Merton's Planning Dept, setting out its reasons for making a formal objection to this planning application (ref: 20/P3237). We sincerely hope this is this first step towards securing a new future for this playing field. Sport England's email may be read by clicking on this link  Email from Sport England to Merton 20/P3237. 
Previously on 12 February 2021 - Application 20/P3237 - Sport England
Bellway has now submitted its planning application, Ref 20/P3237, which can be seen on Merton's Planning Explorer.
We have been very concerned recently because Merton Council has stopped publishing on its Planning Explorer most letters of objection to applications submitted by members of the public. However, we have now obtained copies of all the objections (formally called "Representations").
Our new committee member, Mary-Jane Jeanes, has been reading them all and discovered that Sport England, a statutory consultee for this application, had raised no objection to the loss of this sports field. 
We  therefore wrote to Sport England reminding them of all the details. Our letter may be read here. We urged Sport England to reconsider its position. As reported above, Sport England has now submitted a formal objection to this planning application. 
Previously: November 2020
Both our Chairman, John Elvidge, and Vice-Chairman, David Freeman have submitted letters of objection, which may be read by following these links:
Chairman's Objection to Bellway's Application 20/P3237
Vice-Chairman's Objection to Bellway's Application 20/P3237
Our MP, Stephen Hammond has also submitted an objection.
We urge our members to also submit objections to Merton's Planning Department, which can be done by email. The deadline is 9 December 2020
Previously ...( 24 August 2020)
We have just learned that Bellway Homes have indicated that they intend to deliver a letter to local residents on Tuesday 25th August setting out their intention to build some 90 units of accommodation on the Sports Ground in Meadowview Road, Grand Drive (Formerly the "LESSA" Sports Ground).
More details of Bellway's plans can be seen here and here . 
Nowhere in their letter do they explain that they have owned this land since 2010, having bought it following a public inquiry, in which the Planning Inspector held that there should be permission only to build the 44 homes now on the site, and on the clear basis that the rest of the land should be retained for sporting use. Five tennis courts were also provided for the Raynes Park Tennis Club.
Nowhere in the letter do Bellway set out the Council's planning policy for the site. The proposed policy is that "Sporting or community use of the whole site will have to be demonstrated as undeliverable before any other use can be considered".  It is designated as Open Space. It is officially noted that "the site may have opportunities for whole site sports use. Use of the site for sports use or other uses compatible with the designated open space should be actively demonstrated prior to any alternatives being taken forward".  
The decision letter from the Inspectorate approved the continued use of the sports field for football and rugby. The decision also makes reference to the laying out of pitches and a pavilion. The Inspector appears to have swayed by a proposal by King's College School that they wished to use the sports field for its junior pupils.  In the event, KCS did not take up this option.
However, the decision stated that, in that case, the ground had to be made available to any other School or a Sports Club. The Residents' Association suggested to Bellway on a number of occasions another junior school which would be interested in taking up a lease, as well as a sports club, but nothing resulted from our approaches. 
So far as we are aware, they have not attempted in any way in the past ten years to bring the ground to the attention of other schools or sports clubs.  They ought to demonstrate this very clearly before planning permission for housing should even be considered.
We would normally have called a public meeting to discuss these proposals, but, sadly, Covid 19 prevents this.
We hope that if residents are contacted by Bellway, they will say to them firmly that the site should be used for sports, and particularly for junior sports.  It is so important that this message gets through to Merton's planners now. 
If a planning application is made, then we would urge individual residents to oppose it in the strongest terms, and hold Bellway to the conditions on which they bought the land.
And, if anyone reading this knows of a School or sporting club which needs a good sports ground of 2.8 hectares, do, please, get in touch with us urgently at This email address is being protected from spambots. You need JavaScript enabled to view it.
John Elvidge, Chairman, 24th August 2020
Wyke Road, Application 20/P0945

Residents and members may already be aware that planning approval has recently been granted for two blocks of flats on the narrow strip of land next to the railway embankment, in Wyke Road, opposite Langham Court. This is despite the fact that this area of Wyke Road has designation as a Site of Importance for Nature Conservation (SINC).
However, Network Rail has a general covenant over all land within 1.5m of the boundary with its railway land. This prevents buildings being erected in this strip and gives Network Rail rights of access over it. 
There is concern locally that the footprint of the proposed buildings in Wyke Road would breach this covenant. Following some correspondence between various parties concerned over this potential breach, James Sachon of Network Rail emailed Stephen Hammond MP and Councillor Adam Bush, as follows:
Date:      9 February 2021
Subject: Re: Wyke Road Planning Application 20/P0945             
Further to my email on Monday, I wanted to provide you with an update on our position. 
We have today written to the developer to formally refuse their request to amend or release the restrictive covenants. If the developer chooses to build to the existing planning permission, then it will be in breach of the restrictive covenant and they will be exposed to legal remedies. 
We are still happy to have a meeting tomorrow if you feel appropriate, but our position on this remains very clear that we will not allow the developer to amend the restrictive covenants which the current planning permission breaches. 
I look forward to hearing from you. 
Kind regards, 
James
Tesco/Redrow Appeal Upheld - 29 June 2021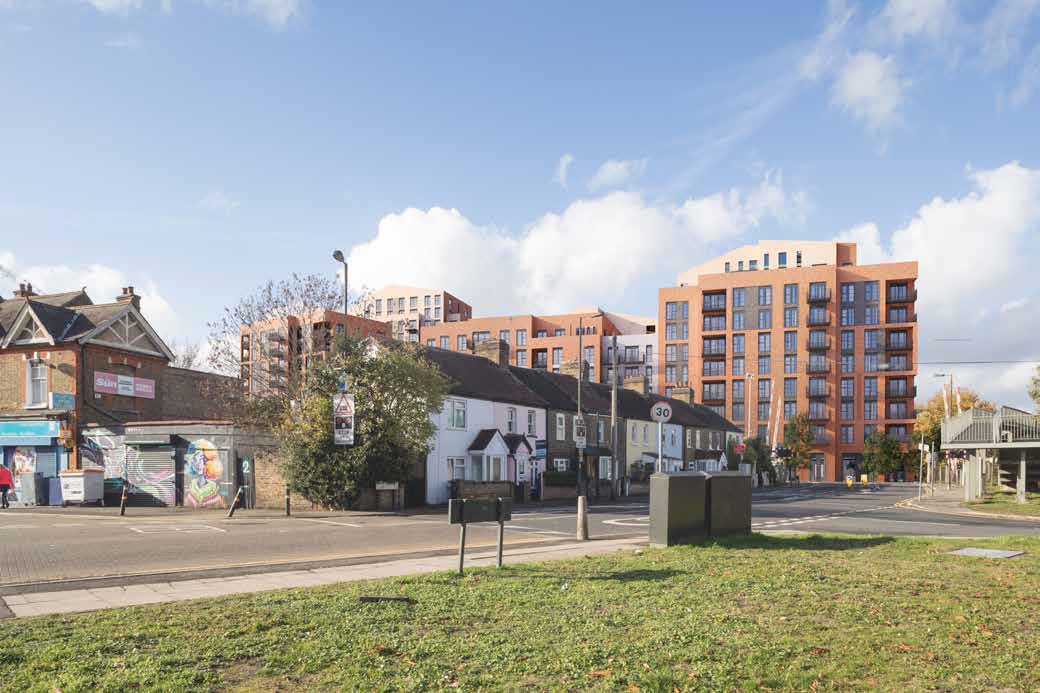 Update 29 June 2021 - Planning Permission Granted
It is with much regret that our Association has received the news today, that the Planning Inspectorate has upheld Redrow's Planning Appeal. 
This means that, despite the huge effort made by our Association and many local people and organisations to prevent this development going ahead, the Planning Inspector has decided in favour of Redrow's plans to building 456 flats in Tesco's car park.
The Planning Inspector's decision may be read here.
Previously in January 2021
The online public inquiry was concluded on Wednesday, 13th January. Members will probably be aware that Redrow launched an appeal against Merton's decision to refuse planning permission for its proposed development in Tesco's car park to build 456 flats in towers up to 15 storeys high. 
Our Association was a "Rule 6 Party" at the inquiry, which meant our team was present throughout and able to participate in the proceedings.The public inquiry was organised by the Planning Inspectorate and took place online, running for a total of 11 days, starting on 8 December 2020 and concluding on 13 January 2021, with a break over the Christmas and New Year holiday period. 
John Elvidge, our Chairman, took on the role as our advocate, putting his legal experience to good use, with Jerry Cuthbert looking after all the day-to-day administration and documentation that being a Rule 6 Party entails. Theywere ably supported by David Freeman who has a wealth of experience in planning matters. The Planning Inspector has yet to make her site visit, write her report and make her decision; so it's still a case of "watch this space". 
It's been a very intense experience for those involved and has consumed large amounts of their time. Fortunately, as we've been through several periods of lockdown since the appeal started, our team has had the free time available! 
Throughout the planning process for this development, your Association has worked hard in representing the views of its members and giving its support to local residents, schools and businesses in our joint endeavours to achieve what is best for our community. 
During the inquiry we have reminded the Inspector that we're not against new homes being built in Tesco's car park but that any development should be architecturally integrated with the local townscape, contribute positively to the public realm and should include public facilities, such as a health centre, for example. Let us hope for a positive outcome from the inquiry and that the appeal is refused.
The sessions were live streamed on YouTube and recorded by the Planning Inspectorate.
All the inquiry documents are available on Merton's website at https://www.merton.gov.uk/planning-and-buildings/planning/planning-permission/burlington-road-public-inquiry
As our Association is a "Rule 6" party to the inquiry, you may read our Proof of Evidence here .
Daily Reports on the Inquiry (8 December 2020 - 13 January 2021)
On the first day (8 December 2020), we had the opening statements from representatives for Redrow and London Borough of Merton, with John Elvidge speaking for our Association.  Also Councillor Hina Bokhari, Steve Lister (Champion's Chairman), Andrew Hogarth (Deputy-Head RPHS), Matt Wingrove (resident) and Nick West (resident) all spoke eloquently urging refusal.
On Day 2 (9 December 2020), we heard the highways evidence submitted by Merton's expert witness. This centred around an assessment of the degree to which the site is served by public transport, the accessibility of Motspur Park Station, whether 220 car parking spaces would be adequate for 456 flats and the possibility of increased street parking in the vicinity.
Day 3 (10 December 2020). Today, we heard further from Redrow's expert witness on transport. Much of his evidence today concerned his methodology for predicting the likely level of car ownership within the proposed development. Our members are obviously concerned over the possibility of overspill car parking into the residential streets of West Barnes. If this did happen, the solution being mooted would be the imposition of a new CPZ on residents in West Barnes.
So there is the possibility that residents near to the Tesco site might have to bear all the costs and inconvenience of a CPZ in their streets, so that Redrow only have to provide 48% parking capacity per dwelling for the new residents.
Day 4 (11 December 2020). The first session was to allow third parties to raise any matters that might be added to the Planning Conditions. These Conditions are to be agreed in principle between Merton and LBM in advance, on the basis that, IF the appeal were to be granted, they would be already agreed.
After this, our chairman, John Elvidge, then cross-examined Redrow's expert transport witness about the evidence he gave the day before.
In the afternoon, we started the "Character and Appearance" debate, with LBM's expert witness presenting his evidence.
Later, the Inspector chaired the concluding discussion on Conditions and the S106 Agreement.
Day 5 (15 December 2020) Today, Merton's expert witness for urban design and townscape matters, explained the reasons behind the Planning Committee's reasons for refusal. He was then cross-examined by Redrow's counsel. Later in the day, Redrow's expert witness presented the reasons why Redrow is appealing against Merton's refusal on these matters.
The balance between the pros and cons of Redrow's proposed architectural and urban designs and their impact on Merton's townscape and the local area are likely to be a key issues in the Inspector making her decision. 
Day 6 (16 December). The day started with Redrow's expert witness being cross-examination by Merton's advocate. Despite Merton's policy paper that says that tall buildings are "Inappropriate" at this location, much of the debate centred around whether breaching this policy is justified in order to meet housing need. There were also questions raised over the quality of the architectural design, including the criticisms raised by Merton's Design Review Panel at the pre-application stage.
In the afternoon, the witness was further cross-examined by John Elvidge, particularly about why the Design Review Panel had not been asked to reconsider Redrow's revised design, after its first "Red" assessment.
Day 7 (17 December) started with Redrow's expert witness completing his evidence. This was followed by a round-table discussion on flooding and carbon footprint. Both these concerns had been specifically raised by the Association. The rest of the day was taken up with Merton's expert witness explaining how the council developed its housing policy and planning within the framework of national and London policies and guidance.
Day 8 (18 December). The debate over the planning of homes in the borough, continued with Redrow's expert witness. The question of how Merton's plans and targets mesh in with those set for it by the GLA was considered in detail. He reviewed the timings of when various GLA plans are revised, updated, approved and reissued and considered how and when Merton's own planning should be updated to incorporate the changes that GLA's revisions cause.
Day 9 (11 January 2021). The Inquiry recommenced, after the break over the holiday period, with a review of the evidence of Merton's plan for the delivery of new homes for the next 10 years or so. The GLA's target for Merton has been to deliver 411 new homes each year. However, this is expected to be raised to a new average of 918 new homes each year, as and when the new London Plan is formally issued in 2021. Currently this revised plan is expected to be approved by the government in the next few months. Accordingly, Merton will need to ramp up its delivery at some point. The day's arguments centred around the reviewing the future "pipeline" of forthcoming developments, in order to gauge the effectiveness of Merton's plans to continue to provide new homes in the borough to meet GLA targets. It seems that whether or not Merton is deemed to have a robust plan for the future provision of new homes is likely to be an important aspect in the outcome of this inquiry.
Day 10 (12 January 2021). The day commenced with a round table discussion on when and how Merton will develop a revised plan to increase the supply of new homes, to meet the new GLA targets when they are approved and finalised. Merton's revised plan will need to mesh in with the GLA's new targets. The legal positions on whether all these various plans may be considered as still valid or "out of date" seem to be contested matters. At the moment, the GLA targets are in transition, as the new targets are not yet official but nevertheless anticipated soon. This is all to be judged with reference to the guidance set out in the National Planning Policy Framework
Later, the expert witnesses on town planning matters for Redrow and Merton presented their evidence and were cross-examined by the parties' advocates, including John Elvidge representing our Association. The appearance, height and massing of the proposed development were reviewed, including the concerns expressed by local people.
Day 11 (13 January 2021) This was the last day of the inquiry, with the advocates presenting their final submissions:
John Elvidge, our Chairman for RPWBRA. His Closing Submission may be read here.
Annabel Graham Paul, representing the London Borough of Merton
Paul Tucker QC and Constanze Bell, representing Redrow (the Appellant)
The Planning Inspector has yet to make her site inspection and, of course, prepare her conclusions and decision.
We do not yet know when this will all be concluded.
Previously on 7 November ...
We have now been advised by the Planning Inspectorate that the public inquiry for Redrow's appeal against refusal of its planning application (Original Ref: 19/P2387) to build 456 flats in tower blocks up to 15 storeys high in Tesco's car park at 265 Burlington Road will be a "virtual" inquiry to be held on-line. It is planned to start on, Tuesday, 8 December 2020 and take between 4 and 6 working days. 
If you were one of the 500+ people and organisations that made written representations to Merton Council at the time of the original planning application, which was refused by Merton's Planning Committee, back in February 2020, then your representations will have already copied by Merton and issued to the Inspector, who be making the final decision for the appeal inquiry. 
As our Association is a "Rule 6" party to the inquiry our Proof of Evidence is here .
Previous Articles about this site and the proposed development:
265 Burlington Rd - Date Set for Public Inquiry Sept 20
20/P1253 - 265 Burlington Road
19/P2387 - 265 Burlington Road April 2020
Tesco Site - 265 Burlington Road April 2020
Tesco Site Development - Public Meeting
208-212 Burlington Road (20/P1688) - Withdrawn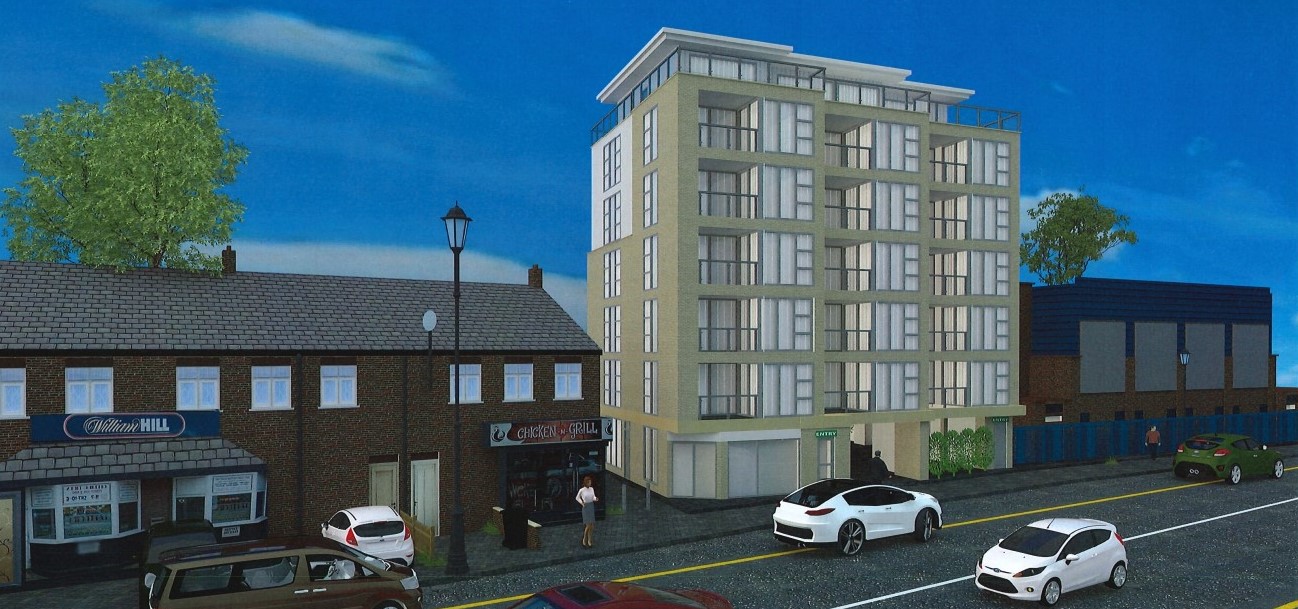 Update - 26 January 2021
We are pleased to report that this inappropriate application has been withdrawn. In mid-January 2021, we noticed that this application had mysteriously disappeared from Merton's online Planning Explorer. After making enquiries with the Planning Department, we have now been told that this application has been withdrawn. Why this application was removed from Planning Explorer rather than having its status recorded as "Withdrawn", we do not know.
Previously ...
A planning application (20/P1688) has been submitted to build a 7 storey block of flats at 208-212 Burlington Road. This location is currently occupied by Shannon Corner car service centre, opposite Krispy Kreme doughnuts. Local residents are rightly very concerned about the plans for this far too large and inappropriate development, The RPWBRA has submitted an objection to this planning application, which may be read here .

265 Burlington Rd - Date Set for Public Inquiry
1st September 2020 - Update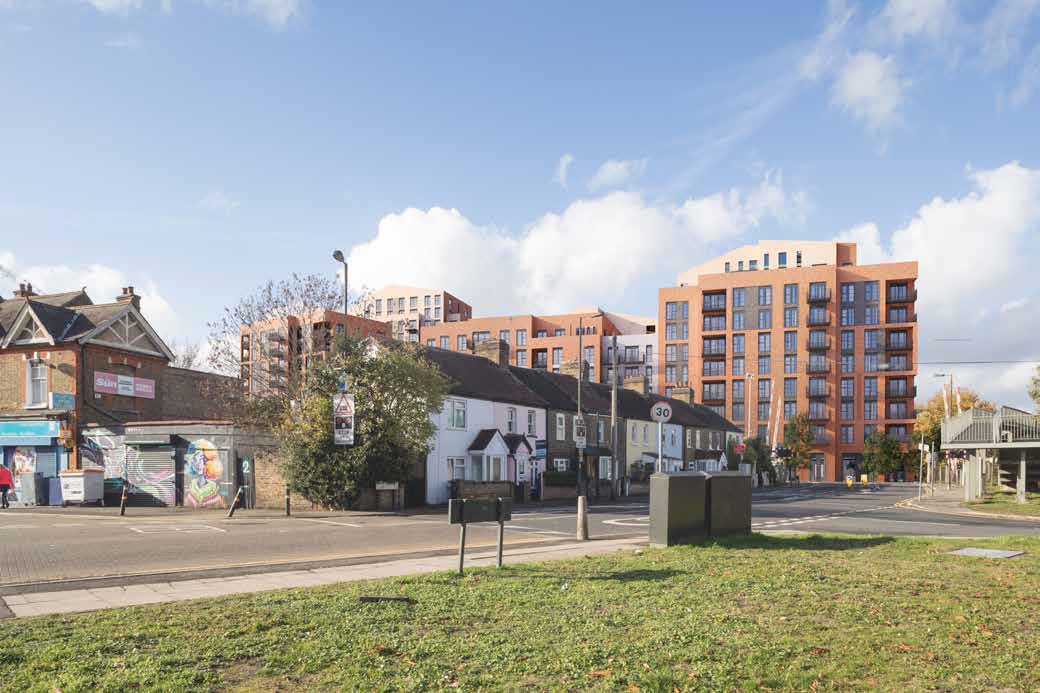 Back in 2019, Redrow Homes Limited submitted a planning application (Merton ref: 19/P2387) to build 456 new flats (in blocks between 7 and 15 stories high) on the Tesco car park site at 265 Burlington Road. 
On 13 February 2020, Merton's Planning Applications Committee (PAC) resolved to refuse the application. The Council Chamber was packed with many residents who came to show their disapproval of the scheme on the grounds of density, height, and lack of amenities to cater for such a high influx of people. 
Our Association had already organised a public meeting last autumn, attended by over 200 local residents at which there was universal opposition to the scheme. 
As reported previously on this website, many of our members will already be aware that Redrow has now launched an appeal for its planning application. This appeal will be handled by the Planning Inspectorate and will be heard as a Public Inquiry.

The Inquiry is now scheduled to start on Tuesday, 8 December 2020, and take four days.
Our Association plans to participate in the Inquiry and has been granted "Rule 6 Status". This means we are involved in the preparations and can submit our grounds and reasoning,  urging that the appeal be refused.
For more information, click here .
Jerry Cuthbert