Local news
Grand Drive Traffic - Report
Part One 
Report by  our member, Demetri Anastasiou, Chartered Civil Engineer
BACKGROUND
Grand Drive is a designated "B" road. The official classification states: "B-roads are numbered distributor roads, which have lower traffic densities than main trunk roads or "A" roads. This classification has nothing to do with width or quality of the physical road, and "B" roads can range from dual carriageways to single track roads with passing places." The definitive list of B roads was published on 1st April 1923, following consultations with local authorities. Government funding towards repairs of these roads was set at 60% for the former and 50% for the latter. This is where the problem originates as this classification has its origins in an Act passed nearly 100 years ago where the volume of traffic, the varying traffic mix and the operation requirements of theses B roads have changed dramatically over the years..
1.THE GEOMETRIC CHARACTERISTIC OF THE ROAD
Grand Drive is approximately 1,800m from the traffic lights at Bushey Road (A298) to the roundabout at Tudor Drive. The road varies considerably in width particularly after the introduction of some traffic calming measures a few years ago. 
Traffic Calming Measures
These include the area around St John Fisher School, the mini-roundabout at Westway/ Southway and the traffic lights at Crossway and Cannon Hill  Lane.
Inclination of the Road & Speeding
There is a huge inclination North to South of 8-10 metres up to a high point around 120 GD opposite Blenheim Road, with a significant drop of approximately 8 metres to Meadway Road, just after Elm Walk. 
These characteristics inhibit drivers but also encourage them to accelerate up the hill towards the crest of the road then roll downhill, often exceeding the speed limit. 
Going south to north, from the Crossway lights to the Bushey Road is a speeding section.
Traffic Police have confirmed this behaviour. 
This driving behaviour can only be corrected by appropriate, frequent warning & advisory traffic signs and random policing which is currently rare or non-existent.
2. VOLUME & MIX OF TRAFFIC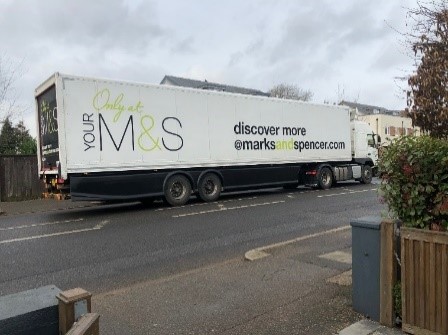 Many years ago, residential car traffic proliferated, peaking at certain times. Then, with the development of the Garth Road Amenities (Merton Refuse Centre, Garth Rd Refuse & Recycling Centre, Suez Recycling & Recovery UK facility) a huge number of 6-axle articulated lorries use the road for waste, recycling, dumping or loading and transporting away from the site. Additionally, the rental of Merton land for the B&T Plant hire LTD and similar operations have changed significantly the traffic mix on GD from cars to HGV lorries. 
This change has been exacerbated by HGV through traffic from the A298 (Bushey Road) to A24 at Stonecot Hill and through Tudor Drive/ Sutton Common Rd to A217. 
Also a key contributor to the traffic volume and speeding is the excessive use of the road by delivery vans (Amazon, DHL UPS, PDP, et al) 
At certain hours of the day there is a continuous flow and abuse of the speed limits by workers' vans and delivery vans.
Report, Part Two will follow in August