Local developments
Chairman's Objection to Bellway's Application 20/P3237
OBJECTION TO PLANNING APPLICATION 20/P3237
LAND AT THE FORMER LESSA SPORTS FIELD GROUND, MEADOWVIEW ROAD, RAYNES PARK, SW209EB
ON BEHALF OF THE RAYNES PARK AND WEST BARNES RESIDENTS' ASSOCIATION
We are a Residents' Association with 1800 household members in our area. 
We make this objection further to the objection submitted by us by e-mail on 29 November 2020.   
We have fought to keep the LESSA sports ground in use for sport for over 20 years. 
LESSA closed the sports ground in September 2000.  It contained two full sized cricket pitches, and an overlapping cricket pitch, four tarmac tennis courts, a pavilion, and a children's play area, with parking for between 70 and 80 cars. 
In 2002-3 we opposed a plan by Barratt Homes Limited to build 111 apartments in 2,3, and 4 story blocks on this land.  The Council refused the application for outline planning permission on 17 October 2002, and a Planning Inspector refused the appeal entirely on 19 June 2003. We gave evidence to the Inquiry. 
The land was then sold to a company called Doram Properties Limited. That company applied for planning permission on 4 July 2008 to build 44 units of accommodation. But, importantly, the application was for the retention and re-use of 4.07 hectares of playing fields, providing two rugby/football pitches, a cricket ground and tennis courts for community use, and the erection of two sports pavilions. The Planning Applications Committee refused the application formally on 20 February 2009, and Doram appealed. 
A different Planning Inspector upheld the appeal and so granted approval on 1 October 2009. It is very important to note the Inspector fully expected that the plan should be completed as a whole, and that the permission to build the housing was dependent on the rest of the ground being made available for community use.  These requirements were set out in a section 106 Unilateral Undertaking. 
The evidence before the Inspector was that King's College School wanted to use the ground for their juniors and that it would be made available to other community users for a minimum of 500 hours per annum. A tennis club and pavilion would be provided on part of the land at the owner's expense.  If KCS did not want to take up this opportunity, the Council could do so itself. It was, in his words, "an enabling development". He ruled that: "The proposal would provide high quality playing fields, tennis courts and pavilions which, unlike the original facilities, would be available for use by local people".  
The Inspector concluded that "the community, sporting and recreational benefits arising from the proposed development significantly outweigh the loss of a relatively small part of this disused and derelict sports ground". 
Doram sold the entire site to Bellway on 24 May 2010, on this basis. They build the 44 units of accommodation which is now called Meadowview Road, and provided tennis courts and a pavilion for the Raynes Park Tennis Club.  They also provided a small play area for the children of residents.  
However, King's College School decided not to take up the option of a lease of the land, which was secured by the Unilateral Undertaking, and the Council did not take up its option under the same Undertaking to do so either. 
When the properties were bought privately, the new owners, we have been told, received assurances from Bellway that the large balance of the land would be retained for sport. 
Since that time, Bellway has done nothing more than maintain the hedges, and mow the grass. Latterly, the play area has been left unkempt and unusable.  
As an Association we have since asked Bellway on a number of occasions to meet sporting bodies and schools who wanted to use the land for sport. 
As early as 16 May 2014 Bellway's Chief Executive wrote to Stephen Hammond MP that: 
"There are no further planning obligations on Bellway as owner to enter into arrangements with other organisations for the use of the Sports Fields. I can confirm that Bellway has fulfilled the obligations set down in the Planning Approval and Unilateral Undertaking and that the London Borough of Merton chose not to take up the Option of taking a lease for the Sports Fields. In the circumstances I have asked the Regional Managing Director to contact the Headmaster of a particular school to discuss the situation". 
On 12 December 2016 the Regional Director of Bellway Homes Ltd (South London Division) wrote to us that: "we are under no further obligation to bring forward land for use as a sports field. We are fully aware of the interest in the sports field from other organisations who are willing to take over the management of the sports field. However, our intention is to seek a further release of the Sports Field Allocation for enabling development, in order to provide delivery of a high quality recreational/community use for the benefit of the local community.  It is recognised that the Raynes Park and West Barnes Residents Association is a key stakeholder to any development of the site and will be contacted directly in early 2017 to ensure that the ideas of the Residents Association can be discussed and included in any early proposals for the site". 
We heard nothing from Bellway after that, and the Association was only made aware of their current proposals in August through a member of the Tennis Club. 
They have totally failed to consult us. They did not inform us of either of the marketing schemes they held this year, at the Council's behest.   They submitted to the Council that "there is no interest in the site being used solely as sports fields" which was palpably untrue, as we shall show. 
We are pleased that the local plan for the site RP6 states that "Sporting or community use of the whole site will have to be demonstrated as undeliverable before any other uses can be considered". And under "Opportunities" states that: "The site may have opportunities for whole site sports use. Use of the site for sports use or other uses compatible with the designated open space should be actively demonstrated prior to any alternatives being taken forward". 
In the short period since early August we have identified a number of sporting associations and schools which are keen to use the ground, some of which to our knowledge have contacted Bellway already. They are all local to Merton.  Had Bellway consulted us earlier, as they promised to do, and, we assume, deliberately decided not to do, we could have identified sporting partners much earlier.  
A Cricket Academy has offered to take a lease for at least 10 years at £20,000 per annum, and to build a pavilion. It coaches 180 boys and girls each year. The offer was made to Haslams Surveyors LLP by letter dated 14 September 2020, following a letter of interest dated 7 September 2020. The Academy stated that Paragraph 113 of Bellway's Sports Needs and Viability Report, October 2002, is untrue in its claim that: "They have therefore been contacted" since to assess the viability of the scheme.  No such contact was made. 
Also, a Cricket Club made a detailed offer, setting out that they would finance the pavilion and re-lay the cricket pitch utilising lottery funding and providing the 50% balance of the costs from their own finances and sponsors.   Paragraph 114 of the same report dismisses this offer off hand as not "a compliant viable bid" when it has not been discussed with them. 
These two cricket clubs may probably ground share. 
A junior school in Wimbledon has expressed an interest in buying the ground, for junior sports in the week, and has instructed a surveyor, and would ground share with the Cricket Academy and the Cricket Club at weekends and in the school holidays.  The School first registered an interest with the surveyors on 16 September 2020. 
Paragraph 122 of the same report is also inaccurate in stating that "There were no viable, compliant bids from commercial operators, clubs, schools or other bodies to purchase, develop and operate the site as a whole". The footnote to that paragraph is also wrong in stating that Haslams had receive no reply as at 4.10.20 of any kind from these organisations. 
We note that Haslams decided not to place a marketing (for sale/to let) board at the site (paragraph 10.9 of their report) which would immediately have resulted in many expressions and much earlier expressions of interest. 
All these approaches need to be explored fully by Bellway and found to be "undeliverable" before they can properly lodge a planning application. 
Bellway has lodged with the application a report which claims that the offers made were either out of time, or not "viable". Both of these claims are palpably untrue. 
Bellway should not have been allowed to lodge this application until they had shown clearly that no viable sporting offers had been received. This they have failed to do. 
THE PLANNING APPLICATIONS COMMITTEE SHOULD TURN THIS APPLICATION DOWN SINCE BELLWAY HAS NOT PROVED THAT SPORT CANNOT CONTINUE TO BE PLAYED THERE, AS THE PLANNING INSPECTOR INTENDED.    
The plan now proposes that a small part of the sports ground is used for tennis, on site play, an outdoor gym, a trim trail and jogging and walking routes. Given that Bellway similarly promised to maintain a play area for the children of residents, which has not been maintained or is open, we doubt their commitment to maintain these facilities, when they have made their further profit from the site and left. 
We also doubt their commitment to provide suitable flood prevention measures at the site. The existing provisions provided by them are clearly not sufficient, as surface water from the existing development leads to flooding in heavy rain pouring down the footpath from Meadowview Road to Westway and Greenway. Building on the major portion of the rest of the ground will clearly exacerbate the problem. 
The size of the proposed private maisonettes is less than the Government's technical housing standards. Bellway are obviously trying to cram too much housing on the site to maximise their profits. 
As residents we are outraged that having bought the ground under a clear planning decision that only 44 units of housing were permitted, and on the clear basis that the rest of the ground should be used for sports,  Bellway has since refused to contemplate any sporting user for the ground, but waited 10 years until they thought that the need for more housing would result in a planning decision in their favour. 
While the community does need more housing, it also requires the continued provision of sports grounds, and housing should not be built on such grounds.   The clear need for these has been demonstrated during this pandemic. 
The Planning Applications Committee should refuse this application. 
John Elvidge
Chairman of the Raynes Park and West Barnes Residents' Association
30 November 2020
Vice-Chairman's Objection to Bellway's Application 20/P3237
On Behalf of Raynes Park and West Barnes Residents Association I submit this Objection to Application 20/P3237.

We submit that the P/A is in conflict with Policy DM 01 Open Space of Merton 's Sites and Policies Plan July 2014 and Policy  CS 13 of the Core Strategy  July 2011 and also the Merton Open Space Study of 2010/11, on the grounds that no assessment has been made which shows that the application site is surplus to the sporting provision needs of the Borough of Merton. 
We submit that the proposals are also in conflict with the requirements of the National Policy Planning Framework and also Policy 7.18 of the GLA adopted London Plan, as well as the proposed site uses set out in LBM 's Consultation Local Plan October 2018 for the Former LESSA Sportsfield Site RP6. 
We submit that this application cannot be considered only by reference to the proposals submitted on this occasion but needs to take fully into consideration the history and outcome of the previous planning application, P/A 08/P1869 . 
That application was for 44 Dwelling Units, which was submitted by Doram ( who subsequently sold the land to Bellway ) in Feb 2009 . That was Refused by the Planning Application Committee (PAC) for Merton but the Appeal was Upheld in October 2009. 
The key point to note is that this application was deemed to be an ' enabling ' application taking 16 % only of the original LESSA site for residential development to enable the remainder of the site ( apart from 5 tennis courts for RPLTC ) to be used for sports' needs. It was anticipated at the time that the field would be used by a junior school for football, cricket or rugby. This was set out in detail in the Officer's Report for the PAC meeting held on 15 Jan 2009. The extent of the land expected to be made available was defined in a drawing submitted with the Section 106 Agreement, very late in the day - 3 June 2009. 
This drawing boldly describes the land as the SPORTS FIELD LAND. 
It is worth repeating what Anthony Lyman, the Inspector, said in his Decision letter dated 1 October 2009 , in upholding the Appeal. I quote para 15 : 
" the proposal would provide public open access to and through the site for the first time , substantially upgraded sport and recreation facilities to which an element of community use would be guaranteed and wider use of the landscaped amenity area and the children's playground . I consider that the improved recreational provision with increased public access would satisfy the requirements of PolicyL.7 ( ii ) " 
The latter was Merton's'prevailing Policy at the time. 
It should be noted that the so-called " landscaped amenity area " was sealed off some years ago with a locked gate and there is no longer "public access" to it !  
Merton Council has a housing target currently set at a perfectly reasonable level for the delivery of new homes each year . The target is set by the GLA, whish has a draft New London Plan. This would impose on Merton an increase in the target of about 200% ! 
Even the well informed Future Merton team at the Council regard this proposed hike as undeliverable . However, the New London Plan is not  adopted  and the suggested housing targets remain under consideration. The Borough of Merton has been able to ' deliver ' a  little more than the target in recent years without the need to permit building on greenfield sites . 
Conclusion  
There are a number of problems with this application, not least the potential for flooding for the residents in the Greenway / Westway corner backing the application site. However the primary issue is, notwithstanding the need for more housing , whether 89 housing units along with the new access roadway should be permitted on the SPORTS FIELD LAND  . 
We have no doubt that in drafting his Decision Letter, Anthony Lyman not just assumed that the sportsfield would be used for sporting needs by a school or sports club ( without any time frame limit being set) but in a de facto sense , in upholding the appeal , made this CONDITIONAL. 
Ten years later on it appears that Bellway Homes have , aside from one half-hearted attempt recently, opted to ignore the Inspectors conditional approval. 
We therefore urge the Planning Applications Committee to treat these proposals with what they deserve - REFUSAL. Thank you for your time. 
David Freeman  Committee Member RP&WBRA 
19/P2387 - 265 Burlington Road
OBJECTIONS ON BEHALF OF THE ASSOCIATION 
Our committee member, David Freeman, has submitted the following on behalf of our Association.
Attention Case Officer . On behalf of Raynes Park and West Barnes Residents Association I submit the following comments. 
A ) Although not part of the Application I need to point out that the Newsletter distributed widely by Redrow Homes was highly misleading . This drew from the New London Plan ( a GLA document ) which sets out a target delivery in future years of 1,328 home pa. The Newsletter stated that Merton was " expected to deliver " this number of homes each year .
However the New London Plan is still in draft form and NOT an Adopted GLA Plan.
Merton's housing target remains at 411 homes pa which derives from the existing London Plan of April 2016.
B ) SITE PROPOSAL
Site Proposal RP3 in Merton's draft Local Plan October 2018, sets out LBM proposals for a comprehensive redevelopment of the WHOLE   of the Tesco site including the Store and Petrol Station. The Application in question is for a development on approx. one third of the site .
There is clear conflict here between Merton' s Local Plan and the proposals in the Application.
C ) DESIGN
Planning Guidance : Policy 14 LDF Core Planning Strategy and Policy DM D 1 and DM D2 Sites and Policies Plan July 2014.
I submit that there is clear conflict with the guidance set out in the above Policies by failure of the proposals to " relate positively and appropriately to the scale ,density,proportions, massing and height of the surrounding street patterns and by failure to protect existing development ( in nearby streets ) from visual intrusion .
D ) TALL BUILDINGS
Merton's draft Local Plan provides a useful definition of a Tall Building . I quote ." a tall building is a building which is substantially taller than their surroundings ". 
The proposals submitted are for seven blocks of flats ( but NO houses !  ) ranging in height from 6 to 15 storey.
Starting from Merton's LDF Tall Buildings Background Paper 2010 and Design Policy CS 14 Core Planning Strategy July 2011, reinforced by Strategic Policy LP D 5.1 Placemaking and Design in the draft Local Plan October 2018 from which I quote :
" Proposals for tall buildings will be permitted only in Town Centres in Colliers Wood,Morden and Wimbledon."
The Tesco car park site is not even close to Raynes Park which is a  LOCAL Centre and nowhere near Wimbledon Town Centre.
The proposal for " tall buildings " on the application Site is in FLAGRANT CONFLICT with the Planning Guidance quoted above .
Perhaps I should add - going back to the definition - that there can sometimes be doubt as to what " substantially taller " means . BUT NOT IN THIS CASE . The highest residential building ( under construction ) in the surrounding area is 5 storey.
A 15 STOREY BUILDING IS SUBSTANTIALY TALLER THAN A 5 STOREY BUILDING . Fact!
E ) HOUSING MIX
Planning Guidance : Sites and Policies Plan July 2014 Policy DM H 2 and draft Local Plan Policy H 4.3.
The proposal is to build 456 flats made up as follows ;
114 x one bed units =  25 %
290 x two bed units =  63.5 %
52  x  three bed units = 11.5 % 
The target mix set out in Merton's Sites and Policy Plan is 33%, 32% and 35% but these have been slightly modified in the draft Local Plan to 33%, 33% and 34%.
The proposal to build almost two thirds of the flats as two bed units is way out of alignment with the policy . There would be too high a proportion of two bed flats and not enough '  family ' units. The proposals are in clear conflict with planning guidance.
F ) PUBLIC TRANSPORT ACCESIBILITY LEVEL ( PTAL ) AND TRANSPORT IMPACTS 
The Tesco car park site is beyond reasonable walking distance of both Raynes Park and Motspur Park Railway Stations and has limited bus service connections. In consequence it has a rather low PTAL rating between 2 and 3 ( out of 6 ).With an influx of probably more than 1,000 people and 220 car parking spaces it is obvious that the proposals would lead to a serious increase in traffic congestion in Burlington Road even greater than currently exists . 
The proposals are in conflict with Policy DM D 2 of the Sites and Policies Plan July 2014 in that there would be significant adverse impact on the existing transport infrastructure and local environment.
G ) FLOOD RISK
The Application Site is within fluvial ( river ) flood zones 2 and 3 and therefore at risk of surface water flooding. Such a location would be suitable for SOME types of development but not I suggest for high-density residential use.
And Finally let me say that Raynes Park and West Barnes Residents Association ( RP&WBRA ) is NOT opposed to any new housing in the Borough . We are supportive of Merton 'delivering 400 plus new homes pa hopefully a MIX of houses and flats . A high proportion of these schemes are in ' backland ' areas on so called ' windfall ' sites.
We support this type of development where - in terms of numbers - the new residents can be assimilated into the local network without causing strains , on the local social services, for BOTH them AND the existing populace.
However let me indulge in a Compare and Contrast exercise.
I suggest Redrow Homes proposals could well be a ' natural fit 'in the centre of a New Town  like Milton Keynes for example. There are in fact large blocks of flats in MK within the Town Centre and within a short walk to the main Transport Hub. The residents look down on to a wide shopping parade with housing development only in the very far distance. Many of the residents are either single or couples and many do not have a car - very limited on site parking. They use the Car Club. 
Would this type of development be a ' natural fit ' on the Tesco car park in West Barns .Hardly . 
The site is NOT a Town Centre location.
It is nowhere near a main Transport Hub.
Most of the new residents would insist of having a car but only about half of them would have a nearby parking space. And where would they find school places for their children, a GP Surgery, a NHS Dentist a Local Park . The list could go on.
They would be locked in between the A3 and the Railway lines breathing in the fumes from vehicles standing still for 15 minutes or more in Burlington Road waiting to get over the level crossing .
WHAT SORT OF QUALITYOF LIFE WOULD THAT BE FOR ANYBODY?
 Also in terms of Design the tower blocks would - by contrast with the local scene - stand out like huge monoliths bearing down on the residents of Seaforth Avenue and the roads beyond. Should they have to live with that sort of intrusion. 
I pose this question . Would these proposals meet the requirements of a key piece of Merton Planning Guidance - Core Planning Strategy  Policy CS 14 ? I quote :
"All development needs to be designed in order to respect, reinforce and enhance the local character of the area in which it is located ".Think about each of the three components.
I submit that set against this test alone the Redrow scheme would be a total failure.
On behalf of the RP&WBRA for all the reasons outlined above I urge the Planning Applications Committee to REFUSE this application . Thank you for your time. 
David Freeman
20/P1253 - 265 Burlington Road
NEW PLANNING APPLICATION FROM TESCO 
APPLICATION TO DETERMINE WHETHER PRIOR APPROVAL IS REQUIRED FOR THE PROPOSED CHANGE OF USE OF OFFICE SPACE (USE CLASS B1a) TO RESIDENTIAL (USE CLASS C3), CREATING 38 x NEW RESIDENTIAL UNITS 
On 22nd April 2020, agents acting on behalf of Tesco submitted a new planning application for redevelopment of the redundant two storey office block at 265 Burlington Road, KT3 4NE. This application is a proposal, under the "Prior Approval" regulations, to covert the existing building into 38 flats. It would also incorporate the part of the existing car park currently used for "Click and Collect", so that 100 car parking spaces would be for use by the occupants.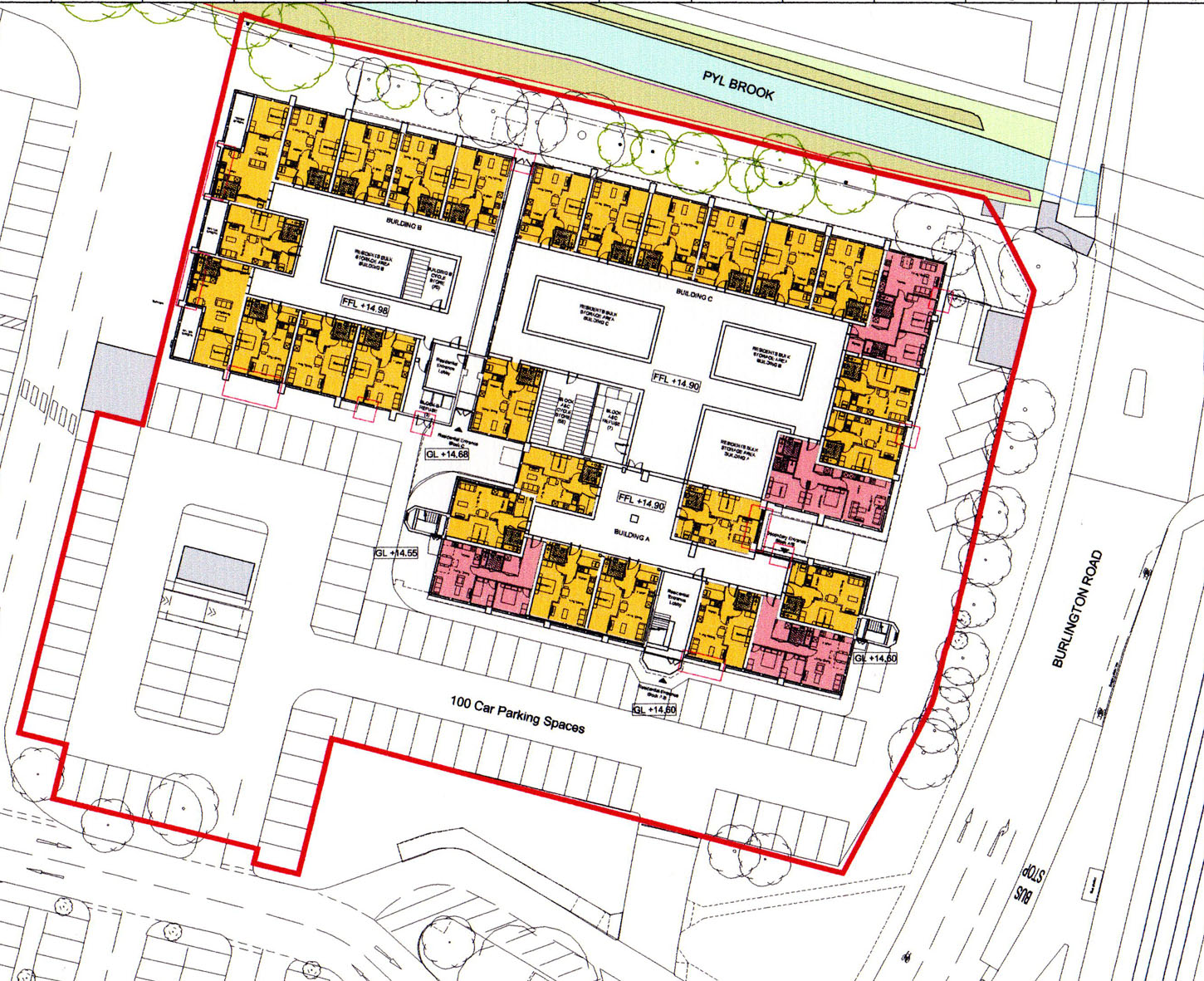 "Prior Approval" is a procedure whereby owners of office buildings may convert them to residential use without the requirement to obtain full planning approval. Nevertheless, under "Prior Approval" there are still three matters that do need to be submitted to the Planning Authority. These are: 
·          Design and external appearance;
·         The transport impacts of the development;
·         Flooding information. 
More information can be found on the Merton Planning Explorer. 
The closing date for representations is 13 May 2020.
Wimbledon Chase - High-Rise Development Proposed
Another application for a 'high rise' block in a residential area.  This time it's Wimbledon Chase.station. 
Plans to build a seven-storey block of flats at Wimbledon Chase Station and remodel the entrance have been lodged. 
Just before Christmas The Newbridge Group - the company behind the proposal - held an exhibition which detailed its plans for the site. 
These include 62 new homes divided between two buildings, shops on the ground floor and a "rejuvenated station entrance." but something it doesn't include is step-free access.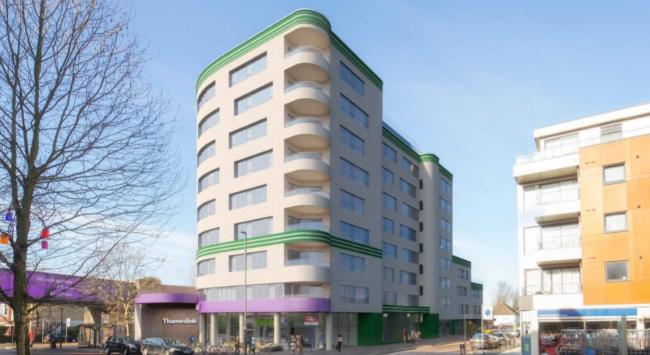 Proposed scheme
This has annoyed Dundonald Ward councillor Anthony Fairclough who met with representatives from the developers and their agents on January 16th. 
Following the meeting, Cllr Fairclough said: "I can't see how this development can go ahead without doing everything possible to also make the station accessible for everyone. 
"I'm shocked that the developers aren't planning to make the station entrance 'step free' – it affects so many people's lives."   "Step-free is simply a 'must have' in 2020."  
Wimbledon MP Stephen Hammond agrees. 
Existing station entrance 
Stephen Hammond met with developers this week and said the key issues are accessibility and the height of the proposed building.  "The developer has asserted that the cost of a Network Rail compliant scheme could make the development unviable and Network Rail has stated there is not the demand," he said.  "I believe this would be a huge missed opportunity not to make Wimbledon Chase step free and I will be pursuing this. "A number of residents have also told me that they approve development on this site in principle, but that they are opposed to the design, height and look of this scheme." 
There will be a further consultation in mid-February, with a planning application expected to be submitted at the end of that month. 
If that gets approved, then construction would begin during the summer of 2020 with an expected completion three years later. 
Cllr Fairclough added that he will be meeting with Network Rail and Merton Council to come up with a "workable plan." 
"The developers say they want to create a 'landmark' building for the area," he said. 
"Residents tell me that the imposition of a bock of flats, nine storeys high – four higher than anything nearby – will certainly create a 'landmark'; but for all the wrong reasons. 
"We need new housing that is sympathetic to the area – so hopefully the developers will respond positively to the feedback they're getting.
"Otherwise there will strong objections from the public when this matter comes to the Planning Applications Committee."
No parking spaces will be built as part of the development, apart from a few spaces for the disabled. 
AELTC - Grand Drive - Drop In
AELTC received plan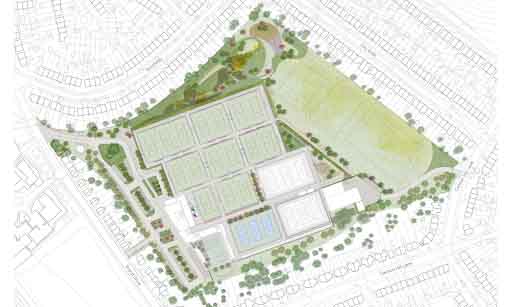 ning permission (Council Ref: 18/P1024) from the London Borough of Merton in October 2018 for the further development of the grounds, which included approval for a new Clubhouse.  They are holding a public consultation to present the design for the Clubhouse and to provide an update on the construction activity taking place at the grounds.  
This Drop-In Session will take place on Wednesday 18 March 2019, 4.00pm-7.00pm, here at the Community Sports Ground, 216 Grand Drive, at which our team will be available to answer any questions about the forthcoming construction works and the plans for the approved Clubhouse. 
For security reasons, if you would like to attend the Drop-In session we would be grateful if you could email; 
This email address is being protected from spambots. You need JavaScript enabled to view it. with your name and address.