Local developments
Tesco Site Development - Public Meeting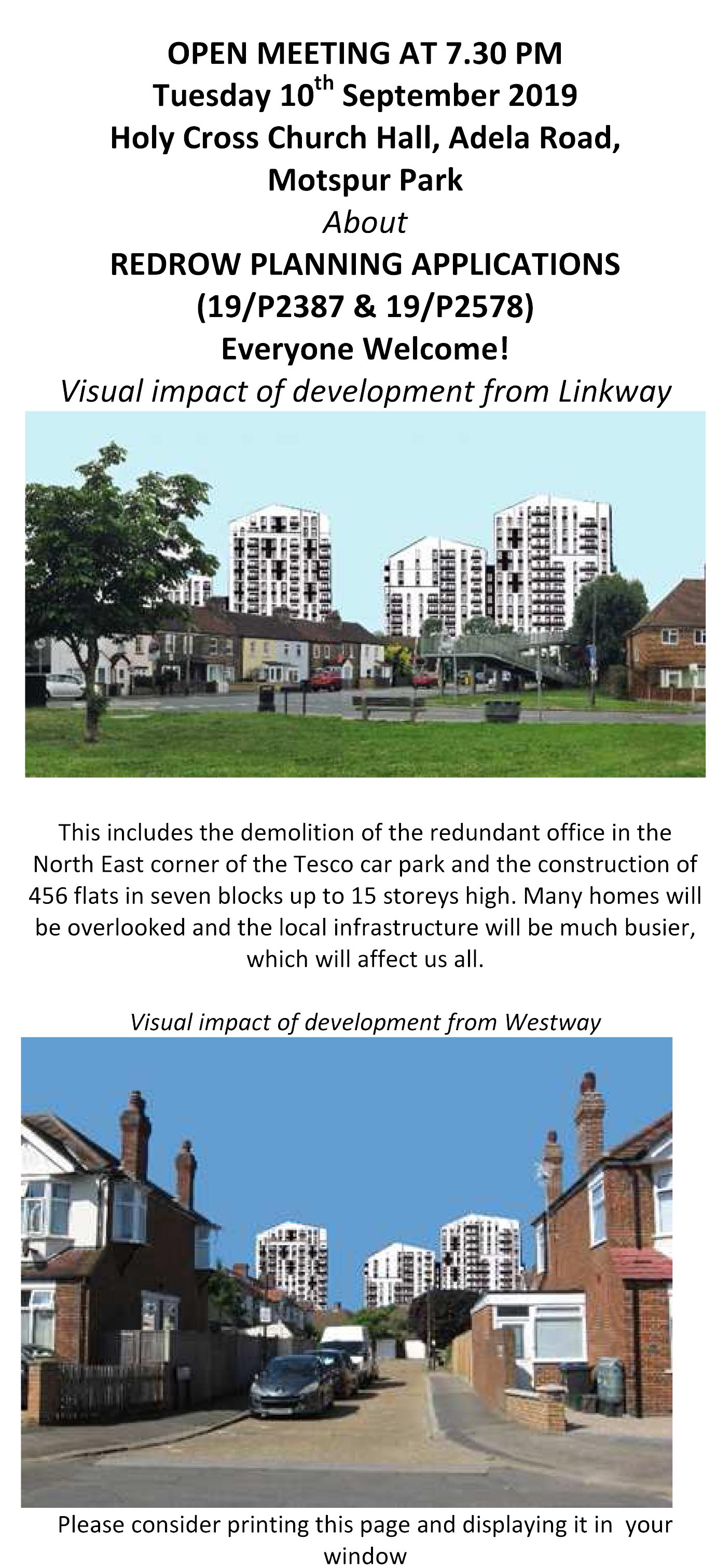 Tesco Site - 265 Burlington Road
UPDATE APRIL 2020
At the Planning Application Committee in February 2020, the Planning Committee resolved to "Refuse" this application (19/P2387). However, as at April 2020, this decision is still subject to a final review by the Mayor of London. 
Previous update in July 2019 - The Planning Application for this development has now been submitted (19/P2387)
Anyone who wishes to raise objections or make comments (called "representations") to the Planning Authority about this proposed development, is advised to do so by the revised date of 30 August 2019. This can be done using Merton's Planning Portal at:
https://planning.merton.gov.uk/Northgate/PlanningExplorerAA/GeneralSearch.aspx
The application number is 19/P2387
For our members to have an idea how large this development will be when viewed from our local roads, we are preparing some images, which may be viewed on this link: Images for 19/P2387

The application details may be downloaded from the Planning Explorer website.
Please note that the deadline for comments from the public (called "representations") has been extended to 30 August 2019
However, even if you miss the 30 August deadline, please still make your submissions.
Due to the very tight timescale for representations, Councillor Eloise Bailey has sought some clarification about dates from the Planning Dept, with the following response;
 "Dear Councillor Bailey, 
Thank you for your email. The statutory time period for notification for a planning application is 21 days. Therefore, for this application the representation date is currently shown as 14th August 2019. To unilaterally alter this statutory period would be seen as unreasonable behaviour on behalf of the Local Planning Authority and would not be consistent with how planning applications are processed. 
That being said, whilst the formal representation period could not reasonably be altered, representations will continue to be taken into account until such time as the application is determined. Therefore, comments received after the 14th August [This has since been revised to 30 August - Ed] will still be considered, up until the point of the committee meeting, which is likely to be September or even October. 
In addition, I note that the newspaper advert for this application has not yet been published, it is due to be published today, which would mean that the representation date would need to be 16th august at the very earliest. [This has since been revised to 30 August - Ed]
I hope that provides some assurance that comments will be taken into account throughout the process. Merton has carried out a wide ranging consultation exercise on this application, well in excess of the statutory requirements (i.e. we have consulted a wide area around the site). 
In terms of a change of date on the website, I am not aware of this and I can't think why it would have said 24thAugust, as that is well over 21 days away. I will ask the leader of the admin team, Matthew Davidson, if he can provide any insight into this matter. 
Please do not hesitate to contact me should you wish to discuss the matter further or any other aspect of the application."
FURTHER BACKGROUND INFORMATION
Redevelopment of 265 Burlington Road and Tesco Extra car park  
In the October 2018, we set out the basic details of a proposed large residential development scheme on a part of the Tesco car park site alongside Burlington Road. This was based on information provided at a Consultation Exhibition on 18th September mounted by BECG (Built Environment Communications Group) who are acting as agents for the housebuilder Redrow Homes PLC. (Follow this link to see Redrow's summary of their proposals https://burlingtonroad.com/proposals/ ) 
BECG held a second consultation, again at the Holy Cross Church hall, Motspur Park, on 13th November last year but this time with slightly amended proposals.  
The Scheme 
As at early December 2018, the outline proposals envisage using the Eastern side of the Tesco car park (1.21 Hectares) which would be just under one quarter of the whole Tesco site area.  
We therefore anticipate that the Planning Application from Redrow, when submitted, will aim to provide 446 flats in seven blocks ranging from 14 storey on the side furthest from Burlington Road down to 7 storey on the side closer to Burlington Road.  
The units would be made up as follows:

90 one bed flats (approx. 20% of the total);

290 two bed flats (64 %); and 66 three bed flats (16 %)

  
"Affordable " Housing  
Taken overall it is claimed that 35% of the flats would pass the test of being regarded as "affordable" i.e. they would be social or subsidised housing either for sale or rental at no more than 80% of the prevailing market-rate costs and prices.  
It is quite often the case that developers tend (for obvious reasons) to offer the cheaper (mainly one bed) units to meet the social proportion. Currently, we are not aware how this will work out in practice, but the Planning Application will probably clarify this point.  
Car Parking  
The proposals include up to 220 car parking spaces and the current thinking is that these would be at the base of the flats i.e. as an ' undercroft ' scheme. It is claimed that 575 car spaces will remain available for the Tesco store shoppers.  
Site Access  
One change to the original proposals is to provide up to 475 sq. meters. of commercial space at ground floor level in the blocks fronting Burlington Road.  What type of business would be housed in these units is not known at present, but presumably Tesco would NOT want any competition quite so near their store!  
Also, the earlier proposal was that the existing short access road leading from Burlington Road to the Tesco store would become THE vehicular access road for the residents of the new flats, but no longer for vehicle access to the Tesco store, although pedestrian access from Burlington Road was to be maintained.  
This idea appears to have changed so that vehicle access from Burlington Road would be available for BOTH the new residents and shoppers going to Tesco. In short for Tesco shoppers no change to the present (unofficial) arrangement. At first sight this strikes us as far from being an ideal arrangement, given the single proposed vehicle access, the volume of traffic in Burlington Road even now, and the proximity of the level crossing, Surely the congestion would become even worse? However, it is still 'early days.  
High Rise Development  
Anybody familiar with this part of West Barnes will know that it is characterised by inter-war mostly two-storey suburban housing, apart from Raynes Park High School to the North. We leave you to contemplate what it would be like for those residents having to live in the shadow of blocks of flats up to 14-storeys in height.  
There is currently great concern about possible flats at this sort of height along Wimbledon Broadway; but is at least that area has a Town Centre designation. Tesco car park certainly has not!  
The Local Plan 
 Merton Council now has a New Local Plan out for consultation. This may be seen here.  At present, this document is only a draft, and it is hoped that this will replace two other Planning Guidance documents sometime during 2020. Within this bulky document are Site Proposals for many areas of the borough including several for Raynes Park.  
One of these is site RP3 (page 158) named as Burlington Road -Tesco. The map provided (which is intended to show the area potentially suitable for development) shows the ENTIRE Tesco site, store, car parking, petrol station, redundant offices in the NE corner: all 5.2 hectares of it.  However, the proposals from Redrow relate only to a quarter of the site alongside Burlington Road.  
On the face of it, there is an anomaly here. The Council preference appears to be redevelopment of the whole of the site. but the proposals from Redrow - so far – are for only a part of it.  
Greater London Authority - Office of the Mayor 
We should just mention that because of the large number of housing units involved, the Planning Application - when it is submitted - will have to be considered by the Mayor of London in the first instance. The Mayor and his planning staff have the option either to a) approve or refuse the application or b) leave the determination process entirely to Merton Council. This added layer can sometimes hold up the process of considering the application.  
The Local Press 
 It is possible - but not certain - that by early January a Planning Application will have been submitted. At that stage there is a strong chance Redrow will seek some publicity in the local press, quite apart from a notice in a local newspaper, under a heading, such as, "Merton Council Town and Country Planning Act."  Once the application has been formally submitted to Merton's Planners, the Association, and most importantly, individual members of the community can make their comments to the Planning Officers and Ward Councillors regarding these proposals.  
DAVID FREEMAN, December 2018
Rainbow Ind Est - June 2018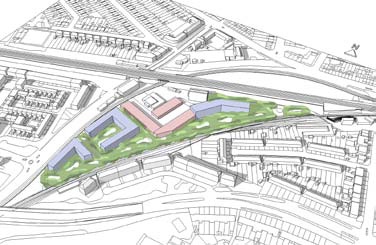 Members may recall that a few years ago Workspace 12 Ltd. the owners of the greater part of the Rainbow site – which sits just to the south of Raynes Park Station – submitted two planning applications. 
The first of these 14/P4287 was for the demolition of the existing industrial buildings and the construction of more than 200 flats and 9 terraced houses.  
The other application, 14/P4288, was to provide a so-called 'Kiss and Ride' facility, incorporating a roundabout, near the entrance.   In simple words, this is an arrangement for cars to come off Approach Road and either drop off or collect people from the station.  It was never intended to provide actual parking spaces within the entrance, only a very short-term waiting bay. 
Given that Rainbow has been in industrial use for some decades, it is almost certain that there will be some – quite possibly quite a lot – of contamination in the soil.   Consequently, approval of the first application was accompanied by two important Conditions amongst quite a long list of others. 
These were, in short, to investigate the degree of contamination and submit an 'action plan' for dealing with this problem. 
Conditions
I should explain that Conditions, which in the main are of two types, are normally attached to large applications in order either to take whatever action is required to bring the 'application site' up to a condition suitable for development (highly relevant in this case), or to 'mitigate' (reduce the severity) of the downside consequences of the new development.  For example, if a housing development resulted in the total loss of a piece of land (whether open space or whatever) which had been in regular use as a play area for local children, there would probably be a Condition which required the developer to provide a suitable replacement within the new housing scheme. 
Rolfe Judd, the Agent acting for Workspace has submitted an application 18/P0997 with a proposed 'Outline Remediation Strategy' for dealing with the contamination issue.  In the main, this appears to be reports prepared by two specialist companies (Cundalls and Entec UK Ltd.) in November 2016.  To be frank, this is hardly a leap forward to redevelopment of this site, but it is a start.   Merton Council's Planning Department will consider whether they can 'Discharge' Conditions 13 and 14, meaning whether the requirements of the Condition have been adequately satisfied. 
David Freeman
Housing and Planning Guidance
We draw attention to the speech by the Prime Minister on 6th March regarding the "housing crises" and the provision of "affordable "housing. The Government is concerned about both the shortage and cost of housing. It appears that developers are permitted to aim for a "suitable return "(i.e. profit) of 20% but often claim that they cannot achieve this AND at the same time deliver the proportion of social subsidised housing - either for sale or rent - which Councils want. 
The Government is suggesting that the 'viability assessment '(through which developers can submit that they can only achieve a 20% profit on a scheme by reducing the proportion of social housing required by Councils) should be made public except in exceptional circumstances. Also, there is a proposal to urge developers to aim for a profit margin of about 6% when building social housing with the aim that this would guarantee an 'end-sale 'at a known value. It appears that the Government is keen to increase housing supply by encouraging developers to build more blocks of flats and convert and build on top of existing shops and offices provided that the final scheme is not higher than buildings in the immediate vicinity. In short, to build upwards. 
The 'permitted development 'provisions (which originated in 2013 and currently extend to 2019) may also be amended to permit 'upwards 'extensions provided the extension is "consistent with the prevailing height and form of neighbouring properties". 
The Mayor of London (the Greater London Authority) is currently consulting on revisions to the London Plan (the GLA Planning Guidance document). One of the recommendations is that London Councils should seek an "affordable" housing contribution of at least 35% but for large schemes, e.g. on former industrial sites, they should aim for a 50% contribution. Such a high figure would probably meet with strong opposition by developers who would argue that they could not make a reasonable profit AND provide half the housing for 'social' needs. 
David Freeman - May 2018
Heathrow Third Runway - March 2018
Heathrow Airport Third Runway - Public Consultation 
There has been a Heathrow Extension road-show travelling around London and the home counties, promoting the recent public consultation. There have been two concurrent consultations, both triggered by the planned third runway, "Airport Expansion" and "Airspace Principles". Whilst our members are likely to hold a range of opinions about the third runway and its impacts, this article is limited to considering whether any potential changes to the existing flight paths, in and out of Heathrow may affect Raynes Park. Hence, the following focuses on the information concerning the Airspace Principles consultation. 
Much information is available at https://www.heathrowconsultation.com/ . The consultation closed on 28 March 2018. 
The public opinions being sought are to do with establishing airspace design principles. For example, 
·

        

How take-off routes might be modified (e.g. over green space or urban areas)

·

        

Options for the resulting noise impact being spread or concentrated.

·

        

The effect alternative routes might have on emissions

·

        

Making use of new aircraft and traffic control technology

·

        

Night flights
Because these are "design principles" rather than "design development", it seems premature at this stage to expect information to be available about how flight paths might be affected  by the third runway. 
However, the information states that Heathrow Air Traffic Control takes over from NATS (formerly National Air Traffic Services) at 11,000 ft. So Heathrow is responsible for take-offs and landings and NATS for the incoming "stacks". 
There is information available on the Heathrow website on existing flight paths. This is summarised below, together with conclusions on the how third runway might affect Raynes Park. 
Arrivals stacks.
         There are four arrivals stacks which are the responsibility of NATS, two to the north of London and two to the south.  These have remained in the same locations since they were first started in the 1960's. Although Heathrow controls the arrivals routes from the bottom of each stack, the landing routes into Heathrow are therefore determined by the location of the NATS stacks. 
          RPWBRA members have probably observed planes travelling in a northerly direction to the east of Raynes Park, before turning for their final approach to Heathrow. This is because Raynes Park is located just to the west of the point where the landing routes converge from the bottoms of the two southern stacks, located over Ockham and Biggin. 
Westwards take-off routes.
          The take-off corridors towards the west from Heathrow do not affect Raynes Park. 
Eastwards take-off routes.
          Raynes Park is on the southern edge of the eastward take-off corridor for planes heading towards destinations to the southeast. Wimbledon Village and Wimbledon Common are thus closer to this route than Raynes Park. 
          Heathrow publishes a calendar of when the Eastwards and Westwards corridors are scheduled to be used. 
Conclusions
With the advent of the third runway, the impact of aircraft noise on Raynes Park might not change significantly, unless either: 
·           The locations of the NATS stacks were to be altered in some way. (However, this is not the subject of the current consultation), or 
·           The Southeast take-off corridor was to be altered significantly. 
Jerry Cuthbert  19/03/2018
Merton's New Local Plan
Have Your Say (until 8th January 2018) 
Merton ise starting to ask for everybody's views on Merton's borough-wide Local Plan. If you are interested, please follow the link below to some short questionnaires:
 www.merton.gov.uk/newlocalplan 
This is the very first stage of a new Local Plan that by 2019 will replace Merton's Core Planning Strategy and the Sites and Policies Plan. It will not replace Merton's Estates Local Plan. 
Call for policy ideas and sites for allocation 
At this first stage, Merton is looking for people's ideas that may help shape future planning policies. The London Borough of Merton would also like to hear from you if you know of any potential development sites for allocation:
 www.merton.gov.uk/newlocalplan 
Merton's Neighbourhood Community Infrastructure Levy 
Merton is also asking residents and others to submit projects for the neighbourhood proportion (15%) of the Community Infrastructure Levy. The questionnaire is available via the same link.
www.merton.gov.uk/newlocalplan  
The Council saya it is happy to receive responses via email or letter to this email address or the postal address below. However, if you would like to respond by email or letter for the Neighbourhood Community Infrastructure Levy fund, please take a look at the questionnaire (either within the survey or in the MS Word document uploaded on the same page of the website) as it sets out the council's criteria for considering projects. 
Also, don't hesitate to contact the Future Merton Team, at Merton Civic Centre, London Road, Morden SM4 5DX; Tel: 020 8545 3837; Email: This email address is being protected from spambots. You need JavaScript enabled to view it. ,if you have any comments or questions.